.
Comment > 20 Years Of Ramsay Street Book Review by Billy
When Neighbours hit the big 2-0 this year we all braced ourselves for the onslaught of official merchandise which was promised to us. Out of the wreckage of cheap stamps and calendars which fell apart as soon as you stuck them to your bedroom wall came 20 Years of Ramsay Street: The Official Book.
Now. In many ways the template for this book was Josephine Monroe's earlier guide Neighbours: The First Ten Years – a book containing semi-accurate biographies, plotlines, behind the scenes information and, probably its best feature, an introduction by the late Anne Haddy (Helen Daniels). 20 Years of Ramsay Street builds upon this simple formula to create an almost definitive guide to the show.
The first section, "More Than A Serial" explains how Neighbours is, well, more than a serial. What has baffled many people during its 20 years on air is how in God's sweet name it managed to avoid the axe. Of course we all know it was axed from Channel 7 in the early days, but that doesn't really count. It details about how Neighbours is different from the other soaps, and how it stands out and faces its competitors by taking a different approach to plotlines. It's a breath of fresh air, something different, and something people ultimately enjoy and want to see more of.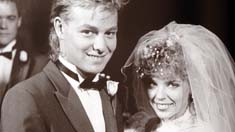 After another few pages of bragging about how good it is, we move onto one of my favourite parts – "20 Classic Characters", much like our own, which we did when Neighbours hit 18. All the usual suspects are there (Mrs. Mangel, Helen, Jim, Madge, Daphne) but what's nice is that they've also included modern favourites like Izzy, Toadie and Susan – which just shows you how far the show has come, and how "The Golden Era" of the eighties isn't the be all and end all of its success.
What follows is the obligatory feature of the cast members who have gone on to have success (and failure) in the music business. Included obviously are Kylie Minogue, Natalie Imbruglia and Delta Goodrem as well as people whose ventures into the world of pop we'd rather forget (Stefan Dennis). To be honest with you, this sort of thing winds me up. I'm pleased they've made a name for themselves outside of the show, and well done for using Neighbours as a launch pad for your careers and yadda yadda yadda, but we all know a lot of the cast have gone on to release records, we all know some are successful whilst others aren't, and we all know that Delta, Natalie and Kylie are three of Australia's biggest selling female artists. But who cares? This book is supposed to be about Neighbours, not how many #1's Delta's had or how many #63's Stefan's had. It's a nice little feature and everything but, jeez, get over it.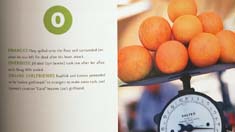 Moving on. The Behind the Scenes segment, entitled "Four Months In the Making" details the process which every episode of Neighbours goes through before it is ready for our screens. Now this I like, and this is what the book should contain more of. This feature is brilliant, and interesting, and I learned a lot of new facts. For instance, did you know the actors wear 200 costumes between them over five episodes? Amazing.
Next on the agenda is an A-Z of Neighbours – pretty simple but a lot of fun and there's lots of things I wouldn't have expected to be there, like this little beauty:
"Oranges: They spilled onto the floor and surrounded Jim when he was left for dead after his heart attack"
And there's a picture of a bowl of oranges. Genius. I think every proper fan knows the cult status that bowl of oranges has, and seeing it in there raised a smile to my lips. My sour, sour lips.
Paradoxically (ooh big word) the next chapter "Brighter Lights" is more spiel about the people who left Neighbours for a better future. Okay, Radha Mitchell's been in a lot of critically acclaimed films. I get it.
"Street Party" is all about Neighbours "off the street". For instance, the Neighbours Nights which are held in Melbourne and Sydney, and what the actors do to promote the show outside of working hours. A nice feature with some shots of a few psychotic fans thrown in for good measure.
A Year By Year guide follows (you can read ours here), which is nicely done and covers all of the major happenings, and then a list of all the characters (for some reason Maggie Hancock is omitted) who have appeared in the show and how they left.
I must say – the presentation of this book is spellbinding. Inside are hundreds of full colour photographs, many exclusive and many archived ones which haven't been seen for decades. It has a sleek glossy finish and is fun just to flick through without reading everything because of this.
The back cover kind of sums up everything: "Enjoy Ramsay Street for what it truly is: more than a fictional street in suburban Melbourne, but a way of life for millions of fans worldwide". And it is, it really is.