.
Comment > Neighbours The Music CD by Rhys
On Monday, June 2nd 2003, Neighbours: The Music was released in Australia - a compilation of original music and chart releases used as background and incidental music in the show. Producer, Peter Dodds, revealed in 2000 that a commercial release of "Neighbours music" was something given much thought to by the production team every week, but was deemed uneconomical. However, after a surge of requests and enquiries by Neighbours fans, it was decided in 2002 to release a selection of songs on CD.
The compilation comprises a Compact Disc containing seventeen songs, and a Digital Versatile Disc containing ten music videos. The CD features nine tracks composed especially for Neighbours - nearly all by the programme's musical director, Chris Pettifer. Every other track, intermixed with the in-house songs, are mostly Australian chart hits, used under license by Grundy TV for occasional use on Neighbours. It's quite common for music releases on CD to have a DVD layer on the same discs, so that some of the songs can be accompanied by their video as a "bonus" feature for buyers, but it's most unusual for a release to have a separate DVD with so much content - thus alienating purchasers without a DVD playing appliance. This is especially true of the Neighbours album, seeing as only two of the videos actually feature song-only on the CD. That means that fans without the means of playing DVDs miss out on eight tracks.
Neighbours: The Music is available in both CD and DVD packaging - the former, more than likely, being most people's preference, so that it can nestle among other CDs. Presented in a clear jewel case, with a flip-over holder to house both discs, the product is neatly styled and presented. Branding of the product is equally impressive. The CD inlay leaflet features a bold cover design in sky blue with hues of aqua marine, and a subtle, overlaying horizontal lines motif. Layered on top of this is the Neighbours Brush Script MT logo - identical to that featured on the new board game release and the Defining Moments DVD. It differs slightly to the one used on the programme's opening titles sequence and official websites in that it's hand rendered from an original print with very subtle differences - notably the narrowness of the type and sharper finish to the edges. This is probably a copyright measure used to highlight imitation of the logo by third parties. This logo, like most of the type, is in yellow, and a reproduced "Ramsay Street" sign dominates the foreground. Descriptive text on the cover reads: Original music and chart hits from the Network Ten TV series. Whether this will be altered when the album is launched in the UK remains unclear. Obviously keen to cash in on the brand identity of some the CD's artists, Sony decided to proudly announce Kylie Minogue, Holly Valance and Delta Goodrem's inclusion on the DVD - as well as photographs of them running along the bottom half of the design, alongside Human Nature and Shakaya. A similar photographic montage runs along the top of the design, featuring Neighbours actors Patrick Harvey, Carla Bonner, Kym Valentine, Ryan Moloney and Katie Keltie.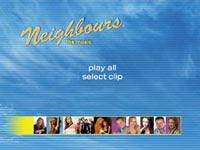 . . .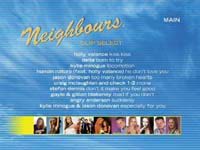 Left: DVD Menu. Right: Video list
On the fold-out pages of this inlay, we are treated to a track listing complete with composer details and copyright dates, and in most cases, the artists themselves. Another welcome inclusion is a rough guide to when the Grundy produced music has been used on-screen - although it is hardly exhaustive. Finishing off the pleasingly informative and well-styled information leaflet are the obligatory promotions for other Sony artists - in this case, Delta and Holly. These, as well as an advertisement for the recently launched Defining Moments DVD along with Grundy and TEN branding elsewhere on the product, lends it a reassuringly "official" air.
On to the music itself. Tracks for the CD are as follows, while the descriptions accompanying them are independent of the release and are a means of illustrating the various songs' uses in the show:
1) Neighbours Theme - Grundy
Ironically, the shortest track of the entire album. The version adopted for the soundtrack is the current on-screen variant, albeit in its full length form (unheard in Britain). Sung by Janine Maunder, this is one of the most appreciated of the "modified" Neighbours themes - largely because of its gentle tones which echo the original version from 1985. It's a great pity that the theme wasn't re-recorded to include the entire Neighbours song, as it was in 1987 for a single release, but it's nice to have it included on the album all the same - where the tendency might have been to exclude it, in the hope of weakening the soundtrack's ties with Neighbours as a programme, thus increasing sales from people who would be put off by the Neighbours branding. Interestingly, the copyright date is listed at 1998 - although this particular rendition didn't launch until 2002, and the lyric variant was first used back in 1992. However, many of the dates given for other songs don't quite ring true.
2) Born to Try
Delta Goodrem's world-wide hit is a welcome addition, especially given its prominence in recent storylines involving Delta's character, Nina.
3) Lie - Grundy
Most often heard in scenes set at Lou's Place - the intro chords often accompany a scene-setting still of Lassiter's or the pub's exterior. Likewise, the highly charged final bar often acts as a cliffhanger theme. The inlay card explains the use of the song for scenes involving Karl's dalliance with his secretary Sarah, and the guilt that followed him when with Susan.
4) Way Love's Supposed to Be
Another instantly recogniseable song by Selwyn, most commonly heard in the Coffee Shop, in scenes with the younger characters. Really only ever used as a "jukebox theme" - rarely used for cliffhangers or scene closures.
5) One Good Reason - Grundy
Probably one of the most anticipated soundtrack songs ever. One Good Reason is one of the most recogniseable songs ever used on Neighbours - second only to the programme's theme tune. Information provided with the album teasingly refuses to reveal the singer, which further adds to its appeal. The fact that many Neighbours fans said they'd purchase the album just to hear One Good Reason is testament to its enduring popularity. It is most often heard in the Coffee Shop, and again, both intro and finale chords used with increased volume for scene setting frames and cliffhangers.
6) Stop Callin' Me
A rather unexpected song to lay claim to being used on Neighbours. Indeed, it sounds more like the track you'd have blasting through the speakers in your local branch of Top Man or River Island! Understandably, then, that it became a hit for Shakaya, and has been used on occasions in Coffee Shop scenes on the show. Not a regular player, but common enough to warrant inclusion. Often used, because of its lyrics, in scenes involving infidelity or teenage romance.
7) Flowers - Grundy
Janine Maunder appears again singing one of the most delightful tracks on the album was used as the wedding theme for Sarah's wedding to Peter Hannay in 1999. Since then, despite rarely being heard (hardly surprising considering its distinctly marriage-themed lyrics) its introductory and finale notes are often used for reflective scenes - often when it's raining!
8) Three Dimensions
Something for Kate's chart release is one of the more common tracks also masquerading in Ramsay Street. Again, it's often a theme heard in the Coffee Shop, when the scenes are dominated by younger cast members. Being a slightly stronger song with rock undertones, limits its general usage.
9) What Now My Friend - Grundy
One of the more gentle songs included is often heard in the show. It's not often heard clearly in its full-guise, largely because it's used as a backing track, but the first verse if often used as a stand-alone, and is most prolific for accompanying a montage of Madge clips for episode following her death.
10) He Don't Love You
Human Nature guested in the series in 2000 at Erinsborough High's debutante ball, and sang this catchy song on stage. Since then, it's become a hit in Australia and achieved successful sales in the UK. The song is occasionally heard in the pub or Coffee Shop, but again, its style limits its use.
11) Won't You Be - Grundy
Once again, the incidental intro to this song is often used to set the scene for Lassiter's scenes - and is very often used as an early morning track in the Coffee Shop. In these cases, the intro would be used to round off the previous scene which would often be based at night in one of the Ramsay Street homes - before cutting to a scene setting frame of the Coffee Shop. Similarly, the closing lyrics "only if it's alright with you" are often used to accompany cliffhangers.
12) Takin' Back What's Mine
Interestingly, another track often used to accompany early morning scenes set at The Coffee Shop, but rarely heard in full. Its definite dramatic tones and distinct beats mean it's often used to end dramatic scenes, also. Strangely, Leah Haywood (who's other songs are occasionally used as backing tracks) has provided a song with very Kylie-esque overtones here! Considering its recent vintage, it sounds almost as if it could belong to a decade previously.
13) 4 Your Love - Grundy
Another hotly anticipated song, Grundy-produced 4 Your Love was first used back in the late 90s as a theme for the fictional boy band, Boy4 (hence the numerical title) whith whom many a Ramsay Street youngster has been infatuated. The inlay card also reveals this track was deliberately used during the relationship of Billy and Anne. It gained more recent fame when Delta Goodrem sang is as Nina at the wedding of Karl and Susan in the 2002 season finale. Her version also acted a one-off accompaniment to the closing credits sequence in place of the traditional theme song, for this episode.
14) Afterwords (you're so right)
Endorphin provide many tracks for Neighbours, but one of the most commonly used is Afterwords (you're so right). Used often as a party/nightclub theme - often for scenes requiring the actors to provide some dialogue, thus its comparatively subtle nature suits.
15) Miracle - Grundy
Along with One Good Reason and 4 Your Love, Miracle is one of the most recognisable tracks on the album. It's been in consistent use as a nightclub and party theme since the mid-90s, originally when characters visited the Geiger Counter and latterly for school discos and parties. A very catchy and highly charged song. Gradually being used less and less, it will more than likely be discontinued before long and replaced with an equally annoyingly memorable track!
16) Hard
Not the most common of songs to be used on the show, but Stella One Eleven's hit can be heard in the Coffee Shop from time to time. Suits outdoor scenes and those with a retro nature, such as adults reliving their childhoods.
17) Sea of Love - Grundy
Can join the list of "instantly recognizable songs"! This is almost always heard in the pub or Coffee Shop, and its opening bars are suited to accompanying morning scenes at Lassiter's or at Carpenter's Mechanics. It was also used extensively for scenes involving Lou, Harold and Rosie and the Kennedys - usually those that are comedic and light.
The DVD's selection, meanwhile, is only available to appreciate as a music-video selection, and thus one must evaluate the entire clip. The press release accompanying the album confirms that the DVD is not a selection of songs used on the show, but rather a bonus feature chronicling the actors who made their name in Neighbours and went on to launch both successful and unsuccessful music careers. The menu presentation is rather bland, but effective, and continues the theme and styling from the CD cover design - and is neat in featuring a scrolling Neighbours logo and backed by the theme song. There's an opportunity to view all the videos in sequence, or to choose specific clips.
1) Kiss Kiss - Holly Valance
Holly recorded her debut single whilst still portraying Flick Scully, but owing to its success decided to leave the series which made her a household name to pursue a future in music.
2) Born To Try - Delta Goodrem
Quite unusually, Delta was already signed to the Sony label before landing the role of Nina Tucker. It became a hugely successful cross-promotion stunt by writing the song into Neighbours as a creation of Nina's.
3) Locomotion - Kylie Minogue
The success of this, Kylie's debut hit and a story involving her character Charlene Mitchell singing in Neighbours, ultimately secured her long-term music career. Originally by Little Eva, it was covered in the 1970s by Grand Funk Railroad, before Kylie impressed Mushroom Records with her rendition.
4) He Don't Love You - Human Nature
The same song as on the CD, but complete with simple-but-effective video. Holly Valance guested as the video's star, emerging from a hot shower - another example of music cross-promotion in the show.
5) Too Many Broken Hearts - Jason Donovan Despite major success in the late 80s and early 90s, Jason Donovan never quite had the same appeal as Kylie, but this is one of his better known tracks.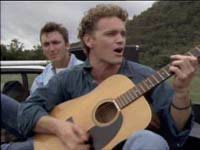 . . .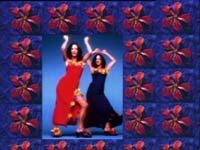 Left: Craig McLachlan and Check 1-2. Right: Gayle and Gillian Blakeny
6) Mona - Craig McLachlan and Check 1-2
A surprising hit, with video, which seems to echo Donovan's Too Many Broken Hearts! McLachlan couldn't quite shake off the Henry Ramsay image, however.
7) Don't It Make You Feel Good - Stefan Dennis
Let's just say that Stefan Dennis really is a wonderful actor. Don't It Make You Feel Good never quite managed success in the UK, and hasn't improved with age either. Worth a look, however, if only to see Paul Robinson in a leather jacket.
8) Mad If You Don't - Gayle and Gillian Blakeny
Not the most sophisticated of videos, but the song is not too bad, despite the bad press it received when launched. Did little to help the Blankeny twins's careers, however.
9) Suddenly - Angry Anderson
This is the song everyone knows as Scott and Charlene's wedding theme, but no one's seen the video. Effective and as far removed from the Reverend Sampson's mumbling and Madge's tears as is possible!
10) Especially for You - Kylie and Jason
A huge hit, and fabulous song which smacks of 80s childhoods! The video is very similar to what the pair were featuring in individually at the time.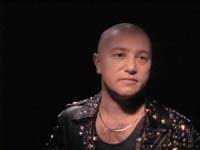 . . .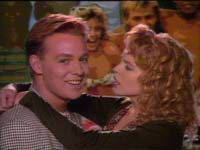 Left: Angry Anderson. Right: Jason Donovan and Kylie Minogue
Hopefully, if the Australian and later the overseas release of Neighbours: The Music is successful, then we may be treated to a second compilation. However, this release has more than answered many fans' wishes in presenting some of the most frequently heard songs on one album. Just a shame we had to wait so many years for Sony and Grundy to realize the market existed.
This CD is available to purchase now. We recommend hmv.com.au, which ships the title internationally.