.
Comment > Crossing the Line by Barry
Riccardo Pellizerri's arrival in Neighbours has brought with it a great sigh of relief from fans, who can at last look forward to seeing some changes that obviously his predecessor was not prepared to introduce. Ric claims he has "upped the stakes" and as his episodes begin to be broadcast here in the UK, we're all delighted with the proposed changes and look forward to seeing them implemented in the show.
However, one point that has always worried me about Neighbours, and I fear has still yet to be addressed, is how far the show can go - in terms of drama, language and physical interaction, without 'crossing the line'.
Throughout the series' history, this 'line' has shifted in many directions, but in recent years it has stayed firmly in place - almost to the extent of changing the entire concept of the show, with the main focus being a show with school kids as its target audience. While we're all well aware that kids love the show, I really long for the day when it will begin to broaden its horizons.
Ramsay Street is of course, a fictional land, but to what extent is it fair (based on the recent events unfolding in the world) for it to be seen as a fairytale land? I recall Jackie Woodburne in an interview commenting that the show was set in a such a place.
In the year 2003, am I the only one who would like to see Neighbours move up a scale and dare to cross the line? The perfect blend of families and fashions is already in place - the Hoyland family being my personal favourite at the moment, especially because of Stephen Lovatt's fine work portraying a single father to Summer and Boyd. It really gives the show a family feel. So, with that in place, together with the legendary Kennedys continuing to dominate the show in the way we all love, is there any chance we could lose some of the Ramsay Street cheese?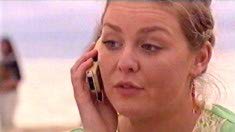 The first change I would love to see rectified is the hysterical chipmunk at the end of every phone call to get his comeuppance. Comical to some, yes, but not when it's origins lie in a Disney cartoon and certainly not in a serial drama who are (and I certainly hope are) attempting to rebuild themselves and hopefully one day be back in the top spot in the UK, at best rivalling Eastenders and Coronation Street. Obviously there is little comparison between these shows but with the excellent cast Grundy's employ on Neighbours, let's face it. It should be! So why settle for second best?
I don't want to present this article as being overly critical of the show because I'm not. Being a long term fan of Australian Soaps, following Prisoner right throughout its seven year run and seeing what importance that always placed on confrontation, conflict and rivalries, it seems odd to me that we now live in this day and age, and Neighbours are still frightened to have characters engaging in such conflict.
We have recently heard that the characters are soon to become more idiosyncratic and more emphasis placed on distinctive personality traits. Thank god slash Ric for that! In a world which is now evidently driven by conflict, I strongly believe the more kids see it on television and also the resolution of it - it would help them to develop a greater understanding. To be afraid of having the Scully sisters in a full-on brawl in the middle of the street, and afraid to engage Susan and Candace in a boxing match, in my opinion does little to help move the line™ in the direction I feel it should go.
This is often a debate which you will see in countless Neighbours web forums - and there will always be a handful of fans who say "I love it, don't change it!", however many fans were thrilled with the adult tone the show adopted around the demise of Jim Robinson, but this was short-lived and in the following years we began to see the line™ shifted to become more entertaining to children.
I would really love to see more arguments and confrontation in Ramsay Street. I would like to see it beginning to represent the real world as it is today, because I fear in a few years it will be left way behind - still of course in production but continuing in the way it has been in recent years.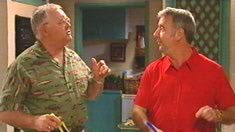 One name that I must of course mention is Gino. It is surely unacceptable (and to a larger extent offensive) to present a stereotypical gay character, without ever referring to him as being gay? While it would hardly come as a shock to the audience to hear Gino revealing his sexual orientation to others, I would like to see Neighbours at least having the courage to talk about the subject, without worrying about how the audience will accept it and pampering to the somewhat prudish viewers. As is stands, Neighbours is refusing to acknowledge and admit that Melbourne has a massive gay community, which in my opinion does little in the way of embracing cultural changes and keeping up with the times. In fact, it's more in keeping with the Scottish soap High Road with old fashioned characters shocked at the thought of such shenanigans going on in their community, a trend which eventually brought a dramatic slump in ratings until it was axed last year. Without exploring Gino's relationship with his "flatmate" and even possible homophobic incidents in his life, the younger viewers will surely be confused by his antics and label him as being peculiar.
As I have already said, I love Neighbours, and would not be offering my own type of constructive criticism if I didn't love it. I'd simply like to see the producers having the courage to cross the line, as there is no reason why this show cannot be a serious competition to our own soap opera's at the next television awards ceremony. Last year it was pitted against and beaten by UK auction show Bargain Hunt - which, as I'm sure most fans will agree, was embarrassing, especially with our own current level of enthusiasm for the show. However, obviously a true reflection of where someone thought the show should be relegated to.
Without change being the new driving force of the show, we won't be able to keep up.
Luke Devenish has recently been quoted as saying "we no longer wish to be seen as fluff". Considering the current level of euphoria surrounding Ric's appointment as the new Executive Producer and his changes beginning to crystallize, lets hope things will change for the better, and will never have to worry about being afraid of crossing the line again.