.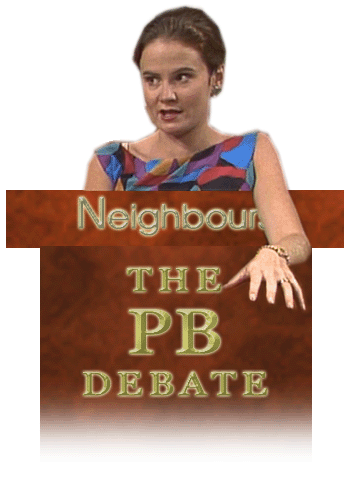 Comment > The PB Debate: Who should Libby be with?
Libby Kennedy has found herself unwittingly caught between two brothers – dependable Dan, who she's been attracted to for months, and exciting Lucas, who's just landed in Erinsborough and brought the fun back to her life. As, this week in the UK, she finally learns that her two suitors are in fact siblings, we look at which one of the brothers she should choose...

Dan by Steve


Dan and Libby have a long history. He was first part of her life way back in 2000, when he had a crush on her best friend, Steph. Back then, however, Libby was involved with mechanic Drew Kirk, and finding another man was the last thing on her mind. After a few years away from Erinsborough, both Dan and Libby returned in 2007, fresh from difficult relationships. As Libby accepted a job at the school, the spark between her and Dan was obvious and, if it hadn't been for her problems with Darren and his problems with estranged wife, Sam, they'd have got together and already had several trouble-free months as a couple.

Dan is just the kind of guy Libby needs at this stage in her life. He's thoughtful and caring, and would never cheat on her like Darren did. Repeatedly. She needs someone stable, someone more like Drew than Darren. Libby showed how much Dan meant to her when she backed off, believing that he was truly happy with Sam, proving that his feelings meant more to her than her own. And then there's Ben. He and Dan already get on famously, so there'd be no worries for Libby about her son having a problem with his new father figure.

And besides, there's a strong chance that Lucas would just break her heart anyway. He isn't the type to stick around in one place, or with one girl, for long, and Libby could really do without another man who's going to cheat on her – or abandon her – just when she needs him most. Libby and Dan were meant to be, and Lucas is just another hurdle that they must cross.

Annnd both of Libby's other major relationships – with Darren and Drew – were with men whose names began with D. Case closed.

Lucas by Edd


Somewhat of a lovable rogue, there's no denying Libby's attraction to Lucas. From the off Lucas made his intentions towards Libby clear. He liked her and he wasn't going to give up easily. His cheeky persona brought out the fun in Libby and even though Lucas ended his first night at Charlie's tied to a post wearing just his underwear, with Libby calling out for the street to come and watch the show, Lucas was still not to be deterred. Dan on the other hand still doesn't know whether to stick or twist and would rather just look at her lustfully from afar.

The chemistry between Libby and Lucas is there for all to see. After the anguish over her breakup with Darren, Libby had a smile on her face for the first time in ages with Lucas. She had been messed about before with Darren and to some extent with Dan, so it was about time this yummy mummy had some fun. A relationship with Dan at this stage just simply wouldn't work, especially given the nature of Dan's breakup from Sam. How could Libby ever be sure that she wouldn't enter his life again? Libby has learnt the hard way and got hurt before.

With little Ben to consider as well, does Libby really want to overhaul his life again by diving into another serious relationship? Libby may not know Lucas that well and his commitment is questionable, but what he will bring is happiness to Libby. Lucas probably won't be the love of Libby's life, but she's young and having a good time and who can blame her after her recent woes. Lucas is making her happy which is more that can be said of Dan. And a happy Libby equals a happy Ben.

Scott Major also played the first Darren Stark too. If only he'd stuck around and continued with the role, who knows, maybe we wouldn't need to be having this debate in the first place…