.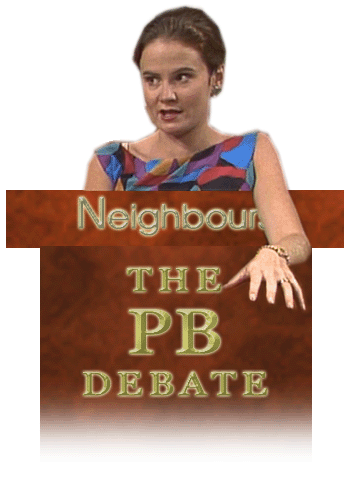 Comment > The PB Debate: Should Libby forgive Darren?
After a few weeks back in Erinsborough, Libby Kennedy has finally revealed why she's been so reluctant to talk about boyfriend Darren Stark. Just before her return, she found out that he'd had an affair with their neighbour, Lynda. It's not the first time Darren's cheated, but the young couple really do seem destined to be together - should she forgive him again? Here's both sides of the argument.

Yes by Ryan


Darren Stark is an idiot. That is not in question. He had the girl he himself describes as 'the love of his life', but he risked it all for sex. It's indefensible behaviour – especially considering this isn't the first time – but is indefensible the same as unforgivable?

No one would blame Libby if she told Darren she never wanted to see him again. It would be easier for friends and family to tell her that she should find someone who deserves her and who wouldn't treat her like that. But love isn't perfect, is it? The reality is that many people struggle to find one great love in their lives; Libby has been lucky enough to have two. Just as Libby is the love of Darren's life, he could be considered hers. Their love stretches back to nearly 12 years ago, pre-dating Libby's marriage to Drew. Having rekindled this love after Drew's tragic death, should Libby really be throwing it away without a fight? Darren might not deserve a second chance, but surely Libby does; if she makes a snap decision, she could lose something very special.

Of course it won't be easy for Libby and Darren to get past this, but if she wants an example of how a relationship can survive infidelity and become all the stronger for it, all Libby has to do is look at her own parents. Something else to remember is that forgiving doesn't have to mean forgetting. If she gives him another chance, Libby has to make it clear that it's the last, and that a repeat performance will mean the end. And if Libby is shrewd about it, she can use this situation to her advantage. With her mother so ill, she might want to consider a permanent move back to Ramsay Street; and if she made this a condition of taking Darren back, he would hardly be in a position to argue…

Should Libby make Darren pay? Of course she should. But that doesn't mean she should shoot herself in the foot in the process.

No by Steve


When Libby Kennedy put her heart on the line – for the third time – and took Darren Stark back, she thought that he had finally grown up, with his own business and promises that he would never let her down again. But less than three years later, he has done exactly that, and now Libby should realise that she's given him enough chances, he's never going to change and it's time to move on.

When Libby and Darren's relationship was only a few months old, he cheated on her, sharing a kiss with Catherine O'Brien as the pair did some DIY at number 30. Just a year later, after Libby had slowly learnt to trust him again, he did the same thing – not once, but twice – with single mum Shannon Jones. Now, he's been at it again, with Libby's friend and neighbour Lynda, this time not just a kiss or two, but a full-blown affair. Surely three incidents of cheating are enough for one relationship, and proof that, regardless of Darren's promises that he'll never do it again, he simply cannot be trusted to stay loyal.

It could be argued that Libby should give Darren one final chance. But haven't there been enough 'final chances' for this man? How many more times does Libby deserve to have her heart broken? Yes, he may have described her as 'the love of his life' but is this really the way to treat someone you love? He entered into liaisons with three other women, knowing that, if Libby were to find out, it would devastate her, and, in the most recent case, destroy the happy family home they had built up with Libby's son, Ben. His actions display a complete lack of respect for Libby, Ben and their feelings.

Should Libby make Darren pay? Yes. By being strong enough to remove him from her life once and for all. There can be no more second chances.