.
Comment > Episode Review: Ep 1 by Rachel
When most serials start out on television, rarely does it start with a massive bang that immediately grabs the attention of the public. This is what episode one of Neighbours did. Little did the cast and crew knew that they had just created gold dust!
Neighbours begins with Danny Ramsay, son of Max and Maria Ramsay who live at 24 Ramsay Street, having a recurring dream about his older brother, Shane, suffering a diving accident as he was training to be a diver for the Olympic team. This is more of a dream for father Max who missed the opportunity to become a diver and hopes his son can lead the life he never had. In the dream, all of the neighbours are laughing at Danny. Max gives Danny a resentful look and wraps his hand round Danny's throat to stop him from ruining Shane's big chance. Danny runs over to Shane and shouts out to him when he is just about to dive. Suddenly, Danny wakes up in a hot sweat.
The next morning, Danny goes to the doctor for a routine check-up. The doctor asks Danny if everything is okay at school and with his family. Danny replies to the doctor that it's all fine, but the doctor then brings up the nightmares. Danny dismisses the question and says that he thought that this was just a check-up. The doctor replies to Danny that it is and that he is in good health and asks Danny what these nightmares are about and that his father is concerned for him. Danny replies that he doesn't remember what the dreams are about and that the only reason why his father is concerned is because he loses sleep. Danny also adds the point that these are just dreams, everyone dreams don't they? The doctor asks if there are any more problems and Danny jokingly replies my father doesn't understand me. Danny kindly asks if he can leave.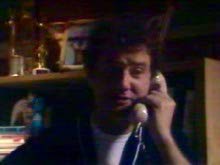 Julie Robinson who is daughter of Jim Robinson, grand-daughter of Helen Daniels and the sister of Paul, Scott and Lucy - the residents of 26 Ramsay Street - picks up her bridesmaid dress and goes over to Lorraine Kingham, who is marrying Des Clarke, the bank manager who lives at no. 28.
Over at number 24, Shane Ramsay is telephoning stripper Daphne Lawrence, explaining that his mate is having a bucks' night. Danny enters, back from the doctor and tells Shane that Paul is waiting outside for him. Danny walks straight to his room and mother Maria asks him about the check-up. Danny replies that the doctor says that he's having nightmares and argues that his dad shouldn't have said anything to him. Maria replies that his father was only concerned. Danny assures his mother that everything is fine and there is nothing to worry about. Shane shouts out that he is off to sort out the bucks' party and Maria tells him he shouldn't leave yet without having a decent meal. Maria tells Shane to be careful when organising the party and not too make it too noisy as his father hates noise. Shane reassures her it won't be too noisy and you won't even notice their presence in the street.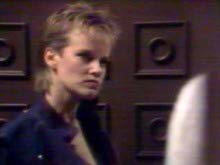 Unfortunately, Shane's promise is not kept, and by midnight the party is in full swing and keeping the whole street awake!
At the Kingham house, both Lorraine - Des' fiancee - and Julie get ready for an early night's sleep. Instead of Lorraine being overly excited about her big day, she is worried because of her father disagreeing with the marriage. Julie tells Lorraine that her wedding is meant to be the happiest day of her life and Lorraine replies that her only concern is because of her father not liking Des. Julie reminds her that she shouldn't be concerned about her father's thoughts because Lorraine loves Des and that's all that matters. Julie goes on to explain how much she admires Lorraine for sticking with Des and not caring about what her father feels and adds that when she and Des were going out, it wasn't right but when Lorraine started to go out with him, it worked. Lorraine asks why Des wasn't right for Julie and she replies that he's not the hunkiest guy on the planet! She adds to this that Des is nice, very ordinary and would be a great father someday and that Des' qualities don't matter, it's about Lorraine's love for him. Lorraine repeats that her father hates him but Julie adds the point that her father doesn't have to marry him and Lorraine is allowed to lead her life however she wants and love whoever she likes. Lorraine tries to call Des, but he's put the phone on the hook so that he gets no interruptions during the party!
Danny is still having the recurring nightmare of Shane injuring himself in a diving accident. Max bursts into the room and shakes Danny. Max tells him to shut up as it's 2am and he has to get up early for work. Max starts to get anxious about the party and paces up and down the room. He telephones Jim Robinson and asks what Jim is going to do about those bloody neighbours. Jim replies to Max to leave it alone for a bit and that they're not doing any harm. Max says that if he isn't going to do anything, he'll have to do something himself. Next-door, Jim and Helen start talking about the noise, as Jim's youngest daughter, Lucy, comes into the living room and moans that she can't sleep. Scott creeps in thinking everyone is asleep. To his surprise he is greeted by Helen, Jim and Lucy. Jim asks Scott where he has been and he replies "just out". Helen puts to him the question of whether he has been to the bucks' party. Scott replies "no, just out and you're not still up because of me are you?" Helen replies that they are awake because of the noise. Max calls Jim again and asks if there has been any improvement and Jim says that there hasn't, so Max goes storming over to number 28.
Max bangs furiously at the door and Daphne the opens the door whilst arguing with Des. Max starts shouting at them and Daphne tells Max to drop dead. Max then shouts at everyone that the party is over.
After the noise has gone down, the Robinsons all go back to sleep, until there's a sudden knock at the door and Max presents Jim with a drunken Paul - the best man - dressed in a nappy! By the next morning, Danny was still having concerns as his brother went to diving practice, while Lorraine, after one night chatting to Julie, had decided to call off the wedding. But the final twist came as Lorraine, along with her parents, arrived at number 28 to break the news to Des. At the same time, stripper Daphne was in the bedroom, searching for her lost watch, and she burst out to tell him that she'd found it, shocking Lorraine and her parents. To further complicate the situation, Daphne then immediately recognised Mr Kingham, and Neighbours had its very first cliffhanger.
Looking back at episode one of Neighbours, it's funny to think that it would still be entertaining living rooms 20 years later and that it would also be of significance and importance in people's lives. When the creator, Reg Watson, pitched his programme idea to television networks, he wanted the show to be conveyed like no other show that he had previously created or that was already on television. Watson was heavily inspired by Coronation Street. He was totally in awe of how a television show can be of such significance to the audience and almost be a national institution. He was also amazed at how a storyline was treated as if it was real and not fictional. When Neighbours was created, Watson used this but added a sense of reality to it i.e. the audience could relate to the characters and situations but for half an hour could escape to a world which, let's face it, we'd all like to live in when the going gets tough.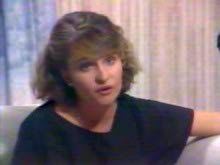 But, most memorably, the show has produced some of the best characters and storylines ever seen in soap history. Who can forget Mrs Mangel, Madge Bishop, Helen Daniels and yes even Bouncer, God rest his soul! But most memorably, the characters that changed the whole show and made it what it is today were Scott Robinson and Charlene Mitchell. In essence, they saved Neighbours.
The show has also produced a lot of talent, many of whom have gone on to acting and even more on to music. Most famously Neighbours featured the likes of Alan Dale, Delta Goodrem, Guy Pearce, Holly Valance, Peter O'Brien, Mark Little, Natalie Imbruglia, Jason Donovan and Kylie Minogue.
But most of all, Neighbours has revamped itself over the last twenty years. The episodes now are faster paced and certainly not as slow as seen in the first episode. But the show has always kept the same key element that has made it successful even through the changes in the world. That is to entertain, still create brilliant storylines and characters, and to still feel that intense feeling of how the story will continue in the next episode and to see if the situation will be resolved. Here's to another twenty years!