.
Comment > Fifteen Years Later by Steve
It's been fifteen years since Neighbours: The Perfect Blend was launched, and you'd be forgiven for thinking that Erinsborough would have changed a great deal since 2003. But with Toadie's brief marriage to Dee still very much on his mind, and Izzy back to cause more chaos in the Kennedy marriage, we thought it would be the perfect time to look back on how much Neighbours has evolved - or not - during the last decade and a half.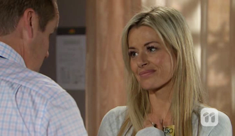 Back in 2003, Toadie and Dee were one of Ramsay Street's favourite couples. After years of relationships that never really went anywhere, Toadie finally seemed to have found his perfect woman in the form of Dione 'Dee' Bliss, a nurse who shared his sense of humour. Sadly, their time together came to an abrupt halt on their wedding day, when, as they were in the car on a coastal road on the way to their honeymoon, Toadie took his eyes off the road for a moment and they crashed into the ocean. Though Toadie escaped, it appeared that Dee had died in the accident.
In the fourteen years that followed, the one question asked most often by Neighbours fans was 'Is Dee really dead?' - and as the body had never been found, it was expected that she'd turn up one day, just as Toadie was moving on with his life. Other marriages followed for Toadie, and there was no sign of Dee, but the fans never gave up hope that she'd be back, and it was announced in late 2016 that Madeleine West would be reprising the role. Of course, it was never going to be quite as simple as Dee walking in and explaining that she'd been suffering from amnesia for fourteen years (and we'd already seen something very similar with Harold Bishop), though that's where the story seemed to be going for its first few weeks. It was then revealed that Dee was actually Andrea Somers, a lookalike who was trying to get her hands on the money from the Bliss family estate. She failed, but after convincing Toadie that her teenage daughter Willow was the product of their 2003 relationship, she managed to get $100,000 out of him for Willow's schooling, before mother and daughter promptly disappeared to London. Still unaware that Andrea was a fake, Toadie followed her to the UK and ended up sleeping with her, almost destroying his marriage to Sonya in the process. But as they repaired their relationship, Andrea, and Dee, continued to hang over things. Madeleine West has put in a couple more brief appearances since the initial story came to an end, with the credits simply calling it a 'Special Guest Appearance by Madeleine West', leaving the possibility open that Dee, Andrea, or both, could be back in Erinsborough again in 2018.
Along with the departure of Dee, 2003 also saw another cast change that would echo through the ages, as Isabelle 'Izzy' Hoyland made her debut. The younger, more outgoing sister of Max Hoyland, Izzy came between Ramsay Street royalty Karl and Susan Kennedy. Unlike Sarah Beaumont, the woman who'd become the thorn in Susan's side five years earlier, Izzy ended up getting Karl to herself and the Kennedys were divorced, with some of Neighbours' most powerful scenes occurring as the marriage fell apart, and Susan and Izzy came face-to-face. Nothing was ever simple with Izzy, and after a relationship with Paul Robinson, she ended up having one last night of passion with Karl (though he was high on medication and thought he was with Susan), before leaving town. The following year saw Karl and Susan back together and heading to London where, amongst other things, they were remarried and bumped into the cream of British celebrity crop, including Emma Bunton and Sinitta. Izzy also happened to be in town, heavily pregnant and in the middle of a scandal after becoming involved with a married footballer. When Izzy gatecrashed their wedding and went into labour, Susan was shocked to later overhear her telling a paramedic that Karl was the father of the baby, creating a new crisis for the Kennedys, and giving Izzy a connection to Ramsay Street that would one day allow her to return.
And now, fifteen years on from her first appearance, Izzy is back. Natalie Bassingthwaighte is clearly relishing playing the role again, with the story bringing out the best in her, as well as Jackie Woodburne, Alan Fletcher and Stefan Dennis, the main players from her previous plots. With Holly now old enough to play a role in the proceedings, an interesting new element to the story is the way that her parents and step-mother interact with her, and particularly the role-reversal as Holly is forced to be the grown-up in the relationship. We've yet to see the full extent, or the consequences, of Izzy's latest stint, but just having Karl, Susan and Izzy interacting again has been a huge treat, and if there's any justice, Holly will be staying with Karl and Susan from now on, allowing for Izzy to drop by and cause a little chaos on a regular basis.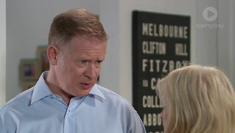 2018 has already seen the returns of numerous faces from the past. As well as Izzy, we've also had visits from Lance, Sindi, Stuart and assorted Rebecchi family members. These returns have become more frequent in the last few years, but it was 2003 when Neighbours really started to look to its past for inspiration, having ignored its history for a long time. The 2003 season saw the characters David Bishop and Sky Mangel return to Erinsborough, along with a visit from Jamie Clarke, the son of Neighbours legends Des and Daphne. These days, of course, we have old faces regularly popping in and out, with classic characters like Lucy Robinson, Lyn Scully, Clive Gibbons and Hilary Robinson appearing on a recurring basis in the last few years, something that would have seemed unimaginable when Perfect Blend first launched, and we like to think that we played a part in reminding the writers of a few of the characters and stories they've revisited.
But as much of Neighbours is still familiar after fifteen years, it has also moved on in a lot of ways. Though there had been several gay guest characters over the years, 2010 saw Chris Pappas become the first regular gay character in Neighbours' history, and was followed by Nate Kinski, Aaron Brennan and David Tanaka, whilst Steph Scully's return to the cast in 2015 saw her bisexuality explored. The cast has also diversified from the sea of white faces that were its signature for a long time, with the Kapoor family taking up residence from 2012 to 2013, Paul's twin sons David and Leo arriving in 2016, and the Rebecchi family moving in last year. And although Ramsay Street itself barely changes, the Lassiters complex has undergone many changes - a huge fire at the end of 2004 brought about the end of the complex that had been a familiar sight since 1986 and it's had several revamps since then, the most recent last year attempting to be a modern take on the bridge and pond look of the old days.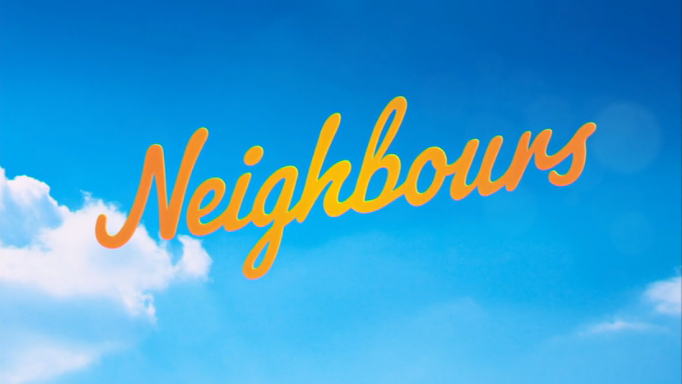 And it's not just on screen where there've been changes - many other things have changed drastically for Neighbours in the last fifteen years too. In the UK, it's moved from the BBC to Five, whilst in Australia it also changed channels, moving from Ten to Eleven. In January 2016, Neighbours took another big step as it started to broadcast episodes on the same day in Australia and the UK. The opening titles have undergone no less than seven revamps during the last fifteen years, whilst the theme has had at least three major retunes.
But what of the future - which of the current Neighbours characters and stories could still be affecting the Ramsay Street residents fifteen years from now? Will Izzy be back with a bionic arm and an attempt to ruin Karl and Susan's retirement? Could Tyler be released from prison only to return and find Piper happily married to Jimmy? And, most importantly, how many more children will Paul find out that he's fathered since 1985? We don't know, but we're looking forward to finding out.