.
Comment > Gangs of Erinsborough: 2007-2009 by Matt
Teenagers - both as characters and viewers - have always been very important to Neighbours. In our new series, Gangs of Erinsborough, we take a look at the different teen gangs who've roamed the streets of Erinsborough over the years. We begin with Matt taking a look at the current group of Bridget, Declan, Rachel, Zeke, Ringo and Donna...
What makes Neighbours appealing to such a wide audience is its diversity in characters, from baby to old-aged-pensioner. Being a teenager myself, it is great to watch people of my age, that I can relate to. The current 'gang of Erinsborough'; Declan, Ringo, Zeke, Donna, Rachel and Bridget maintain a very contemporary feel to the show. Let's take a look at their impact on the show, such as the mischief each of them have caused, and their ever-changing relationships with each other.
Almost all of the teenagers in the gang have been in a relationship with each other at some point. First there was Rachel Kinski and Ringo Brown, a relationship which grew mainly from Rachel's support for Ringo's phobia of water, and Ringo's support for Rachel over the loss of her previous boyfriend Stingray Timmins. We saw their affection for each other develop, but at many times, be lost, particularly when Ringo was often mistaken from two-timing Rachel. Lou Carpenter's daughter Lolly desperately tried to break up the couple, so she could get a look in! And then there was that photo of Ringo kissing Jessica Wallace, who was desperate to steal him away from his girlfriend, though Rachel saw the reality of it. Rachel and Ringo's relationship carried on like a boat on rough sea, until they eventually realised, with a little more prodding from Jessica, that it was best if they just stayed friends.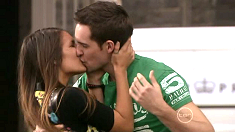 Ringo soon recovered, and set his sights on Bridget Parker On a school camping excursion to the bush, he tried to cosy up to Bridget whilst playing a board game in the middle of the night. However, with Bridget still confused over her feelings for Declan, she wasn't ready for more commitment. Though they did end up deciding to give a relationship a go, it lasted only a matter of weeks before they concluded that they weren't suited to each other, and Bridget was simply trying to have a serious relationship because it was what all her friends were doing. Ringo had problems of his own, as he battled to deal with the loss of control in his life and developed an eating disorder. As he tried to overcome it, his life changed dramatically with older brother Frazer moving to Italy, and Ringo moved in with the Kennedys.
Over at Erinsborough High, whilst Susan was on extended leave after her MS diagnosis, a replacement teacher was about to wreak havoc on the Kennedy-Kinski family, and Rachel's closest friends. At a bar in Melbourne, Rachel struck up a conversation with Angus, about her life at university. Clearly out of her depth, she was keen to forget about Ringo, and go for someone a bit older. However, the next morning at school, a stunned Rachel discovered Angus to be her replacement teacher. After the initial shock, they both attempted to carry on seeing each other in secret. But before long, it was all over Erinsborough High, and the Erinsborough News, and the secret couple were now exposed. As Rachel further engrossed herself in all things Angus, Daniel Fitzgerald discovered the sordid details, and Mr Henderson swapped the blackboard for iron bars, as he was imprisoned for gross misconduct of his job. Rachel, still not seeing sense, felt it was wrong for Angus to suffer, and on his release, decided to move in with him. Though, she began to see sense in that family was more important, and decided to let him go to Adelaide for good, by himself. Rachel's now moved on, and surprisingly found herself another boyfriend outside of the teen gang, with the slightly older (but thankfully this time not a teacher) musician Ty Harper.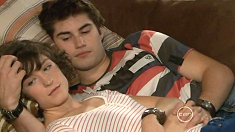 Meanwhile, Josh, a wheelchair-bound young lad who befriended Bridget at physiotherapy sessions, following her car accident, had been stopping at nothing to woo her. Following the accident, she learnt she could be paralysed, and felt alone. Yet, when seeing Josh, she felt otherwise. But, as time went on, she realised that she only wanted to be friends. Besides, with Declan trying his chances with her again, she couldn't manage too much boy trouble at once, especially with Declan being the local bad boy! Over the next few weeks, we saw Declan desperately trying to get together with Bridget, but, feeling that he was embarrassed to be seen with her, as she had to use a walking aid, she wasn't interested in the slightest! Shame really, because she needed a bit of happiness after recent events. But, following her brief time with Ringo and a disastrous dalliance with older Chris Knight, who ended up dead, Bridget has of late, slowly decided that Declan wasn't that bad after all, and now, viewers hardly ever see them apart! Even the return of Josh, determined to win back Didge, couldn't separate them for long, and it seems that this teen couple might be the one to go the distance.
Only Rachel's geeky brother Zeke had avoided romance within the teen gang, instead finding love with Taylah Jordan, best friend of troublemaker Jessica. Their relationship was strengthened by grief, when Jessica was killed as a warehouse roof collapsed, trapping most of the gang as they attended an illegal rave. But as the young couple tackled the thorny issue of sleeping together for the first time, her dad was horrified to learn that his little girl was intending to go on the Pill, and sent her away to a girls' boarding school in Sydney, leaving Zeke heartbroken and slowly isolating himself from his friends.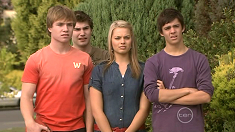 How has Ringo been keeping? Well, free-spirited newcomer Donna Freedman has set his heart fluttering and, after nearly getting naked in the back of her cop dad Matt's car, the two have slowly but surely got closer. Could this finally be the long-term relationship that Ringo's been waiting for, after his past disasters with Rachel, Didge and Jessica? Outcast Donna seems to slowly be finding her feet too, as she realises that she's found some true friends in Ramsay Street and, with her dad on the run from the law, she's even found a home with the Robinsons.
The current teens are a strong group, with many different archetypal character types represented - the jock, the nerd, the tomboy and the kooky outcast. Their storylines, ranging from the traditional, such as forming their own band and finding, and losing, love, to the more interesting, such as eating disorders and teacher-student affairs, have given each of them a chance to shine. But the strength of this teen gang really lies in the chemistry of the actors, who clearly get along well in real life, and this translates well onto screen, making them a fun and likeable group.