.
Comment > Gangs of Erinsborough: 1989-1990 by Moe
Ramsay Street has played host to a number of great teen gangs over the years. The current crop of Declan, Zeke, Ringo, Donna, Sunny (and before her Rachel) and the late Bridget has proved to be one of the best in years – probably only rivalled by the late 90s gang of Billy, Anne, Lance, Amy and Toadie, and the original teens, Scott, Charlene, Mike and Jane.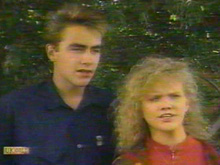 That original line-up of future international pop stars and Hollywood heartthrobs was always going to be a tough act to follow. When Kylie Minogue became the first of the gang to hand in her notice and her character Charlene left for Queensland, the four teens had already become young adults. Charlene and Scott were married by that point, Mike was a student teacher and Jane had been working as both a glamour model and an aspiring businesswoman at Lassiter's. Skipping classes at Erinsborough High and lazy afternoons mucking around at the beach were all a distant memory and for a time, there was little focus on the school, or indeed any teenagers, in the series. Lucy Robinson, Scott's younger sister, was the closet Ramsay Street had to a teen resident and she only appeared periodically as she spent a lot of time away at boarding school.
On top of the distinct lack of teen heartthrobs and young love in the show, viewers had just been introduced to a seaside town up the coast of Australia called Summer Bay. Home and Away had launched as a rival soap to Neighbours in 1988 and quickly became a hit with its focus on the lives and loves of a group of teenagers attending Summer Bay High School. Although there were older characters in the series, the main thrust of Home and Away was on the young, good-looking students of Summer Bay High and issues such as teenage pregnancy, under-age drinking and drug use were featured heavily. The show's popularity forced Neighbours producers to sit up and take notice and this, coupled with the departures of Neighbours' biggest stars over a one year period from 1988 to 1989, called for a new approach to the teenager on Ramsay Street.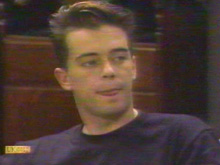 In the same block of episodes that saw one era come to an end as Charlene kissed Scott goodbye and left for Brisbane, a new crop of characters began to arrive. While Bronwyn Davies (Rachel Friend) was billed as a replacement for Charlene, it was her younger sister Sharon (Jessica Muschamp) who led the charge on the new generation of teenagers. Sharon quickly found herself a boyfriend in the form of hunky Nick Page, played by Mark Stevens who was already a heartthrob to many viewers from his appearances on variety show Young Talent Time. Nick was a rebellious graffiti artist who was taken in by Helen Daniels after the death of his grandmother and he and Sharon enjoyed a tumultuous relationship as they fought for the right to see each other in the face of objections from Sharon's frosty Aunt Edie and, following Edie's departure, her guardian Hilary Robinson. The couple even ran away for a time and Sharon fell for bad boy Skinner which caused a dent in her romance with Nick.
The pair were later joined by Hilary's secret 16-year-old son Matt, played by Ashley Paske, who had just finished a stint as the teen heartthrob on Grundy's short-lived soap Richmond Hill. The trio got into the usual teen scrapes around town, including investigating a haunted house which turned out to be housing a teen runaway, Lee Maloney (Maree Ackehurst), who Matt took home to live with him and his mum on Ramsay Street for a time, falling in love with her in the process. When the Year 12 common room at Erinsborough High was slated for closure so as to make way for a new staff room, Sharon led the gang in staging a sit in and going up against the might of the teachers and staff. Nick found himself constantly at loggerheads with the school principal Mr Muir, who never quite accepted that the former graffiti artist had turned good and on one occasion wrongly accused Nick of spraying abusive graffiti all over his car. The teens were later horrified when Muir started dating Hilary and took to spending an increased amount of time on Ramsay Street as a result.
Within 18 months of arriving, however, the teen gang of Nick, Sharon and Matt hadn't quite worked out as well as it should have. Arriving on the scene just as Jason Donovan bowed out as Scott, Matt was intended to become Ramsay Street's new pin-up and his eventual pairing with Gemma Ramsay, a cousin of Charlene's, initially looked as though it had all the ingredients that served Scott and Charlene so well in the late 1980s only for it to fall fairly flat. Even the introduction of a further blonde hunk in the shape of Richard Norton as Ryan McLachlan failed to make an impact. Besides, the characters were all out of school just as quickly as they had appeared, with Matt becoming a car mechanic, Sharon starting uni and Nick winning an art scholarship to London. By 1990, all three characters had left the series for pastures new and haven't ever been heard of again since.
Where would producers go to now for their next teen gang? It seemed the answer to that question had been sitting right under their noses for some time…