.
Comment > Golden Couples: Des and Daphne by Ryan

For the first 300 episodes of Neighbours, their 'will they, won't they' romance kept viewers hooked. 20 years on from Daphne's death, we pay tribute to the original Golden Couple of Ramsay Street.

In the very first episode of Neighbours, Ramsay Street was preparing for the wedding of Des Clarke and Lorraine Kingham. Shane Ramsay's part of the 'preparation' was to book the stripper for the stag night, feisty Daphne Lawrence. Daph made quite an impression at the party – especially when she told Max Ramsay to drop dead on her way out – but who could have known that she would go on to be half of one of the most popular couples in Neighbours history? Well, most of us actually; it didn't take a genius to see that Julie Robinson's 'helpful' advice would spell the end for Des and Lorraine. It didn't matter. What viewers were looking forward to seeing was how Des and Daphne would get together.

For the first few months it was Shane, not Des, who looked set to win Daph's heart. Des insisted their relationship should be 'strictly landlord and tenant', and Daphne seemed happy to go along with that. But as time went on a strong bond developed between the unlikely housemates; the slightly bumbling bank manager and the outgoing stripper were somehow a perfect fit. Daphne was clearly fond of Shane, and most viewers liked the cheery Olympic hopeful too, but it was Des we wanted to see Daphne with. Her kindly old rogue of a grandfather, Harry Henderson, could see it was the right thing too, and it was his gentle persuasion that convinced Daph to follow her heart and become far more than Des's tenant.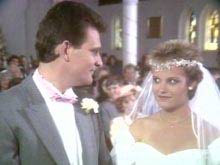 Of course no classic soap couple has an easy ride, but Des and Daphne had it tougher than most. Being kidnapped by a man in a gorilla costume on your wedding day is one of the more unlikely reasons for your relationship to fail, but it happened to these two. Unlucky Des was convinced he'd been jilted again, and Daphne was furious at his lack of faith in her. Soon afterwards Shane was back in the picture, while Des's old girlfriend Andrea was back in town with a son she claimed was his. Eventually though, the pair came to their senses, and once Andrea had admitted the truth about son Bradley, the couple prepared for their wedding for a second time.
Although Paul Robinson and Terry Inglis were the first Neighbours couple to marry, it's Des and Daphne's that sticks in the minds of most fans. Maybe it's because the show had found its feet by then after a slow first year. Maybe it's because viewers had more of an investment in the characters and the storyline. But mainly it was because Des and Daphne were simply so nice. Not over-the-top sickeningly nice, and certainly never boringly nice; just genuinely good people without a bad bone between them. Even when they were just beginning married life and could have simply enjoyed being together, the Clarkes selflessly opened their home to Mike Young. Daphne even took in young runaway Kelly – despite the fact she'd been caught snatching her mother-in-law's handbag!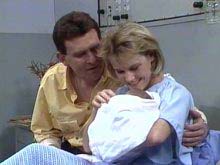 Speaking of Eileen, her role in making Des and Daphne such a memorable couple deserves a mention. The meddling mum was less than delighted to have her son sharing a house with a stripper, and her interference often drove the young couple to distraction, to the point of getting married while she was on holiday. But over time Eileen not only grew to accept Daphne but to genuinely care for her, even taking her side when Des was wrongly suspected of cheating with Lorraine. Myra de Groot's comic performance was the perfect foil to Paul Keane and Elaine Smith's on-screen chemistry, so while at times she seemed like a third wheel to the couple, Eileen was also an important part of their relationship – especially for the viewers.
With their drawn-out courtship finally over and married bliss underway, the natural next step for Des and Daphne was a baby. Their guardianship of Mike had already shown what great parents the pair would make, and with no births in Neighbours history at that point, viewers wanted it almost as much as they did. At first Daphne had trouble conceiving, but in a more innocent age of soap, there was no IVF or surrogacy storyline in the offing; it just didn't happen straight away. When it did happen it happened naturally and without high drama, but what fan could forget the look of pure, simple joy on Des's face when Daphne broke the news at his surprise birthday party?
The perfect couple were about to become the perfect family; it really was fairytale stuff. Then came the news that stunned fans. It was Number One magazine, something of a bible for Neighbours spoilers in the eighties, that broke the story. Hidden in the same article that revealed Kylie Minogue's exit, the news that Daphne would be killed off was almost treated as a minor spoiler, but it devastated millions of viewers. In those days UK episodes were still nearly a year behind Australian ones, so we knew we still had Des and Daphne for a long time yet – but it was hard to forget what was going to come. The couple's joy at Jamie's birth was tempered with sadness for viewers, as we knew the happiness would be snatched away within months. Yet at the same time, there was a grudging sense that Neighbours producers were doing the right thing. If Elaine Smith couldn't be persuaded to stay, there really was only one way a couple as strong as Des and Daphne could be separated.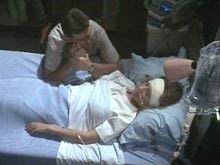 Although Daphne's long absence prior to her death could have diminished its impact, nothing could really have prepared viewers for the moment when she croaked 'I love you too Clarkie'. The couple whose wedding had been the first big Neighbours marriage and who gave us the show's first birth had now been separated by its first major death. The fairytale was over, and although Paul Keane remained in the show for another two and a half years, Des was never really the same again – and neither was Neighbours.
Twenty years on, whole generations of fans have grown up with no idea of who Des and Daphne were, but long-term viewers have never forgotten the original golden couple. In soap few characters are irreplaceable, but how many other twenty-something Neighbours couples have had the same impact since? After Paul and Gail and Joe and Kerry had departed, other couples in the age group struggled to capture viewer imagination in the same way. It was nearly 14 years until Drew and Libby – also later separated by sudden and tragic death – came even close to replicating Des and Daphne's popularity. And while that might have made things tough for Neighbours' scriptwriters, it tells you everything you need to know about a truly wonderful on-screen partnership.