.
Comment > Golden Couples: Harold and Madge by David
They say good things come to those who wait, and so it was for Harold and Madge; the school sweethearts who were separated for a generation, got back together, were split again by a presumed death and amnesia and then found each other once more. Twenty years on from their wedding day we take a look back at one of Neighbours' most popular couples.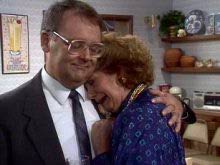 Having met at school in Brisbane, Harold Bishop and Madge Ramsay had a long back story which was only revealed after Madge's first year in Erinsborough. On her arrival in 1986, we discovered that her marriage to the roguish Fred Mitchell had collapsed due to his drinking and his affair with much younger Susan Cole. Aside from a brief romance with Ray Murphy, there hadn't been much love in Madge's life and she'd concentrated on looking after her family. However, during a visit from her father Dan Ramsay, in early 1987, Madge was reminded of the one that got away; Harold Bishop. Dan was keen to wag his finger and tell her how much he and the rest of the family had wanted Madge to settle down with the dependable Harold instead of the wayward Fred. But as Madge later confided to Helen, although Harold was very handsome Fred seemed more exciting; it was like a choice between tuna and caviar.
A huge part of the appeal of Harold and Madge was the chalk and cheese angle. Harold was even tempered and, although he had a sense of humour, was old fashioned and sometimes puritanical, while Madge flew off the handle easily but was more in touch with modern society due to her teenage children and job at the pub, so found it easier to let her hair down. Harold's moral views often put him more in line with Madge's nemesis Mrs Mangel who took an instant shine to Harold and let him rent a room at her house. Madge's fiery temper meant she'd often fall out with Harold and with Mrs Mangel always near by stirring up trouble their courtship was often fraught, but hilarious with it. Actors Anne Charleston and Ian Smith have said in interview that they weren't concerned with what everyone else was doing, they were making a sitcom. It seems shocking to think now that Harold Bishop was only meant to stick around for a six week guest stint, but the producers soon extended that when they realised how brilliantly he worked alongside Madge. Ian and Anne's comedy work was a huge part of Neighbours' glory years and went a long way towards cementing its reputation as a distinctively funny soap.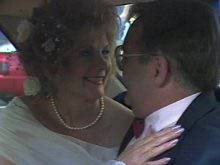 Along with Mrs Mangel's interference and Harold's judgemental attitude towards Madge's parenting, one of the biggest obstacles in their path to marriage was the appearance of a face from their mutual past; Lou Carpenter. Lou had gone to school with the couple and had been the athletic football captain who teased Harold, nicknaming him jelly belly. Harold had worshipped Madge from the sidelines while Lou got her attention but eventually he was brave enough to fight for Madge. Of course both Lou and Harold lost out in the end to Fred and when Lou heard that Madge had divorced, he saw it as his second chance. But in spite of a fist fight outside The Waterhole and a bucket of cold water thrown, by Madge, over the bickering boys, it was too late for Lou; Harold had well and truly won Madge over. In May 1988 Harold finally got Madge down the aisle in a lovely church wedding mirroring Charlene and Scott's from the year before.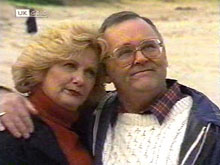 From that point on they settled down to domestic bliss. Although they never had children together, Harold became an excellent father to Charlene and Henry and then after their departure, Harold's daughter Kerry and granddaughter Sky moved into Ramsay Street and Madge took to them like they were her own. Later, Madge's niece Gemma stayed with the couple for a while and years later they became foster parents to Tad Reeves and Paul McClain. The comedy couple showed they had real emotional substance with how much they cared for their children together. In fact in the early '90s, comedy was firmly put aside when Kerry was tragically shot while protesting duck hunting. Both Ian and Anne put in terrific performances grieving for their loss, and it continued for Madge in 1991 when, during a trip around Australia, Harold was washed out to sea and presumed dead. Quite possibly the worst backstage decision in Neighbours' entire history; Ian Smith had been axed. Madge stayed in Ramsay Street after Harold's disappearance and once again she'd been wooed by a returning Lou Carpenter, but again she turned down his proposal of marriage and in 1992, Madge moved away to Brisbane. It looked like the end of both halves of a classic pairing.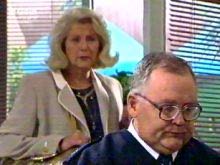 Fortunately by 1996 fate played a hand, or to be more accurate, the BBC did. Due to a drop in the Neighbours ratings and a distinct lack of familiar faces, the BBC made an unusual special request to Grundy to bring back Harold and Madge. Obviously this caused the writers the headache of how to bring Harold back from the dead, but a bit of amnesia and some foreign fishermen dropping him in Tasmania were sufficient. The main thing was they were back and many would say they spearheaded a second golden age of Neighbours in the late '90s. More recent converts to the soap were introduced to the iconic characters and older fans loved seeing them fall in love all over again as Harold slowly recovered from his memory loss; the couple became a fan favourite once again.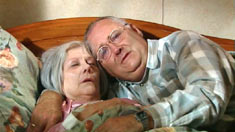 Over the next few years, we were treated to seeing them marry again, say goodbye to their mutual friend Helen Daniels, run The Coffee Shop together, jostle with Lou and bring up teenage boys Paul and Tad. As cornerstones of the programme again, everything seemed right and viewers couldn't imagine it changing, but sadly it did. In 2001, Anne Charleston decided to leave and with Ian Smith wanting to stay, it meant the death of Madge (a divorce would be unthinkable). After a diagnosis of pancreatic cancer, the Bishops planned a trip to Paris together but after she contracted septicaemia, Madge's time was cut cruelly short and she passed away in her bedroom with Harold lying by her side talking about everything they would have done had they gone to France. It was one of the most heartbreaking deaths in Neighbours history. Not only did we lose an outstanding character, we also lost an incredible couple.
Harold has remained a key character since Madge's death and has had several lady friends since, but none of them have lasted and none of them have come close to comparison with the magic of his time with Madge.