.
Comment > Golden Couples: Mackenzie and Hendrix by Callum
When good neighbours become good friends they sometimes become true loves and one of the best love stories in recent years has been that of Mackenzie and Hendrix...
Transgender teen Mackenzie Hargreaves faced a difficult time when she first arrived on Ramsay Street, particularly at Erinsborough High where there was a transphobic response to her using the female toilets, so when a few episodes later bad boy Hendrix Greyson, son of a billionaire, started flirting with her at a party both Mackenzie and viewers alike were wary of his actions, particularly when he became Mackenzie's first kiss. Neither needed be worried though as whilst on some shows a straight cisgender male hitting on a trans female would be for a bet or a joke, Neighbours played it no differently to any other teen kiss in it's 34 year history at that time.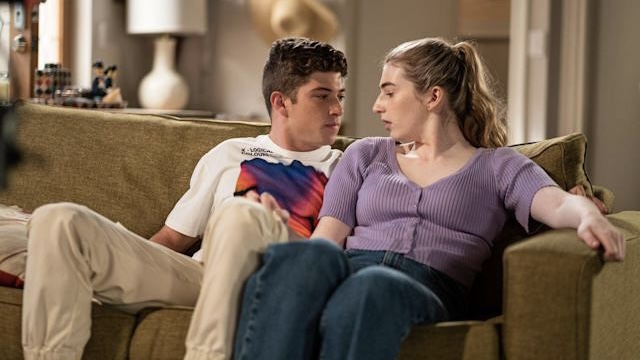 As Mackenzie paired up with classmate Richie Amblin it seemed the kiss was as far as the flirtation was going to go and a friendship through association was formed due to Hendrix dating Harlow Robinson, Mackenzie's best friend. Two years later, however, with the two both single, a bonding over a game of Zombies and being Ramsay Street orphans following the departure of Hendrix's dad, Pierce and Mackenzie's surrogate parents Dipi & Shane Rebecchi, led to a firmer friendship being developed, and as Mackenzie 'saved' arachnophobe Hendrix from a spider, it soon became clear they were going to be more than just friends.
The romance quickly developed, but things took a turn when Hendrix had a testicular cancer scare as an examination at a pop up clinic at the Lassiter's Complex found a lump. Fearing the worst, Hendrix pushed those he was close to away, Mackenzie included, but as Hendrix finally opened up, she was right by his side as he awaited his test results and the pair were relieved when he was given the all clear.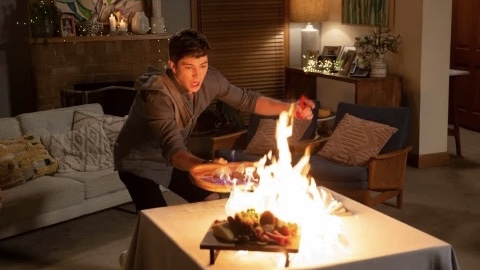 Reunited and having grown closer than ever, the more experienced Hendrix continued to surprise as he was respectful of Mackenzie, waiting for her to give the green light for them to take their relationship to the next level, not realising that Mackenzie had been waiting for him to make the first move. Finally on the same page, Hendrix planned a fairytale first night together at Number 30, but things went awry when he accidentally knocked over two flaming cocktails. Once the fire was extinguished, the flames between the couple continued to burn and realising fairytales don't aways have a happy beginning, they headed off to Mackenzie's bedroom in search of their happy ending.
It wasn't long before another fire put the pair in jeopardy as Mackenzie found herself locked in the art supply room at Erinsborough High whilst the school was on fire. With Mackenzie unable to make her way to safety due to her arm being in a cast from an earlier injury, Hendrix made his way through a ventilation duct to rescue her, getting her out of immediate danger before being assisted by a firefighter, then carrying her out of the school. Sadly his heroics would be his downfall as the toxins from the burning art room chemicals in the fire led to an undiagnosed auto-immune disorder, sarcoidosis developing into pulmonary fibrosis. Having been told he needed a lung transplant or he would die within three years, Hendrix and Mackenzie headed to his hometown of Sydney to tell his family...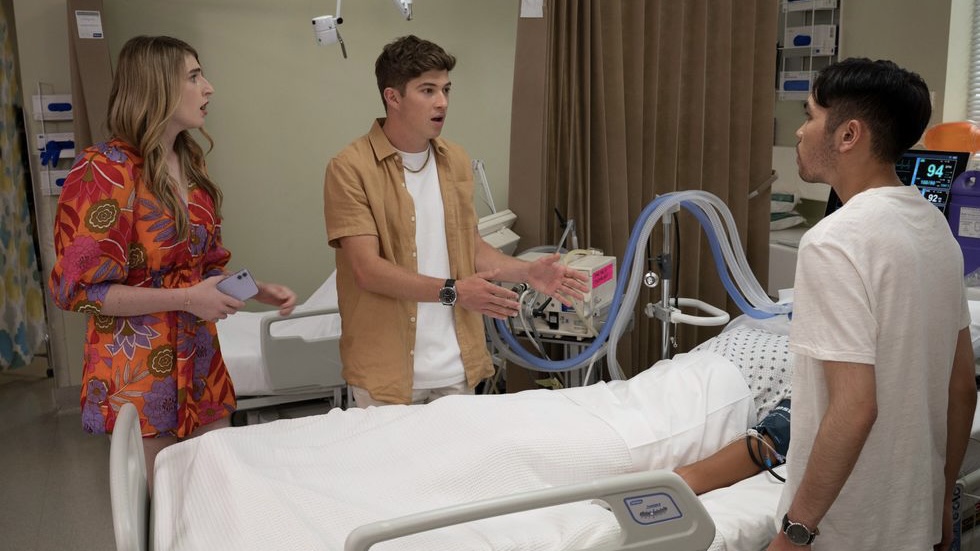 In Sydney, Hendrix showed Mackenzie his old school and all of his favourite spots, then having told his family the news, the pair headed off to one final location by the sea where Hendrix proposed, and Mackenzie accepted. Returning to Erinsborough, things began to look up as at their engagement party Hendrix received a phone call advising a donor had been found, but when Hendrix decided to pay a visit to them in hospital to say thank you, he was caught by the donor's brother who was horrified to find a stranger standing by his late brother's bedside and the couple's hopes were dashed when the family decided to withdraw from the organ donation.
Having scuppered his own chance of survival and that of the other recipients, Hendrix was devastated, as was Mackenzie, but she decided to take one last risk and made contact with the donor's father. Explaining Hendrix's intentions were well meaning, a heartfelt speech my Mackenzie managed to save the day. With the transplant back on, the couple decided to get married as soon as they could before the operation.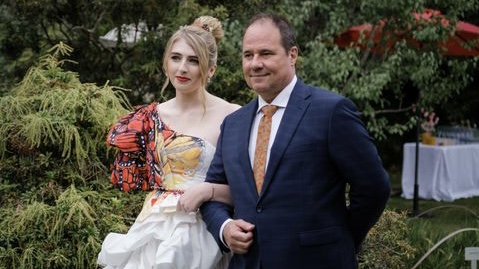 With Mackenzie's heart set on a wedding in the butterfly house at Melbourne Zoo where she would be close to her late Mum who used to take her to see butterflies, Hendrix set about trying to make it happen. On the eve of the wedding he was horrified to realise he'd booked for the wrong year, but thankfully some smooth talking by Mackenzie's father, Grant, saved the day as he managed to convince the zoo to allow them to marry in the Japanese Garden with photos in the butterfly house afterwards.
During the ceremony, the couple's vows summed up exactly how special their romance was:
Mackenzie: "Some people spend their whole lives looking for their perfect person, but I found mine with my first kiss. I've never known anyone who sees me the way you do, really sees me, everything I am, you always have. We took a while to find our way to each other, but you've always accepted every part of me, loved every part of me. You're the fairytale ending I never dared to dream I deserved and I'm so lucky to be your wife."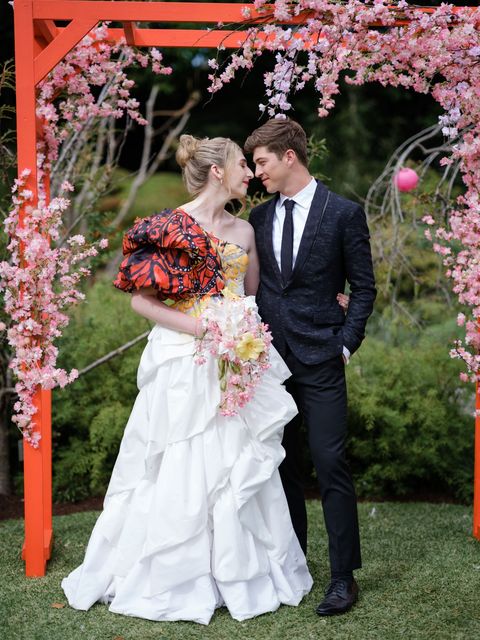 Hendrix: "Mackenzie, you're my entire world. I mess up sometimes, a lot of times, don't always make good choices, but the best thing I've ever done is fall in love with you. I'm not perfect, but we're perfect together, and thank you for understanding who I am and loving me anyway. I can't wait to spend the rest of my life with you."
After the wedding came the wait for Hendrix's operation so they could truly begin to spend their lives together, and the couple were thrilled when Pierce offered to buy them an apartment, finally getting an easier ride in life. Then, the day of the operation came and it was a complete success, Hendrix came out of surgery breathing through his new lungs with Mackenzie sharing to Karl and Susan that for a while she didn't think he was going to make it through the operation and "the first thing I think every morning is 'How did I get so lucky?' because he loves me, Hendrix Greyson loves ME..." "...I mean, he could have anyone he chooses, anyone, and he chose me" but Susan pointed out Hendrix was pretty lucky too and they'd get their happy ever after.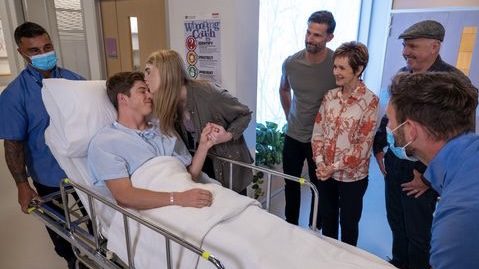 Sadly, as the couple began to plan their life together in their new apartment, with a cat and a puppy Hendrix started to reject the lungs due to some undetected antibodies overpowering the anti-rejection drugs, causing irreparable damage, leaving his loved ones with just hours to say goodbye...
Sharing that she had no regrets in getting married as it was the best day of her life, Hendrix told Mackenzie shared his that regret was that he wouldn't see Mackenzie become Chief Justice of the High Court, later asking Karl and Susan to watch out for her as he didn't want to be the reason she didn't become everything he knew she could be, her protector and champion until the end.
Sharing with Toadie that she wasn't sure she could say goodbye to Hendrix, he used his own experience of losing his wife, Sonya, to assure her that she could, it was the last thing she could do for Hendrix and she'd find the strength she needed, and she did, sitting at his bedside until the end, letting him know it was ok not to be the strong one for once.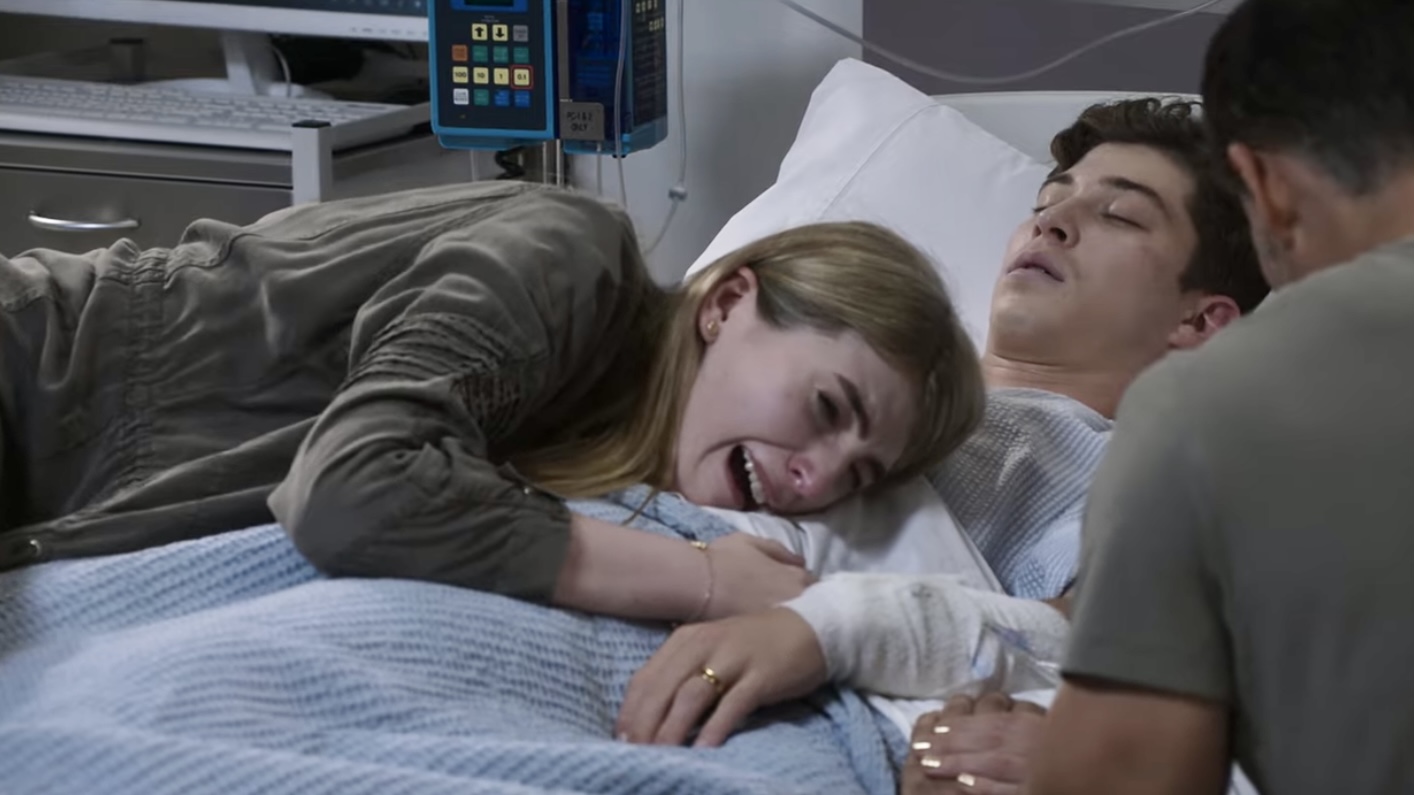 As the pair said I love you to each other for the last time, Hendrix decided that they should get two puppies as one would be lonely.
The end neared and Mackenzie thanked Hendrix for loving her, as loving him has been the greatest adventure of her life just as he took his final breath, Hendrix's vow of spending the rest of his life with her now all the more poignant. Climbing onto his bed, holding him close, Mackenzie was at his side as he had always been for her.
Mackenzie and Hendrix or Mackendrix as they were dubbed by the fans, have been one of the best teen love stories in recent years, if not the series as a whole. Whether the story team always intended them to be together from that first kiss or not, the development of their romance came at a point where Mackenzie was in a bit of a rut, but in those first scenes playing Zombies the chemistry between Georgie Stone and Benny Turland was unquestionable, something magical was happening. Their relationship has really given the two actors a chance to shine, particularly this final story, both together and individually they have shown how they have grown as performers during their time on the show, demonstrating their skill at romantic, dramatic and comedic scenes, and at a time where there has been much discussion about the training ground Neighbours' provides being lost, they have been highlighting the travesty of that onscreen. Neighbours' teen romances have been a staple of the show, most notably Scott and Charlene, but others such as Billy and Anne, then Declan and Bridget have stood out more than others, but Mackenzie and Hendrix, wherever they rank in Neighbours' greatest love stories, will always be Neighbours' last great teen romance and are truly a golden couple.