.
Comment > Golden Couples: Scott and Charlene by David
Throughout the years, there have been a lot of great couples in Neighbours, and many that should rightly be described as golden couples. But few have managed to become so iconic and enduring, that two decades on, most members of the public remember them fondly, and hardcore fans view them as an almost mythical union. They are arguably the golden couple; Scott and Charlene.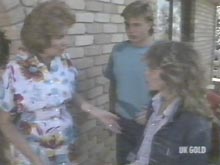 Like all the great romances, from Romeo & Juliet to Mr Darcy & Elizabeth, the course of true love never did run smooth, and so it was with Scott Robinson & Charlene Mitchell. They had played together as children when Charlene used to visit her cousin Danny Ramsay, but her tomboy tendencies meant she was just one of the gang. It wasn't until 1986 when Charlene moved from Coff's Habour to Erinsborough that the relationship began, and it got off to a bumpy start when Scott mistook Charlene for a burglar and she punched him in the face. However, it wasn't long before the sparks began to fly and they started dating.

Jason Donovan had just taken over the role of Scott from Darius Perkins, and now paired up with Kylie Minogue as Charlene, the photogenic youngsters made an immediately appealing teenage couple. With their long blonde hair and good looks they were sure to become heart throbs to the fans but they were also extremely talented actors who were capable of creating the notoriously tricky element of onscreen romance; chemistry. As every Neighbours fan and his dog now knows, Donovan and Minogue became a couple in real life (although they denied it at the time), so attempting to judge how much of the TV magic can be attributed to acting rather than real feelings is of course impossible. But whatever the cause, the result was a sustained performance and storyline of such power that it still resonates in people's memories to this day.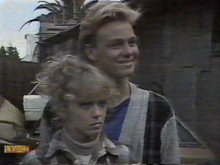 Young viewers at the time found it easy to relate to the ups and downs of their relationship as it reflected their own or was something they could aspire to. The typical teen dilemma of sex caused confusion and upset when Scott found out Charlene wasn't a virgin. But it was soon resolved after a sensible chat with older brother Paul and Scott apologised. Plenty of other people had a part to play in splitting the happy couple. Charlene's friend Warren Murphy was after more than just friendship; Scott could see it. When vindictive Sue Parker lied saying she'd seen Warren and Charlene kissing, it caused a brief split until the truth came out and they reunited. Much later, even mutual friend Jane unwittingly caused huge problems when Scott kissed her after she'd been helping him with his maths homework. That caused a month long separation but Helen's intervention and Jane's protestations thankfully got them back together. Even Charlene's driving lessons were a trial for the couple when she started feeling attracted to her instructor Steve Fisher. Despite all these problems, true love always found a way and the viewers always knew they were destined to be together.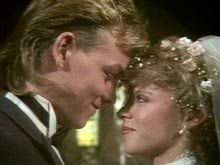 In classic Shakespearean style, one of the main obstacles to the young lovers was their parents disapproval. When they began to think about moving in together, Jim and Madge were mortified. This only pushed them closer together and Scott decided to propose to Charlene. Again they were told they were much too young, but Helen reminded her son-in-law that he was about that age when he married her daughter Anne. Finally Jim and Madge realised how much in love their children were, and gave them their blessing. Jim even gave Charlene a cross worn by Scott's mother, and Madge and Henry treated her to the wedding dress of her dreams. Everything was set for the perfect fairytale wedding.
CHARLENE: This is going to be the best wedding ever, I just know it!
On July 1st 1987 Scott and Charlene mania hit an all time high when they became man and wife in a ceremony of mythical status. Rock ballad Suddenly by Angry Anderson blasted away throughout with just a few words confirming the vows. The heavy use of music and limited dialogue matched with the soft focus and the facial reactions from all the cast as the camera travelled around the church, gave the whole sequence an other-worldly feel. It really was dream-like.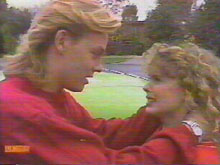 The newlyweds had money worries as Scott was retaking year 12 at school and so they had to live with Madge in number 24. This situation wasn't ideal so when Charlene's grandfather Dan bought them a house in Brisbane, they were delighted to be getting their own place. Sadly, Scott had difficulty getting his cadetship at the Erinsborough News transferred up north, so Charlene had to leave without him and wait almost a year for Scott to follow her. This meant a slightly muddled ending for one of Neighbours' greatest couples, which was caused by the actors contracts being out of sync. It was heartbreaking to see Charlene driving away with poor Scott left kicking around Erinsborough on his own for a few months. Not only that, but he had to dodge the attentions of Sylvie Latham and Poppy Skourous to keep his marriage on track. So it was quite a relief when Scott finally got his transfer to Brisbane and we all knew he and Charlene would be able to settle down properly. In years to follow we were treated to the news that they had had a son called Daniel in 1992, and a daughter, Madison, in 1995.
The career success of Kylie Minogue and Jason Donovan since leaving Neighbours has only helped to cement their place in the minds of the public. However, I firmly believe that even if we hadn't heard of them since, we would still remember their saga for what it was - probably the finest presentation of a teenage love story ever committed to soap.