.
Comment > Do I Know You From Somewhere? by Steve
Over the years, there have been many characters who have come and gone, often appearing in no more than a few scenes every few months. We learn little about their personal lives and they rarely serve a lot of purpose in the storylines, but we know that they're a part of the Erinsborough community. In the past, these characters often worked at the pub, such as Kev and Susie, at the Coffee Shop, such as Kristy and Cassandra or for the local police, such as Detective Illich. However, in recent times, this community has widened further, with various guest characters being used in many different situations and locations over the past 4 years. The term 'golden guests' was coined by the production staff, referring to those guest characters who work extremely well both in front of and behind the scenes, meaning that they're brought back at any available opportunity.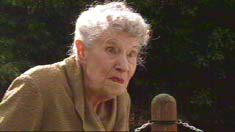 The two little old ladies of Erinsborough, Rose Belker (Esme Melville) and Gladys O'Grady (Adair Stagg) seem to be cropping up more and more in recent times. Whenever Karl has an awkward patient at his surgery, it's usually one of those two, back to cause trouble. Gladys has been seen selling roses in the Coffee Shop and assisting an illiterate Connor to read a letter from Michelle, while Rose has been in and out of hospital many times and also used the services of lawyers Tim and Toadie when her son-in-law was trying to con her.
Various guest characters have gradually appeared as more of the businesses within Lassiter's have been used in the show. When the Lambert family took over the hotel, matriarch Chloe Lambert (Stephanie Daniel) became a figure of fear for those who worked for her, including Toadie, Flick, Nina and siblings Taj and Tahnee. Chloe got further involved with the residents of Ramsay Street as her son, Marc, almost married Steph Scully, while she herself got involved with Dr. Darcy Tyler. As the occupations of the residents of Ramsay Street have extended beyond working in the pub or Coffee Shop, we've seen more of their work-mates. This has meant more regular appearances for people like Gino Esposito (Shane McNamara), boss of the salon and Tim Collins (Ben Anderson), who employs Toadie at his small law firm. As with Sheena Wilson, both characters have managed to integrate themselves into the lives of the characters in other ways. Gino spent a few weeks living with Harold and is also one of the Godfathers to Lyn and Joe's baby, Oscar. Tim, meanwhile, was revealed to be the nephew of Chloe Lambert when he appeared as best man at Steph's doomed wedding to Marc.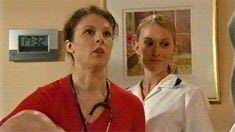 At the hospital, there have been several characters who have appeared on numerous occasions over the past few years. Dr. Veronica Olenski (Caroline Lloyd) first appeared back in 1999, treating Joel Samuels when he got trapped under a car, while recently she was there to help with the delivery of Lyn Scully's fifth child, Oscar. Another face that's been cropping up at the hospital for many years is that of Sheena Wilson (Zoe Stark). First introduced as a friend and colleague of nurse Dee Bliss, Sheena cropped up on many occasions, even getting her own storyline when she started dating Toadie, only to find her mother, Rhonda, was flirting with him. Sheena was also called upon when Dee unexpectedly had to stay in Tasmania when her grandmother took ill (in real-life, Madeleine West was involved in a bus accident and required several weeks of recovery). Sheena has even out-lived her friend Dee, most recently appearing at the hospital soon after Lyn gave birth.
Other recent 'golden guests' have included radio station manager, Tony Simpson (Stan Tsitas), who has been appearing on and off ever since Toadie scored a gig at UniFM in the late 90s. Nathan Tyson (Luke Hemsworth) was a football player who bullied Paul and was found to be on steroids, who later returned on several occasions as a bailiff. Meanwhile, Candace Barkham (Kate Whitbread), is principal of Erinsborough High, who began life as Susan's arch-nemesis, but more recently has been seen to be desperately searching for love in the personal ads.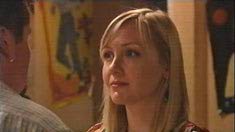 Some of these recurring guest characters even get turned into full-time cast members after a while. Characters like Melanie Pearson and Toadfish Rebecchi began their Neighbours lives by making several short guest appearances. Sindi Watts (Marisa Warrington) is a more recent example of this. After three short stints in 2002 and 2003, she will return next year as part of one of the Scully's storylines and this time, she's staying. There's no denying that these characters have helped to really give Neighbours a stronger sense of community in recent years and, of course, they're always useful for making up the numbers when panto season comes around!