.
Comment > Gone But Not Forgotten by Ryan
In 2005 Neighbours celebrated its 20th anniversary in a way most long-term fans could have barely dreamed of. The return of several old faces to the street, plus a host of cameos in the brilliantly conceived documentary, made for some genuine must-see episodes and was a more than fitting celebration of twenty years of history. However, for all too long during the nineties and early 20th Century, the show's history was treated almost as an embarrassment.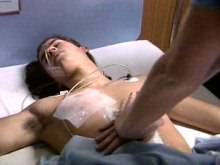 Things started to change with the disappearance of the legendary Erinsborough map and the debut of the flashy new credits in 1992. This revamp coincided with the exits of several major characters, notably Paul, Lucy and Christina Robinson and Todd Landers. In light of this, viewers may have expected Neighbours to cling on to what sense of history remained. Not so. While replacing the departing Robinsons by resurrecting the Martin family (albeit recast, with a never before mentioned new daughter) made this transitional period easier for viewers, the slow erasing of Ramsay Street's past was about to begin.
It began subtly, but crucially, with the renaming of the coffee shop. Although Daphne Clarke had been dead for four years, the shop still bore her name in a monument to one of the show's greatest characters. Then suddenly one day Cathy Alessi announced the coffee shop needed a new name because 'no one really knows who Daphne is anymore'. This one short line was an insult to every loyal viewer of the show, who knew exactly who Daphne was and didn't want her dismissed with a throwaway comment. It also couldn't have been easy for actress Elspeth Ballantyne to say – having been the only artist to remain in Prisoner throughout its run, she must have understood all too well how this would upset loyal viewers.
After the hammer blow of losing several long-term characters, things were about to get worse. Within the space of six months Madge Bishop, Dorothy Burke, Toby Mangel and, most crucially, Jim Robinson had all gone. Ramsay Street had lost its 'father figure', plus two of the most formidable women ever to walk along it. But it was the knock-on effect of losing these characters as much as the departures themselves that spelled the end of an era. With the Martins now ensconced at Number 32, Number 26, once the street's busiest and most vibrant house, was utterly depleted. While ever-present matriarch Helen Daniels remained, her second cousin Wayne Duncan and new lodger Annalise Hartman provided a poor substitute for the legendary Robinson family. It was no real surprise when the Martins were forced to move back in with Helen soon afterwards due to 'financial problems'.
Over the next year to eighteen months, Neighbours would continue its plunge into disarray. Both No.22 and No.32 were left empty for months on end. Characters such as Wayne Duncan, Benito and Cathy Alessi and Lauren Carpenter barely lasted a year. A key point came in mid-1994 when within two months the Willis family – the longest running characters bar Helen – were axed, Julie Martin was killed off and the Kennedys arrived. While Julie had been recast on her return to the show in 1992, this still represented the end of an original character. Suddenly a large section of the cast had less than two years of history. In a 1996 interview with Woman's Own, Anne Haddy herself admitted 'sometimes I walk into the Green Room and I hardly know who anyone is'.
It was at this time that I, along with millions of other viewers, began switching off. The Neighbours we knew and loved seemed gone forever. Perhaps aware of the unhappiness of long-term fans, writers began slipping in references to the past, but the lack of established characters made this seem ridiculous; why was Libby Kennedy referring to No.26 as 'the Robinson house' when she'd never clapped eyes on a member of the clan? Something dramatic had to happen to bring loyal viewers back in from the wilderness – and when Marlene Kratz gave some old junk to the Salvation Army, it certainly did...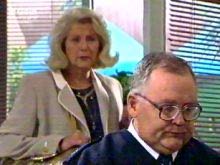 Yes, it seemed Harold Bishop was not dead after all – just wet and forgetful! While it was in many ways unfortunate that only Helen, and later Lou, would actually recognise him, it did provide the opportunity for an intriguing sub-plot in which Phillip Martin began to question Helen's sanity. And when Harold sneezed at the very sight of the Martins' dog, loyal viewers were instantly reminded of his allergy to pet hair – a masterstroke that showed great respect for soap fans, often credited with goldfish-like memories. It also made Lou realise Helen wasn't losing her mind and that Harold really was back from the dead. Of course, Madge had to be told, and few fans will forget the moment she introduced herself to Harold as 'Madge. Madge Bishop. Your wife'.
The majority of viewers were so happy to see Madge and Harold back that the plausibility of the amnesia storyline hardly mattered. However, it is of huge credit to the returning Ray Kolle that this plot worked brilliantly. When Lou managed to accidentally trigger Harold's memory by making a jelly, bringing to mind his old nickname 'Jelly Belly', viewers could really believe he was slowly recognising his past. Harold getting bad memories too, such as his sudden sketchy recollection of the Robyn Taylor episode, also added realism. But most importantly, there was a reason to tune in to Neighbours again.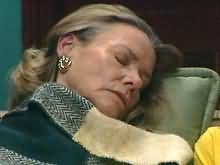 Sadly, this potential return to the glory days of Neighbours didn't last. Circumstances intervened when Anne Haddy's ill health forced producers to kill off the sole remaining original character, Helen Daniels. While the Bishops remained on the show, Madge's character had been somewhat watered down, and Anne Charleston herself complained that Madge's role was at times reduced to a bit part in the storylines of her foster children. When the Martin family were axed in 1999, one of the last links to the show's original families was gone. Eighteen months later, Madge was dead, without so much as a mention, let alone an appearance, from any of the legendary Ramsay family. To this day, viewers still feel let down by Madge's funeral.
The occasional chat about Madge between Harold and Lou aside, the show's history was once again just that. Then one day in 2003 a long-forgotten name suddenly appeared in an Inside Soap article: Sky Mangel. It seemed something had happened in the Neighbours production office; someone had miraculously remembered the show had a history, that Harold Bishop had a family. Okay, Sky had been recast, but this was only to be expected for a character less than five years old when she last appeared, and as a bonus, actress Stephanie McIntosh looked like she genuinely could have been Kerry Bishop's daughter.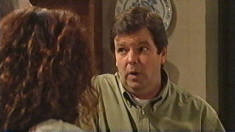 But things were to get better. Soon afterwards, another long ignored name resurfaced: David Bishop. Although his cameo at Madge and Harold's wedding had been nearly fifteen years ago, the bizarre sight of Harold's 'mini-me' was still remembered with great affection and amusement by fans. What delight for fans at the news David was not only coming back, but was being played by the original actor! However, his arrival not without problems. There was the small matter of why he hadn't been mentioned in six years to explain – not to mention a wife and 16 year-old daughter, despite him having been very much single at his father's wedding! In the end, the scriptwriters didn't do a bad job of inventing a falling out between father and son; although maybe not entirely realistic, it was perhaps the best way to make up for the mistakes of the previous production team.
With fans delighted to hear names like Kerry Bishop and Joe Mangel make their way into the scripts again, the news no one had expected arrived: Paul Robinson would be back. How, and why? Paul had no family left in the street, not to mention the little problem of him being on the run in Brazil. But how Neighbours was going to pull it off didn't really matter – the fact was, they were doing it, and that was good enough. When word came that Paul's return would mean guest stints from Lucy Robinson and Rosemary Daniels, viewers were in raptures. As if things weren't exciting enough, the documentary was announced soon afterwards.
So is the past the future for Neighbours? If the extended guest stint by Joe Mangel, plus the rumoured return of Gail Robinson, are anything to go by, the answer is definitely yes. While the glory days of the eighties may never return, at least they are no longer being ignored. Maybe at last, after ten years of trying, Neighbours has found the perfect blend.