.
Comment > Josh, Amber & Daniel by Sharon Harvey
Over the last eighteen months, we've all watched the seriously mixed-up love triangle of Josh, Amber and Daniel, but then throw in Josh's sister Imogen and we have a very messy love quadrangle to deal with! We have 'Jamber', 'Damber' and 'Dimogen' (Not to be confused with the Ramsay Street villain Dimato!)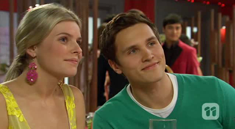 It all began with 'Jamber', with Amber Turner initially falling for then successful swimmer Josh Willis, which felt like a repeating version of history when their respective parents Lauren and Brad began a relationship 20 years previous after meeting on the same street. Amber immediately fell for Josh when he moved to Ramsay Street with his family, but her "subtle attempts at flirtation" initially went unnoticed, so she took drastic measures and followed him to the local pool to watch him swim. Still he didn't notice her, as he was so focused training for the Commonwealth games - but he didn't seem to mind when she later let slip that she'd been there watching him. She then resorted to asking him on a date but he turned her down because he had a meeting with the school principal. Amber was left heartbroken, believing that Josh had no romantic interest in her, but they eventually became closer when she helped him with his homework and they began dating after sharing a kiss. The new romance didn't last long, however, and they broke up a few weeks later. Josh's sister tried to reunite them by getting them to a party down at the lake but when Amber saw Josh chatting with another girl, she decided to get even by kissing someone else, leaving Josh devastated.
Whilst Josh always felt that his career was much more important than whatever Amber was doing, he soon realised, after seeing her photos of a wedding that she'd covered at the last minute, that she had potential as a budding photographer and surprised her with a gift of a very expensive camera. A big obstacle in their relationship came when their parents tried to keep them apart, after hearing their plans to 'take their relationship to the next level' - planting the seed in viewers' minds whether they were actually brother and sister given their parents' romantic history - and although that proved not to be the case, it became clear that Josh and Amber had very different ideas on the future of their relationship.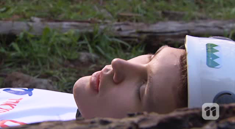 Another nail in the coffin of their relationship came when Amber, her brother Mason, Josh and his sister Imogen went on a camping trip. There, the raging rivalry between Mason and Josh ended with Josh falling down a cliff whilst abseiling, after Mason meddled with the rope clips resulting in a very bad injury to his shoulder effectively ending his swimming career. He was soon taking illegal drugs to help with the pain and after finding out, Amber consulted Dr Karl, and Josh told her he could never forgive her for her betrayal. After again being pushed together by Imogen to sort their problems out, Josh was told by Amber she had done what she did because she cared for him and Josh realised how lucky he was to have her in his life. Problems continued to plague the young couple, as Josh found out from the surgeon that the injury had become permanent, after Josh had covered up the pain with painkillers, and that he could never swim professionally again. Amber tried hard to support her boyfriend through this heartbreaking period but another family drama caused her attention to be diverted after learning that she and Josh had a half-sibling, the result of their parents' romance back in the 90s. Josh and Imogen had been spared this secret because Terese and Brad hadn't wanted to disrupt their lives, so Amber avoided spending time with her boyfriend and best friend so she wouldn't have to lie to them. This left Josh worried she didn't want to be with him anymore since he was no longer successful. Imogen was left unconvinced of this and soon found out the truth from Bailey leaving her and Josh stunned at the secret that had been kept from them.
After Daniel Robinson - nephew of Paul - arrived, he and Amber discovered that they shared a passion for photography, a friendship blossomed and a bond formed. Josh quickly became jealous, causing tension between him and Daniel, who had already confessed that he felt a strong connection to Amber. Word got back to Josh who felt threatened until Daniel convinced him he had no intention of stealing Amber away. However, as their love of photography bonded them and they built a dark room together Amber and Daniel grew closer whilst Josh turned his attention to his new hobby of skateboarding. Although she was jealous of his flirting with newcomer Paige, who at this stage they didn't realise was their long-lost half-sister, Amber realised her feelings for Daniel ran very deep and she wanted to be with him rather than Josh. Josh meanwhile realised he wasn't paying enough attention to Amber and made an effort by making some frames for some photos of them, and presenting them to her, giving her second thoughts just as she was about to dump him. But unable to fight her attraction to Daniel anymore, Amber ended up kissing him. Finding ways to secretly keep in touch with Daniel, Amber tried to find a way to dump Josh, but other issues kept getting in the way and soon, Josh had figured out for himself that something was going on, and caught Amber and Daniel in the act in the darkroom at the hotel, causing him to react by smashing their darkroom up in revenge.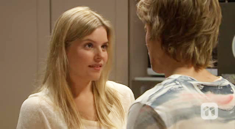 Following their difficult break-up, Josh refused to speak to Amber, and she found herself losing her friendship with Imogen and the respect of her father. Daniel felt that, since everything was falling into place naturally, he wanted her to move in with him to escape all the problems at home but Amber turned him down, feeling it was far too soon for that. Now, throw in Imogen here, who has harboured deep feelings for her Daniel, and we have a really messy quadrangle emerging. This began after Imogen had already been in a couple of other relationships, including one with Amber's older brother Mason, and another with Tyler Brennan, younger brother of Mark Brennan - incidentally another of Imogen's secret crushes at one point - but after Amber began a relationship with Daniel, Imogen became very jealous and bitter towards her best friend. As Amber was her best friend, Imogen decided the best thing to do was bury the feelings rather than act on them, which would ultimately cause heartache all round. It did come more apparent to Daniel when he comforted an unhappy Imogen after some family issues and she leant in for a kiss taking him completely by surprise. However after Imogen convinced him it was a momentary lapse, he accepted that explanation and agreed not to tell Amber.
Seemingly unable to stay away from Daniel for long, Imogen found herself planning his wedding to Amber. When things were fraught between Amber and Imogen, as Amber finally learnt about her best friends' feelings for her fiance, Daniel was determined to get the best friends back together so he decided to go and talk to Imogen - and whilst doing that decided to track down a pearl ring, a Ramsay family heirloom, which was rumoured to be down the well on the Lassiter's grounds, feeling that it would be a grand gesture which would convince Amber of his love for her. As with all soaps, it quickly turned to disaster since he decided to go looking for the ring an hour before his wedding to Amber! Of course, trouble followed Daniel and Imogen down the well, and after they both reached the bottom the lid was shut and so they were stuck! As no one knew where they were - not to mention the fact that Paige had seen them go off together, Paul knew Imogen had fallen for his nephew, and Amber was concerned about her best friend's feeling towards her fiancÚ, all it did was fuel her already heightened feelings and she had thought they had finally run off together. The wedding was cancelled with a heartbroken Amber going off to the bridal suite to lick her wounds. Josh called in on her to offer support, but viewers were left wondering if he had an ulterior motive, knowing that he had regretted losing what he had had with her. Whilst she sobbed about what she thought had happened and what she had lost, Josh tried to comfort her and she turned and made a pass at him.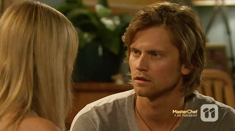 After Mark followed up investigations and talked to Tom Ramsay regarding the ring it started to become clear and the horrid truth began to dawn on Josh. They went to the well, where Daniel and Imogen were finally found and the truth was revealed - they hadn't run off together as Paige had thought and Paul had hoped, but simply gotten into strife as Daniel attempted to make a romantic gesture for his future wife. It seemed that the relationship was getting back on track for a time, until it became clear that Daniel and Amber were struggling to keep their relationship alive. It was revealed that, on the night of the non-wedding Amber and Josh had slept together, resulting in baby Matilda and yet another messy triangle of 'Who's the Daddy?', with Amber forced to confess everything to Daniel.
It became clear to everyone too that it was too hard to continue on the path they were on, as Daniel tried to tend to wounds that were proving hard to heal, knowing his fiancÚ had slept with her ex. Daniel faced the realisation that he would be bringing up Josh's child, therefore Josh would always be a part of their relationship and connected to them. Amber and Daniel eventually ended things, paving the way for Daniel and Imogen to see if their relationship could last the course. They didn't want to rub Amber's nose in it till they could find the right time to reveal they were now a couple but in true soap fashion, she walked in to see them embracing and so the truth was out.
I did think that Daniel and Imogen's relationship was the one with the most potential to last, especially since it was based on friendship. But since Daniel reported his Uncle Paul's dodgy dealings, costing Paul everything, and Daniel now trying to be a carbon copy of his uncle, Imogen, along with us, has seen a different, darker side to her boyfriend. Although it's the complete opposite to the hippy Daniel that we have grown to love - if not sometimes want to strangle because of his laid back ways - I guess for the writers it's nice to be able to show another side to Daniel. Whether this change in Daniel, which had resulted in him splitting up with Imogen, is permanent remains to be seen.
As for Josh and Amber, a lot of 'Jamber' fans had hoped that maybe after learning that they were having a baby together, that the baby had a serious illness before even being born and then finally welcoming Matilda into the world, they would in fact give their relationship another go. But as Amber and baby Matilda leave for a new life in Queensland, it looks like 'Jamber' may soon become a distant memory...
This article originally appeared on Sharon's website, Sharon Harvey Writer.