.
Comment > Love Thy Neighbour: The Bishops by Steve
After two years in Ramsay Street, it's time to say a fond farewell to the Bishop family. Nobody can deny that David, Liljana and Serena made an impact, with their hugely different personalities and their storylines about incest, bankruptcy and extra-marital affairs. Their departure, too, was one of the more spectacular that Neighbours has seen. Here's a look back at some of their finer moments…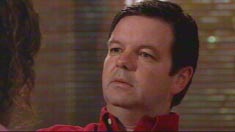 Although the Bishop family made their first appearance towards the end of 2003, one of the characters actually went back a lot further than that. David had first visited Ramsay Street back in 1988 to witness his father's marriage to Madge Ramsay. During that first appearance, the character had been something of an awkward, mini-Harold who developed a crush on Jane Harris. Remarkably, in the space of 13 years, David then went on to meet and marry Liljana and return with a 15-year old daughter. Such are the laws of time in Erinsborough. Upon his return, David had mellowed a little, become more of his own person, but the similarities to Harold (mostly down to Kevin Harrington's excellent performances) were still obvious. Liljana and her Serbian traditions also brought a new angle to the street, which viewers had often complained lacked any ethnic diversity. The family had a quiet first few months, as their place in Ramsay Street was cemented when David lost all of their money in a bad business deal. But as 2004 began, Lil's evil mother, Svetlanka – the wicked witch of the west - turned up and it was the beginning of a tumultuous 18 months for the family.
David and Lil's marriage certainly seemed to be one of the more stable that Erinsborough had seen. Even when Svetlanka came to town, and tried to convince Lil to return home to her family in Perth, it wasn't enough to spoil things. But as Svetlanka realised that she was beaten, she delivered the revelation that Lil had been pregnant once before Serena came along. However, the revelation about Lil's stillborn baby only brought her closer to her husband and daughter, so, before long, Svetlanka was back for another attempt to ruin their lives. Svetlanka's second trip to Erinsborough saw her trying to make things up with her daughter for the pain she'd caused, even offering the family money to pay off their debts. Then Luka arrived in town. For weeks, it seemed that Svetlanka was desperate to get rid of the boy and end his blossoming relationship with Serena. It wasn't until Liljana was critically ill in hospital – in urgent need of a liver transplant – that it was revealed that Luka was actually Lil's son – the baby that hadn't been stillborn, but was infact taken away and adopted out by Svetlanka. It was one step too far, and Svetlanka was shipped back to Perth, despite her growing closeness to Harold. Meanwhile, Lil attempted to get to know her son, but Luka had trouble getting his head around everything that had happened. His penchant for setting fires proved to be his undoing and he was also packed off back to Perth to get some help.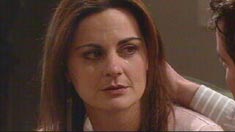 With evil relatives and long-lost children cropping up in their first year in Erinsborough, it was time for the Bishop marriage to face another typical soap storyline, as Lil had an affair. The return to Erinsborough of former resident Paul Robinson kicked off a complicated few months for Liljana and David, as Paul plotted to get David onto the local council, then stole his wife away. As David became obsessed with social status, Lil found it more and more difficult to live with him and grew closer to the charming, sympathetic Mr Robinson. Lil ended the marriage and it wasn't long before David and Serena found out the reason behind it. Lil refused to listen to David's claims that Paul had planned the entire thing and wasn't to be trusted, but she learnt the hard way when Paul suddenly disappeared. As he was found, in critical condition, his whole sordid plan to destroy Ramsay Street and steal David's wife was revealed. Lil washed her hands of Paul and, after several weeks living with her good friend, Susan, she delighted her family by moving back home.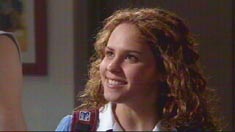 If Liljana and David's relationship was complicated at times, Serena's love life was a catalogue of disasters that made her parents look like a dream romance. Her attraction to older men was obvious as soon as she arrived and fluttered her eyelashes at neighbour Taj Coppin. As she pursued him at a club one evening, she was approached by Chris Cousens, a photographer who informed Serena that she had what it took to make it as a model. Unfortunately, he turned out to be little more than a paedophile and Serena escaped from him, at the last minute, without succumbing to his "charms". Her next romance proved to be a lot simpler, as Toadie's younger cousin, Scott 'Stingray' Timmins moved into Ramsay Street. Serena and Stingray seemed to be a perfect match, but his hyperactive behaviour and her snobbish attitude put a strain on things and, before long, they'd decided to go their separate ways. Serena's next relationship rivalled Chris Cousens in the controversy stakes, as she hooked up with her half-brother, Luka, unaware that they were related. When the truth came out, Serena was back to being single again, but she once more managed to pick completely the wrong bloke when she started a secret fling with Boyd Hoyland, the ex of her cousin, Sky. An uncharacteristic pang of guilt, however, led to Serena reuniting Sky and Boyd and deciding that maybe Stingray was the right man for her. Unfortunately, when the truth came out about Serena and Boyd, Stingray realised that he could never compete. And so, although he proved to be a great support when her parents split up, Serena resigned herself the fact that she and Stingray would only ever be friends.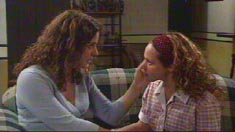 As the Bishop family slowly put themselves back together in the second half of 2005, it seemed that things had truly settled down for them. In actual fact, things settled down so much that Liljana and David barely got a word in for several weeks. Serena then found herself in a bizarre relationship with older man, Connor O'Neill, which brought about some conflict with her parents as the grim reaper hung around, waiting to strike. In their final weeks, Serena moved out of home, then moved back, as the family won the lottery but decided to give it all away to charity, as they had each other and that was all they needed. In retrospect, their sudden unity and happiness could only mean one thing; untimely death. And so, as they boarded the doomed joy flight to Tasmania, it was clear who would die. Not cancer-ridden Alex or devil incarnate Izzy, but the characters who had finally found some peace in their lives. Go figure.
Many viewers were disappointed to hear that all three members of the family had been axed, and would be leaving in a way that pretty much locked the door behind them. At least, though, they went out on a high, without becoming stale like many characters before them. And their departures will open up many new stories for those they've left behind. Plus, of course, there's always the possibility of a return, after all, it wouldn't be the first time that a Bishop had risen from the sea.