.
Comment > Love Thy Neighbour: Bree Timmins by Ryan
She preferred spelling bees to boys, and was more likely to be found proof-reading her mother's novel than painting her nails. Bree Timmins was no ordinary teenage girl – and that's why we loved her. Join us as we look back at a true one-off…
When Stingray Timmins' family began making their way to Erinsborough in 2005, it was his rowdy brother Dylan and loudmouth mum Janelle who commanded viewer attention. Bree, the quieter, more sensitive baby of the family would initially remain in their shadow, and that of her more confident older sister Janae. But as the weeks went on, Neighbours viewers would gradually learn more about the 'odd one out' of the Timminses, and soon grew to appreciate the contrast between Bree and her louder siblings. As the Timmins family became more and more popular, many a viewer found a place in their heart for this wise-beyond-her-years, yet still quintessentially teenage misfit.
From day one, it was obvious Bree wasn't your average Neighbours teen, and that Sinoa Smit-McPhee wasn't your average teen actress. Just that bit too old for the cutesy appeal of former child stars such as Kylie Flinker or Sally Jensen, Smit-McPhee didn't have the future pin-up potential of the young Holly Valance or Caitlin Stasey either. What she did have, refreshingly, was acting talent in abundance. Even alongside established stars Noa, as she was affectionately known by the rest of the cast, could steal a scene with a cynical one-liner. But it wasn't just a strong performance that made Bree such a hit. Millions of teenagers worldwide could relate to her situation; to being outshone by a prettier, 'cooler' big sister, to living in a world where intelligence is appreciated by teachers but mocked by peers. For once such viewers could look at a Neighbours teen and feel empathy, not envy.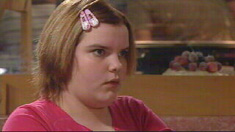 For someone who didn't fit in, in the traditional sense, Bree still managed to make some good friends on Ramsay Street. She found a kindred spirit in another gifted young girl, Summer Hoyland, and when she left the street behind for music school, Bree developed a friendship with new arrival Rachel Kinski who, having been educated at home, shared Bree's sense of isolation from her peers. Despite some misguided advice from Janelle nearly causing a split, these three girls became a strong group of friends during Summer's periodic returns to Erinsborough. But perhaps Bree's most significant friendship was with Rachel's brother Zeke. Like Bree, Zeke was intelligent beyond his years (there must be something in the water in Melbourne), but was far less worldly-wise, and struggled with the freedom from his previously sheltered life that his sister was embracing. The two eventually became one of the most unconventional teen couples in Neighbours' history, with some of Bree's Colac street-smarts eventually rubbing off on her boyfriend.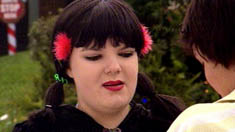 Despite her happiness in Ramsay Street and obvious closeness to her family, the sense of Bree being the odd one out remained; and what began as a simple science project would reveal that this was quite literally the case. When a DNA sample revealed Kim wasn't Bree's father he, and many viewers, assumed Janelle had been a naughty girl. But when a second sample brought the news that Janelle couldn't possibly be Bree's mother, the shocking news that she had been switched at birth came to light. When Bree eventually discovered the truth, she initially dealt with the shock with characteristic maturity; more so than either of her parents. However, after receiving a letter from her birth parents asking her not to get in touch, Bree's confusion over her identity led her to adopting a new persona; goth girl Trinity Black. After months of watching Bree behave like a mini- adult, it was in a way refreshing to see her take such a teenage approach to her confusion; to be reminded that under that world-weary front and black wig was an upset little girl who'd had a tough life.
A change of name and appearance did little to improve Bree's fortunes. After the revelations about Bree's birth, Janelle had been desperate to prove her love for her daughter, and gave her full credit for the novel they had written together, The Bogan's Tipped Hair. At first Bree revelled in the attention, particularly when she met her number one fan, Anne Baxter. However, Bree quickly became uncomfortable around her new friend as she did her best to ingratiate herself into Bree's life and family – and it didn't take viewers long to realise just why Anne was so interested in the Timminses. When Anne finally revealed her identity, Bree was thrown into turmoil once more; her anger at and jealousy of Anne conflicting with her natural empathy, and a second rejection from her birth parents following soon afterwards.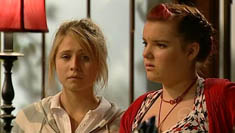 While most young soap characters deal with their fair share of trauma, Bree seemed to get everyone else's share too. Just months after her birth parents disappeared with Anne, Bree faced her darkest hour yet when her beloved brother Stingray died suddenly after donating bone marrow to their sick niece Kerry. Devastated by the loss, Bree was comforted by a video Stingray had made for Kerry in which he described how she held the family together, and stated that the baby swap was 'the best thing that ever happened to us'. Thanks to her late brother, Bree finally realised that the Timminses, whilst not her blood relations, were her family in every sense that it mattered. Soon afterwards Trinity Black's wig was consigned to the dressing-up box, and the Bree Timmins we knew and loved was back.
The next few months were perhaps mercifully quiet for Bree. Her relationship with Zeke got back on track after Anne's attempts to come between them, but as time went on the two began to realise they were perhaps more suited to being close friends. Bree still missed her absent father Kim, but gave her blessing to her mum's new relationship with Allan Steiger. However, nothing stays quiet for a Timmins for long, and soon afterwards Anne reappeared on the doorstep of No.26. When the Baxters arrived to take her back, Bree looked set for another rejection, but after meeting his natural daughter, Greg Baxter realised he couldn't pass up on the chance to get to know such a special young woman. Sadly, Greg's gain would prove to be Ramsay Street's loss; both Bree and Anne wanted to learn about heir birth parents, and at Allan's suggestion, the Timminses upped sticks and headed to Cairns to be nearer the Baxters. As Bree joined her mum, her new stepdad and Anne on a helicopter out of Erinsborough, Neighbours fans felt the sort of mixed emotions Bree was so used to – sad to see her go, but glad they'd had the chance to get to know such a special young woman too.