.
Comment > Love Thy Neighbour: Carmella Cammeniti by Matt
She's been a Mafia daughter, a nun, a magazine editor, a widow and a single mum, but after five eventful years, Carmella Cammeniti is finally getting her happy ending, as she heads off with daughter Chloe to join Oliver in Europe. Here, we look back at how her time in Erinsborough unfolded...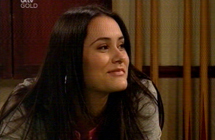 Just over five years ago, young Italian beauty Carmella arrived on Ramsay Street, under the order of her criminal father Rocco. He wanted his daughter to get a taste of working for a living, before sending her off to finishing school in Italy. With no sense of financial responsibility, Rocco saw working in Erinsborough as the perfect way for his daughter to understand the Aussie work ethic, and that money doesn't grow on trees! Quick to lend a hand was Ramsay Street stalwart Lou Carpenter, who offered Carmella a few shifts at his pub, alongside bar assistant Connor O'Neill. Stopping at nothing to make Carmella ignore any distractions, Rocco insisted to Connor that he stay away from her, but feisty Carmella soon began an affair with Connor, who was completely smitten. The relationship was to be brief, however, as Rocco found out and Carmella was packed off to Italy.
Not one to play by the rules completely, Carmella later returned to Erinsborough to help her mother Lucia run the family businesses, whilst Rocco was in prison. She managed to finally get her claws into Ramsay Street life, by taking over the editor's job at All Her magazine, whilst at the same time, seeking revenge on Connor for their break-up. The couple finally saw the error of their ways, and as they began to rebuild their relationship, Carmella became aware of Connor's inability to read and write. Wanting to offer her support, Carmella secured him an editorial job with the magazine.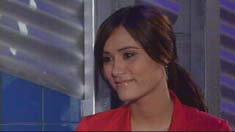 Yet it still wasn't plain sailing, as, over the coming months, not only did Carmella suspect that Connor was having an affair with her mother, but she became entangled in a love triangle with Connor, and stalker Frank, the family business driver, and ended up desperately needing counselling treatment from Karl Kennedy. Carmella found another exit from Erinsborough as a form of treatment, this time working as a publicist for Toadie's girlfriend Eva Doyle on her wrestling tour.
But more drama and headaches were ready to greet Carmella on her return, with Connor's baby daughter Maddy (from a one-night-stand with Lori Lee) requiring AU$50,000 for an ear operation. Believing she could win Connor back from new girlfriend Serena Bishop, Carmella offered him the money, claiming that she'd borrowed it from her mum, who needed it paid back quickly. As Connor shamefully stole money from the bikini shop where he was working, then disappeared, presumed dead, after a plane crash, Carmella disappeared from Erinsborough.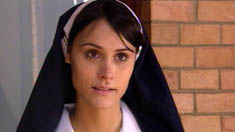 Six months later, Carmella was discovered by Connor to be living life happily as a nun, called 'Sister Mary Catherine', and the pair of them then became embroiled in evil Robert Robinson's plan to destroy his father, Paul, with Connor disappearing as he came close to discovering the truth. Carmella, meanwhile, revealed that she sold her cousin Teresa's baby to acquire the money to give to Connor the previous year and had become a nun to try and make amends. As Carmella admitted the truth to her Mother Superior, she was told to leave the convent and consider her future.
Later in 2006, Carmella's sister Rosie moved into 'The House of Trouser', along with Pepper Steiger, Will Griggs and Frazer Yeats. The two sisters weren't best pleased to see each other, particularly as, since Toadie had gone to Sydney on a law case, Carmella would be taking the spare room, to distance herself from a love triangle with Ned Parker and Katya Kinski. Rosie resented the fact that Carmella never took blame for any of her mistakes, and Carmella resented Rosie, for being the perfect, most successful sibling. The two were going to get along like a house on fire! The sisters, however, agreed to try and get along, but Carmella had another hurdle to tackle – discovering Teresa sharing a room with Sky Mangel at Erinsborough Hospital. After a huge confrontation, and a whole hospital wing turning into a fireball, Carmella now had to deal with the fact that her face could be scarred for life, after Teresa had attacked her with boiling water. Carmella then sought comfort with Will and, after as they entered a physical relationship, she knew that she had broken her vows and could not return to her old life as a nun.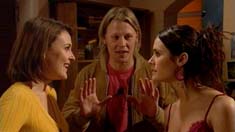 As Will Griggs fled abroad, his brother, Oliver Barnes set foot on Ramsay Street, mainly to apologise for Will's behaviour. Yet, that Italian charm was too hard for Oliver to resist and the two ended up an item, but things ended before it got too serious. Now that Carmella was single again, another of Erinsborough's bachelors could have their chance with her, but none expected them to be as young as teenager Ringo Brown, brother of Frazer. Battling an addiction to prescription drugs, Carmella found herself spending more and more time with Ringo and he became infatuated with her. Though they shared a kiss and many other close moments, she realised that it had to stop and publicly humiliated him by ending the relationship.
Meanwhile, as Carmella found out that she was pregnant with former boyfriend Oliver's baby. Initially worried what harm the pills had done to the baby, doctors reassured her that everything was fine, and she then entered into a new relationship, with Italian chef Marco Silvani. Marco provided Carmella with the stable relationship she had always craved, but his rivalry with Oliver brought several new headaches. Together, Carmella and Marco set up their own business and, after a very traumatic birth, baby Chloe join them as they moved into 24 Ramsay Street.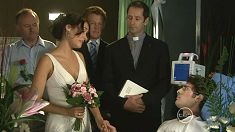 Though Oliver and Marco's petty fights continued, things eventually calmed down and she helped Marco to rebuild his fragile relationship with his dad, Franco. It seemed like the perfect family set-up but tragedy was just around the corner. On Marco's birthday, and the day that he proposed to her, they became caught up in a horrific bush fire in the national park. As the residents of Ramsay Street fought all they could to get each other to safety, Marco got distracted by Chloe's missing bag, and as the fire ravaged the surrounding area, Marco became trapped and suffered serious internal injuries. Within days, Marco and Carmella were married in his hospital room, before he quietly passed away that evening, with his new bride by his side.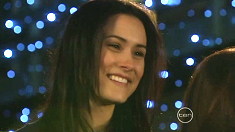 Over the next few days, Carmella believed that she could see Marco's spirit, and this belief helped get her through the heartache of losing the real Marco. Former enemy Elle Robinson supported her, and together, the pair forgot their differences, and, now friends, decided to run The General Store, Marco's business, together. Of course, being former enemies, this new friendship had its flaws, and the pair often bickered about the slightest of things, but, knowing that they both had connections with Oliver, they stuck by each other. In August, Oliver decided to leave for New York, to further his hotel management career in the Big Apple, and asked Carmella and Chloe to join him. Although, with too many ties, and with the thought of leaving behind her memories of Marco, Carmella chose to stay put in Australia, much to Oliver's disappointment.
Yet recently, after discovering Oliver had moved to Portugal, Carmella began to realise how much she had been missing him, and, hoping that life could be more positive, with a stable and secure family life in sunny Lisbon, Carmella wondered whether it was time to move on. Following an emotional farewell to the residents that have been almost her family for the past six years, Carmella decided to leave Erinsborough for good.
Well, after six very eventful and emotional years on Ramsay Street, Natalie Blair, who played Carmella, turns to a new chapter in her life, hoping to try more new and exciting roles, with real-life partner David Hoflin, who played on-screen partner Oliver, by her side. So, it seems that good neighbours sometimes become more than just good friends!