.
Comment > Love Thy Neighbour: Charlene Robinson by Ryan
She was initially introduced for just three weeks – now 20 years on from her last appearance on Australian screens, she's still one of the best loved characters in the history of Neighbours. Join us as we remember the girl who made overalls cool; the legendary Charlene Robinson.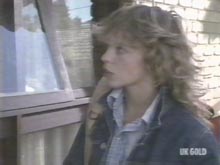 When Network Seven axed Neighbours after less than a year in 1985, it was the tenacity of its creator, Reg Watson, which kept the show going. His belief that his concept could run for 20 years if done right lead Network Ten to take the unprecedented step (in Australia) of taking on a rival network's reject. But both Watson and Ten knew that if Neighbours was to succeed on its second chance, changes had to be made. One of the first key changes was an increase in the number of teen characters in the show, beginning in Ten's first few episodes with the introduction of Mike Young and Nikki Dennison, and continuing with the recasting of Scott Robinson. However, it was only when bolshy Madge Mitchell's equally feisty daughter Charlene arrived that Neighbours went from a show with steadily improving ratings to one that would make headlines worldwide.
The casting of Kylie Minogue as 'Lennie' (as the tomboy insisted on being addressed as) would prove to be a masterstroke. Although no one could have predicted that Minogue would become an international phenomenon, she was already a popular face on Australian TV through her childhood role in Skyways, and more recently The Henderson Kids, guaranteeing press and viewer attention. Although Minogue initially signed up for just three weeks, scriptwriter Ray Kolle confirmed in an interview with Perfect Blend that 'Charlene was a character Reg Watson had had in mind for a long time before she appeared'; therefore it was no surprise to insiders that three weeks became three months before Charlene even debuted on screen. Those three months eventually became two years – and what a two years it was.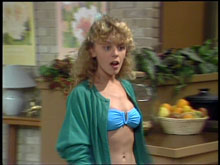 Although Neighbours had featured teen characters from day one, the emphasis was less obvious during the Network Seven run, and also concentrated on male teens. Nikki Dennison was added to the cast in 1986, but her character was largely a replacement for her cousin, Julie Robinson; a somewhat uppity girl who saw Erinsborough High as beneath her after a stint at private school. It wasn't until Charlene arrived that young girls watching the show had a character that could really relate to. A rebellious teenager struggling to cope with her parents' divorce, annoyed at being sent to live miles away from her friends, clashing with a mother she was all too similar to; millions of viewers could recognise themselves in Charlene. But there was more to the character's popularity than that. From day one, there was a spark to Charlene that wasn't quite there in the other teen characters. Her cousin Danny Ramsay had shown the same wayward streak, but Charlene's was combined with a sense of fun that made her captivating to watch. Her very first scene consisted of climbing through her mother's window and being mistaken for a burglar by her future boyfriend – from then on the pattern was set, and it worked brilliantly.
While Charlene had a major impact in her own right, the effect she had on other characters cannot be underestimated. Her mother, Madge Mitchell, was already popular, but in the wake of Francis Bell's sudden departure from the role of Max Ramsay, the character was suddenly at the head of the family. Charlene's arrival allowed Madge to develop as a character in her own right rather than as Max's sister, becoming a central figure in the show, something that would continue on and off for nearly 15 years. But of course Charlene's main impact was on her neighbour, and future husband, Scott Robinson. Recasts are notoriously difficult to pull off, and while Jason Donovan was never exactly unpopular, some viewers still struggled with Scott's switch from a slightly built, dark-haired and pale skinned boy to a blond and bronzed surfie type. As soon as Scott was paired up with Charlene, all that changed. She might have punched him on their first meeting since childhood, but the spark between the two was obvious from day one. Suddenly Scott was no longer the misfit recast, but one half of the most popular couple on TV.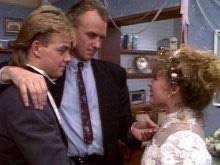 Although there was a 16-month gap between the two transmissions, the wedding of Scott and Charlene was a massive event in both Australia and the UK. It is testament to the popularity of the couple that millions of viewers were desperate to see a 17 year-old girl and 18 year-old boy get married, rather than rooting for the parents saying they were too young. In 2008 – an age of dozens of digital channels when few programmes enter national conscience – it's hard to imagine just how big that wedding was back in 1988. On November 3rd 1988, it seemed like normal service was suspended. The wedding fever was even more intense in the UK than it had been in Australia, as by then Kylie Minogue was not only soap's hottest property but also the singing sensation at the moment. BBC One and Channel 4 snapped up the rights to Skyways and The Henderson Kids respectively, Kylie and Jason recorded their legendary duet 'Especially for You'; even Angry Anderson grabbed a Top 3 hit on the back of Scott and Charlene/Jason and Kylie mania.
While her relationship with Scott is a fond memory for millions of Neighbours fans, it shouldn't be forgotten how well Charlene could work with other characters. Her relationship with Madge was always enormous fun, and brilliantly played by Kylie Minogue and Anne Charleston. Madge and Charlene were literally the show's first mother and daughter double act, but also figuratively; not until Susan and Libby Kennedy was there a pairing so popular. Jane Harris was also a brilliant foil for Charlene, her quieter, more sensible nature contrasting perfectly with Charlene's forthright and sometimes reckless ways. Who could forget the sight of two 18 year-old girls chasing after the driver who put Daphne Clarke in a coma? Charlene's answer to Jane's question 'Is this a good idea?' summed up her character; 'I'm a Ramsay – we don't think about things like that'.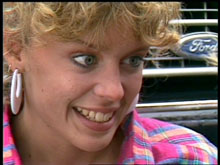 Charlene remained on Ramsay Street for a year after her marriage, but with Kylie's pop career going stratospheric in the UK, it was inevitable that something would have to give. Although Grundy were desperate to keep their biggest star, the writers seemed to be struggling for storylines for Charlene in her final months, a silly kiss between Scott and Jane being followed by an equally unlikely flirtation between Charlene and her driving instructor. Perhaps in the end it was for the best that Charlene headed to Brisbane when she did, leaving fans wanting more. It's hard to believe that for two generations of fans now, Kylie Minogue has always been a pop star and never Kylie/Charlene. For those of us who were around in 1988 however, there will always be a part of us that looks at her and fondly remembers the feisty, overall-clad and unforgettable 'Lennie'.