.
Comment > Love Thy Neighbour: Chris Pappas by Rachel
Christos Pappas, who went from star basketball player on the school team to unlikely father to Lucy Robinson's child, was the first homosexual regular character in Neighbours' history. As well as breaking boundaries, he had a pretty eventful time on the street!
Originally introduced as a bit of a nerd, Christos Pappas was scammed by Andrew Robinson and Harry Ramsay before quickly befriending them and Summer Hoyland. Before long, he and Summer had started dating but Chris's struggle with his sexuality led to him getting into trouble and being suspended from school. His traditional Greek parents took the news that their only son was gay badly, so he moved in with ex-girlfriend Summer and their friendship strengthened when he helped her realise that his being gay had had nothing to do with her.
Chris's next feud with his parents was when he announced that, rather than go to university, he wanted to train to become a mechanic. After being attacked by a homophobic customer at the garage, Chris was taken to hospital where he was attended by the first of his boyfriends, Nurse Aidan Foster.
Aah, the lovely Nurse Aidan, together he and Chris formed Neighbours' first ever gay couple. Older and more experienced than Chris, Aidan didn't take the news well that Chris had been hiding their relationship from his parents and broke up with him, but when Mama and Papa Pappas assured their son that they would accept any boyfriend of his, the two reunited. Sadly it wasn't to be, after a car crash during which Chris was the driver resulted in Andrew Robinson developing epilepsy. Andrew's desperation to keep his condition a secret from his friends and family led to Aidan being forced to lie to his boyfriend, and it was this eventual lack of trust that lost Aidan both his job and his relationship with Chris.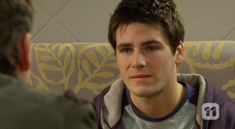 Professional swimmer Hudson Walsh was to be Chris's next boyfriend, and again it was a bumpy ride that ended in a car crash! Robbo Slade, the ex-boyfriend of Chris's good friend (and one-time unrequited admirer) Amber Turner showed up in Erinsborough and threatened Amber with the release of their sex tape. In an attempt to protect his friends, Hudson ran Robbo down; resulting in his death, and Hudson being sent to jail. Whilst Chris attempted to keep their relationship going despite his boyfriend's incarceration, Hudson was reluctant and they separated.
Chris's problems weren't over, as a spell addicted to sleeping pills and casual hook-ups proved to viewers, leaving his friends worried for his health and a warning from the new owner of the garage, Danni Ferguson. When he learned that Sonya Rebecchi had spilled the beans to his mother Patricia about Hudson having been locked up, he took his frustrations out on her, particularly after his mum was arrested for theft and he discovered she was a long-time gambling addict.
A run-in with Danni's abusive ex-boyfriend led to Chris being hospitalised once again, and once again falling for his nurse, the English Will Dempster. Alas it wasn't to be, as Will proved to be more interested in his dog than Chris!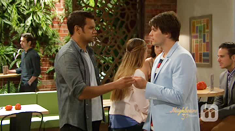 Chris's love life had never been plain sailing, but when ex-soldier Nate Kinski arrived on Ramsay Street to stay with his aunt Susan Kennedy, all seemed to be right in the world at last. Although they struggled with Nate's PTSD, the two had fallen in love hard and fast but they were to be tested when unlucky Chris was the victim of a coward punch from a drunk Josh Willis and suffered serious brain damage. Frustrated by his injuries and inability to work at the garage, he tried to push Nate away, but his patient boyfriend stood by him and convinced him to accept a job as a trainee manager at Lassiter's instead. Nate became the show's second regular gay character, and it seemed like maybe, for once, Chris might have found long-term happiness!
Alas the course of true love never did run smooth, only this time it wasn't a bashing or a car crashing that wrought Chris and Nate apart, but a baby! Lucy Robinson had returned to the street longing for a child, and in Chris she found what she thought was her ideal father. Despite the age difference between them and Nate's hesitation at becoming a step-father, not to mention the 1 in 4 chance of their child being born with spinal muscular atrophy, Lucy and Chris went ahead with their plan to unite the Robinson and Pappas genes and were delighted when she got pregnant straight away. Unfortunately Nate's visa issues and mounting doubts led to him realising that he and Chris wanted different things, and they split up. Chris decided that his future lay with Lucy and their baby in New York, and bid adieu to Erinsborough.
Although Chris was allegedly originally introduced to take on the storylines that had been planned for Harry Ramsay, he quickly grew to be a much-loved character in his own right and a ground-breaking part of Neighbours' history. His friendships with truth-teller Tash and wannabe business mogul Andrew (from whose father he gained the nickname Freckles) and latterly with Kyle and Georgia meant that he always had a strong and loyal group around him, even though his parents didn't live on Ramsay Street. Perhaps Erinsborough's most accident-prone man, at times it felt like Chris spent more time in hospital recovering from his various 'bashings' than he did in his overalls at the garage. He might not have always had the best taste in boyfriends (except for the lovely Aidan), but he demonstrated that gay characters need not be flamboyant hairdressers (hello Gino), they could be serial monogamist mechanics too. His decision to have a baby with a woman twice his age whom he barely knew raised a few eyebrows (not least Nate's), but in the end Chris got his happy ending.