.
Comment > Love Thy Neighbour: Daphne Clarke by Rhys
The very first episode of Neighbours brought with it many elements - laughter, drama and intrigue. One of the characters introduced to us in this pilot programme was Daphne Rose Lawrence. Daphne was hired as the stripper at Des Clarke's "Buck's party" by Shane Ramsay, and the two men would become very prominent during Daphne's time on the show. Although she only remained on the show for little over two and a half years, Daphne is still remembered now, more than fifteen years after she left the series, as a classic Neighbours character - much loved and respected by all.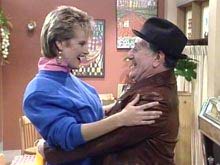 One of my very earliest memories of Neighbours is of Daphne, Mike, Charlene and Scott sitting on the lawn outside No.28. This dates it to around 1987/1988 in the UK when I was little more than a toddler. Similarly, other memories I can recall from this era include Daphne slipping on buttered toast in the kitchen and the car accident, which eventually led to her death, in 1989. Despite my being a regular Neighbours viewer since I was old enough to be aware of it, it speaks volumes that the earliest memories I have are of Daphne, and not of Scott and Charlene - despite the media hype that surrounded their relationship. Her entrance in the show was as dramatic as it was comical as it was intriguing. The very idea that a programme screened on the BBC at lunchtime (and repeated the following morning) would include a stripper, undoubtedly stirred a few people into taking a cautious view of what they were about to watch. Daphne, however, never took more than her over clothes off and, therefore, the supposed seediness of her profession was non-existent. And this, coupled with Daphne's likeable nature and intelligence won her many friends. During the first few episodes, she offered to move in with Des to help pay his rent and their eventual romance led to marriage and the birth of their son, Jamie. Throughout her run in the series, Daphne, in the words of actress Elaine Smith, "did everything".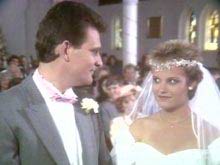 When one puts Daphne into the context of the mid-1980s, it is possible to understand why she became so popular, particularly with younger viewers. The 1980s were a decade of browns, blacks and greys; economic uncertainty and a Conservative government in Britain. But, Daphne was awash with colour and life - from the vibrant leotards she exercised in, to the garish shirts and earrings she wore. She was also famed for her hairdo she sported for the first year and a half, which, all in all, gave her a slightly "Lexie Patterson" look about her, from Prisoner - i.e. the "Boy George character". While Gail and Paul may have been prime examples of the "80s yuppie" - Daph had the more "suburban 80s" look about her! When comparing to other characters of that era, there is no one that really comes close to matching Daphne's character - probably the reason she did so much in such a short space of time. An element of her characterization I have studied greatly is for what reason she had such a following among the young - both characters and audience. Perhaps the two followings are interrelated - i.e. young viewers are attracted by the relationship Daphne had with the younger characters. One suggestion, that I have presented a few times, is that Daphne was presented as a surrogate parent to many a character in Neighbours. In a more literal sense, she and Des gave Mike Young a home and treated him as one of their own. Likewise, Daphne could be always relied upon to offer advice and a "shoulder" to other youngsters such as Charlene and Jane Harris. Her position in charge of the Coffee Shop, which was itself sub-named Daphne's, meant she was always in the midst of the younger characters and thus often advising them on whatever storylines were playing at a particular time. However, because she was, age-wise, positioned between the teenagers and their elders, Daphne often acted as mediator - for example, between Charlene and Madge. It was this, almost unique, ability that Daph possessed that enabled a true cross-section of viewers to enjoy her. Older fans respected her for her traditionalist views and caring nature, while the youngsters enjoyed her ability to level with them and provide advice.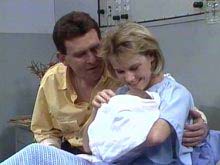 Despite playing a hugely popular character, actress Elaine Smith decided she would depart from Neighbours after more than two years. The decision was taken to send Daph off to nurse her dying father, Allen. That, it appeared, was the last we would see of her. However, such was the character's following, that largely on the basis of viewers' discontent that she'd had no "proper" exit, the decision was taken to kill Daphne. Elaine Smith had made it clear she didn't want to return to Neighbours full-time, again, but agreed to film additional episodes to give the character some closure. It emerged that Daphne's father died, and on the way home from the funeral, the car Daph and Gail were travelling in was hit by another car. Daphne's injuries were so severe, that after a long spell in a coma, she died. Daphne was the first major character to be killed off, and as such, her death was all the more poignant because she was a relatively young character. It's interesting, also, to speculate which other character would have been killed off had the un-planned decision to bring Daphne back not been taken. Most soaps need a death every year or so to maintain a certain level of drama, and Neighbours had gone for three years without a major character dying until an eleventh hour plan was hatched to kill Daph.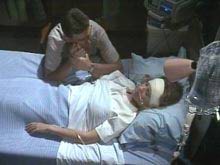 So, what of her legacy? For up to four years after her death, the Coffee Shop was still known as "Daphne's" - but following its renaming, no reference has ever been made to this, one of the original Neighbours characters. All her on-screen relatives have long since disappeared, so it would seem only in fans' memories will she live on. It's interesting that the underlying basis of Daphne's character has not been implemented in any other character, since. Perhaps, the most obvious character to have had the ability to interact freely between both younger and older people was Annalise. And, to a degree, she and Daphne shared similar traits: originally frowned on upon their arrival; became good friends with people of all ages; made successes of small businesses etc. But it seems that these days, the tendency is to keep the characters more strictly within the confines of their age range. While there's no plausible way Daphne could return to the series, it would be a welcome breath of change if a character with at least some of her facets could be initiated. The very fact that Daphne, to me, epitomizes Neighbours of the 1980s and my childhood, means she holds a very special place in my heart, and no doubt countless others'.