.
Comment > Love Thy Neighbour: Doug Willis by Sharon Harvey
For over 25 years I have watched Neighbours, enjoying the dramas of Ramsay Street and its inhabitants. I watched slightly when Jason and Kylie graced our screens but it wasn't until Jason's real life father Terence joined the cast that I was really drawn into it. It's no secret that I've been a huge fan of Terence's ever since his arrival onto Ramsay Street back in the 90s, and I've been following his portrayal of Doug ever since.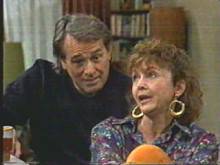 For those veteran viewers of the show like myself, they will remember Terence's first stint back in the 90s when Neighbours introduced him as Doug, the head of the Willis family who moved into Ramsay Street. Back then, Doug was a strong character who was a builder and a family man. I was instantly smitten, and so I began following the dramas of the Willises, in particular Doug, and also following Terence's career as best I could, given I was in the UK, and he was Australian and we didn't have the luxury of the internet back then! Although he and Pam seemed rock solid, their relationship wasn't without its rows. I personally didn't like Pam, I felt she always put Doug down and didn't give him the respect he deserved or the time of day, she always had to be the one in the right. Their turbulent relationship resulted in his one night stand with Jill Weir who had fallen in love with him and mistakenly misread his flirting of being in love with her. As with everything else in their marriage, Pam and Doug weathered the storm and stayed together to see another day, until their exit in 1994.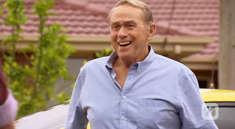 The most memorable storyline though - and the best by far for me – has been the reintroduction of Doug Willis to the show, along with the revelation that he had the onset of Alzheimer's disease. Back to support grandson Josh after his failure in his swimming career, there were huge differences in Doug's character, as mentioned, once a builder and a family man. The family man bit has not changed but Doug was now retired, though he did manage Kyle's yard while he was absent from the show. His forgetfulness became apparent through small things, noticed by Josh, which were then dismissed by his dad, Brad, who insisted his father was fine. The viewer saw small things that suggested things were not quite correct, like when Doug was making a late night cuppa with Josh, and after it was already established the Willises had no milk, Doug remembered he was making tea and that there was no milk, and set out to get some, forgetting the shops were now closed. Alarm bells began ringing next morning and it all came to light when a clearly dishevelled and disorientated Doug was spotted walking along the road by Josh and Amber who, like the rest of the family were out looking for him. He had tripped and fallen resulting in a cut head and was taken to hospital where he was then diagnosed with the onset of Alzheimer's. And oh, what a shock and a shame. To see this apparent change in Doug, once such a strong family man, was absolutely heartbreaking especially for die hard Doug fans like myself.
All of the scenes Terence played after that reduced me to tears on many occasions. One that stuck out was when they all went to the opening of the new Waterhole, and there was a photography session on. with Amber and her boss taking photos of the pub's customers. Unfortunately, Doug walked right in front of the camera, the flash catching him out causing him to become disorientated, walking into people having photos taken, and the photographer yelling at him, causing him to catch the camera lens, which then fell and broke on the floor. The sad, absent look on Doug's face, wondering what he had done was heartbreaking to watch. Terry really did play the part superbly.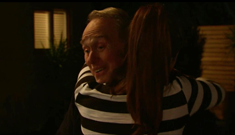 His first stint ended with the realisation that he was in decline now with Alzheimers, he and his family having to come to terms with it, as well as the reintroduction of Pam who had come back to Ramsay Street, after being contacted by Brad. Of course, back in Darwin, Doug had been acting strangely because of the Alzheimer's but Pam, not knowing why, had suspected he was having an affair again and unusually for soaps, his history with Jill Weir was brought up. When she finally realised what was up with Doug, the realisation of what was ahead became obvious and although Brad wanted them to move in with them, they decided while Doug currently could, they would do some travelling and make some final memories.
When he returned for his latest stint to help grandson Josh through his court appearance, and of course to meet his new granddaughter Paige, I hoped they would still mention Doug's condition and show him like that because like we all know in reality, illnesses like Alzheimer's don't simply disappear overnight. Although I don't profess to have knowledge of the illness, I am sure it still rears its ugly head so hoped they would acknowledge this – which they did, not as much as the first time around but still acknowledged it so I was really pleased about that. This was evident in his dance with Imogen at the little party he arranged for her – incidentally I thought it was lovely to see a granddaughter be proud to dance with her elderly grandfather as Imogen was – and he mentioned he wanted her to call him at any time because of her heartache at her parents' strained marriage, although he couldn't guarantee his state of mind. Although I didn't like the way Imogen got upset and stopped her dance with her Pops leaving him looking a little lost in the middle of the lounge, showing once again his vulnerability caused by the effects of Alzheimer's. Again, a tear or two appeared in my eyes at the sad scene.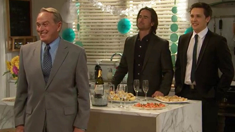 From one granddaughter to another, another scene which reduced me to tears was when he had a quiet moment with Paige in the garden. After putting his foot in it regarding the alternate life Brad may have had with Lauren, had they had known about Paige's existence back then, he gave her the baby bracelet, which all the Willis grandchildren were given. Doug then welcomed her into the Willis family, with Paige embracing her new granddad and informing him that she wasn't the hugging type, so he was lucky to get one – bringing a little light humour to the scene but showing Paige's vulnerability too.
I sincerely hope we see a lot more of Doug yet before his sad demise, from what is probably going to be Alzheimer's, because there is still a lot of mileage in the character. Although Lou, his old sidekick and partner in crime has now departed, Doug still has links to his old neighbourhood in the form of Brad and of course the newest generation of Willis family members - Doug's grandchildren Josh, Imogen and Paige.
In the meantime, I would personally like to say thank you to Terence for not only coming to my attention all those years ago, but also for playing the part of Doug so superbly. Although you had me in tears several times in your acting of Alzheimer's, it's proven what a fantastic actor you are, a fact I already knew and an absolute pleasure to watch. Thank you for the entertainment, long may it continue and hopefully we will see you back as Doug soon (Maybe to meet his new great grandchild!!) or in another role, and hopefully on our UK screens too as well as Aussie ones. I'll miss you 'til then.
This article originally appeared on Sharon Harvey's website.