.
Comment > Love Thy Neighbour: Dylan Timmins by Steve
Hot-headed and argumentative, a talented chef, a loving father and a former jailbird Ė Dylan may have been a walking contradiction, but there was never a dull moment with him around. Here, as his temper finally brings about his departure from Erinsborough, we look back at the life and times of Dylan Kim TimminsÖ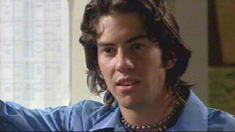 Having grown up as one of the middle children of Colacís infamous Timmins brood, Dylan was never destined for big things. Following a spell in juvenile detention, Dylan headed to Ramsay Street, where his younger brother, Scott (or Stingray as he became known), had turned his life around, in the care of teacher Susan Smith. But where Stingray was a lovable troublemaker, Dyl had a nastier edge, often settling things with his fists and not thinking twice about lying to get his own way. Ramsay Street worked its magic, as it had done with Stingray, though Dylanís attempts to reform were often hampered by his past, particularly the arrival of his former partner in crime Roo Hausman. Dylan managed to resist slipping back into his old life, while, at home, he and Stingray were joined by their mum, Janelle and sisters, Janae and Bree. Dylan had a difficult relationship with his mother, as his behaviour only reminded her of her errant, and often absent, husband, Kim. But, unlike his father, Dylan stuck around in Erinsborough, desperate to make something of himself and impress his mum. His relationship with his younger sisters was much simpler, and he would defend them both in any situation, most commonly when Janae found herself dumped upon by her latest boyfriend and Dylan made sure that any man who hurt his sister was made to suffer.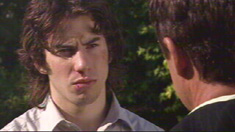 One of the first relationships Dylan formed in Ramsay Street was with businessman Paul Robinson. Perhaps looking for a father figure, perhaps looking for a way to better himself, or perhaps both, Dylan looked up to Paul, who offered him the chance to become his trainee. Their relationship suffered many ups and downs, but Dylan stood by Paul when he became involved with the dodgy Affirmacon corporation, which led to Dylan saving Paulís life after finding him nearly dead after falling from a cliff, and then forging Paulís signature so he could have a life-saving operation to remove one of his legs. Paul would often use Dylan to do his dirty work, too, which lead to Dylís exposure to toxic waste at the wetlands. But things changed irreparably in 2006 when Paulís twisted son, Robert, got Dylan out of the way by causing a food poisoning outbreak at the General Store which Dyl was managing at the time. From that point on, their closeness was gone but, in 2007, as Dylan left Erinsborough, he had more reason than ever to hate Paul, and, back at the cliff where Paul lost his leg, their relationship came full circle. When Dylanís baby daughter, Kerry was diagnosed with leukaemia and he was unable to donate bone marrow Ė both linked to Dylanís exposure to the toxic waste Ė Stingray stepped in. When Stingray then died days after the operation, Dyl placed the blame squarely at Paulís door and kidnapped him, hoping to make him suffer too. But, after pushing Paul off the cliff and leaving him to die, he broke down, realising that heíd let Stingray down by sinking to Paulís level. But when he realised that Paul was still alive and trying to claw his way back to safety, Dylan helped him up, before telling Paul that he didnít need to destroy him, as he was on a path, of his own creation, to self-destruction.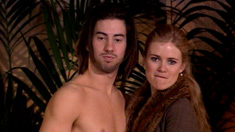 Matters of the heart for Dylan revolved around two women Ė Sky Mangel and Elle Robinson. When he first arrived in Ramsay Street, Sky was already in a relationship with Boyd Hoyland, but it wasnít long before she was drawn to bad boy Dylan, despite his anger issues. As with most relationships involving a member of the Timmins clan, things were intense for Dylan and Sky, with plenty of ups and downs along the way. But, just as things were settling down for them, Sky went and broke Dylanís heart by cheating on him with JP, her art lecturer. To make matters worse, Sky then had a one-night-stand with Stingray and found herself pregnant. Dylan was busy moving on and, within weeks, was dating Paulís daughter, Elle. Dylan and Elle had co-managed the General Store before Dylís falling out with Paul, and the spark between the pair couldnít be denied. But Paulís influence proved to be Elleís undoing, as he convinced his daughter to pretend she was dying, so that Dylan wouldnít go back to his pregnant ex. She finally owned up, but, as Sky gave birth to baby Kerry, Dylan and Elle were reunited and she helped him to come to terms with fatherhood. Dylan then admitted that his new relationship with Elle was nothing more than casual sex to him and they split again. But after sharing a chemistry-lacking kiss with Sky, Dylan realised that he did want to be with Elle. He won her back by stripping nude for a Lassiterís board meeting, but Paul wasnít about to let Dylan become his son-in-law. Paul managed to sabotage a Valentineís trip attended by Dylan and Elle, leaving her believing that her boyfriend had cheated on her with Carmella Cammeniti. In actual fact, Paul had bribed Ned Parker to get them drunk and put them in the same bed together, but it was the final nail in the coffin for Dylan and Elleís twisted relationship.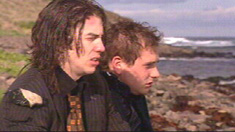 In October 2005, things changed dramatically for Dylan when Roo came back into his life. On his first visit to Erinsborough, Roo had tried to cajole Dylan into robbing the bar with him, only for Dyl to shop him to the police. Having escaped from prison, Roo was out for revenge and, after kidnapping Stingray, Roo blackmailed Dylan into robbing a service station in broad daylight. His plan had the desired effect but before Dylan could be arrested, he set off on a trip to Tasmania, flying to Lassiterís casino in Hobart, as part of the Erinsborough hotelís anniversary celebrations. When the plane crashed in Bass Strait, Dylan was presumed dead, but in actual fact had washed up on the shore, along with Connor OíNeill. Connor was also facing trouble back home after stealing cash to help pay for his daughterís ear operation. Although he had returned the money, he was too ashamed to face the music and decided that the chance to vanish with Dylan was fate. But, having found a newspaper and learnt that Stingray was taking the rap for his crimes, Dylan decided to go home and help out his brother, only to turn up in the middle of his own memorial service. After a disastrous trial, Stingray and Dylan were both sent to prison and, having been caught, Roo soon joined them back inside. But his plan came unstuck when undercover cop Stuart Parker turned up and, in a tense prison lockdown, Dylan managed to record a confession from his enemy. Finally proved innocent, Dylan and Stingray were released just in time for Christmas.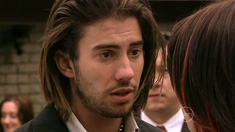 Though he struggled when Stingray and Sky became a couple, Dylan doted on his baby daughter Kerry and was devastated when she was diagnosed with leukaemia, but that diagnosis kicked off a series of events which ultimately saw Dylan leave Erinsborough. Following the tragic news from Kerryís doctor, things only got worse when Dylan found out that the illness, and his inability to donate bone marrow, could be linked to his exposure to toxic waste two years earlier. Fortunately, Stingray was also a match but his good deed ended in tragedy when, days after the operation, Stingray passed away from an aneurysm. Dylan was overwhelmed by grief and his old anger issues resurfaced. Blaming Paul for triggering the whole sorry mess by poisoning the wetlands, Dylan took him hostage and left him dangling from a cliff, before coming to his senses. Though he helped Paul to safety, Dylanís anger only got worse as the week continued. Unable to control his rage, Dyl trashed the bar before turning to his mumís boyfriend, police sergeant Allan Steiger. Worried that he was on the verge of killing someone, Dylan begged Steiger to put him in jail, out of harmís way. But Steiger had another plan and, following the funeral, sent Dyl off up north, with Kim, to get his head together. And, as he spoke to his mum and sisters, as well as Sky and baby Kerry, only Bree realised what was happening and begged her brother to stay. But Dylan knew that, if he was ever going to be able to be a proper father, he had to go.
Only a Ramsay Street resident for two years, Dylan crammed a lot in Ė an engagement, a daughter, a death, numerous fights and far too few haircuts Ė but he did it all with passion.