.
Comment > Love Thy Neighbour: Flick Scully by David
From 1999 to 2002, one girl preened, pouted, posed and pashed her way round Erinsborough in a style not seen since the heyday of Annalise Hartman. Confident, conniving and stunningly beautiful, Felicity Scully certainly drew attention during her time on Ramsay Street. Five years on since her departure we look back at "Flick"…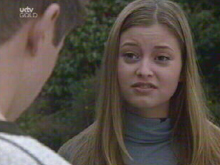 Arriving in 1999 as part of the Scully family, many viewers were initially sceptical about the newcomers. Replacing the long running Martin family, the rowdy Scully's we're quite a contrast. Felicity, or "Flick" as she was nicknamed, argued with her sisters in a typically teenage fashion and was dismayed to discover she was living on the same street as her school principal. But within the first few minutes of Flick's debut, several distinctive character traits revealed themselves. Firstly, it was clear she had an eye for the boys as she quickly latched onto Bill Kennedy, and it was also clear that her looks would gain her many admirers. Despite her young age, Felicity had already learnt to use her popularity with men to her advantage and we were shown a prime example when she got the boys of number 30 to help unload the Scully's furniture from the removal wagon. Another side of Felicity's character was her tendency towards dishonesty. An exchange with her father Joe showed the extent of Flick's ability to con; he judged that she wouldn't be interested in the local guys, to which she agreed "boys are boring".
Over the next few years many viewers were indeed bored by the seemingly endless stream of men in Felicity's life. From her short lived infatuation with Bill, she went on to have secret dates with older boy Sean Edwards, a crush on married postman Pete Redman, a long winded secret relationship with neighbour Joel Samuels. She had to dodge scary bomb maker Colin Rogers, spent a short lived time with skater Luke Dawson, then back to Joel for a bit, had a brief switch from a plutonic to romantic relationship with Tad after his near death experience, brushed off dopey Matt Hancock, fell in love with her own sister's fiancé Marc Lambert, turned to Stuart Parker for comfort and ended up getting engaged to him. It may be worth pondering how much of Flick's story and character was defined by the looks of the actress who played her, Holly Valance. As the daughter of a model it was no surprise that Holly entered the media industry through modelling, at just 12 years of age, and she's been praised for her beauty ever since. So perhaps it's not surprising that Flick ended up on a rollercoaster of male attention; it seemed feasible enough to many viewers who became big fans of Valance's looks.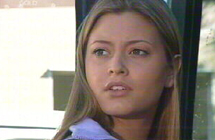 With all the love in her life, it made a refreshing change when focus was placed on Flick's non-romantic relationships. Although Paul and Tad had both been infatuated with Flick, and a brief but unsuccessful romance had sparked with the latter, the three were mainly just mates. It was an unusual step for a teen gang to not feature an ongoing romance and it was also notable that Flick's two closest friends were male; in fact, aside from her sisters, she didn't really have any female friends. Though this was probably due to the cast being limited to how many young women it could have at any one time, it was clear that Flick really wasn't a girl's girl. During her brief stay at 30 Ramsay Street, she certainly didn't get on with Dionne who accused her of being spoilt and lazy when it came to the housework.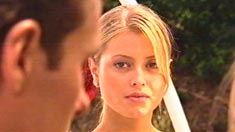 At home Flick always had been the spoilt princess. Her older sister Steph was a tomboy who loved motorbikes and had an aversion to skirts, while younger sister Michelle had a revolutionary green streak and a fondness for dungarees. Flick loved make-up and fashion and as Valda commented when she made her debut, she'd always been a pretty little girl. So her parents probably viewed her as the most feminine daughter; the one that needed protecting and treating more carefully. The relationship with father Joe was particularly interesting. Joe seemed to find it very difficult to let Flick go and was especially disapproving of older boys. When Felicity was secretly dating Joel Samuels, Joe discovered their lie and became so angry he ended up hurting Joel's shoulder by accidentally shoving him. This caused Flick to put her foot down with her father; she moved out for a while and said she'd only move back home on her own terms. Joe wouldn't agree to this so Flick spent a while at no. 30, but this didn't last long as Joel wasn't ready for her to move in with him, but some time later the couple got back together and again Flick had to move in with Joel to avoid the disapproval of her father. Eventually Joe calmed down and when he realised how unhappy Felicity was living in the share house, he had a chat with her about his feelings. Felicity apologised for treating her parents with a lack of respect and he promised to try and treat her as an adult from then on. With one awkward family relationship healed, it wasn't long before a new one was begun…
Possibly Flick's most memorable, and infamous storyline was her love triangle with Marc Lambert and her own sister Stephanie. Many viewers found it hard to ever forgive Flick for ruining unlucky Steph's relationship by falling in love with and kissing Steph's fiancé. However, it's worth remembering that Flick didn't know who Marc was when she fell for him and she did try to avoid him once she found out he was her sister's new man. A true optimist would even point out that Flick probably saved Steph from a lot of heart ache in the end as Marc was clearly not Mr. Right, but of course at the time Steph was crushed and felt utterly betrayed by Flick. To her it was another case of "Princess Flick" always getting what she wants. It was quite sometime before Stephanie could begin to forgive her sister, but for some fans the character of Felicity Scully was tainted forever.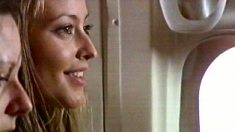 Flick's time on Ramsay Street came to a close with an exciting job offer from Lassiter's in New York. It seemed fitting that the fast living girl should end up moving to the city that never sleeps. There was a suggestion that she'd return as she was engaged to Stuart Parker, but of course we all knew that Holly Valance had her heart set on a pop career, so the relationship didn't last. Valance's career trajectory moved from music and back to acting, but this time looking to Hollywood. During Neighbours twentieth anniversary celebrations, Holly was happy to make a cameo from California. When we interviewed him in 2006, Supervising Story Editor Luke Devenish had this to say about her cameo: "The returnees I was personally most delighted by were Jesse Spencer and Holly Valance - they were both just so enthusiastic about doing it and told the whole world how much they loved their time on the show."
In our 2004 interview with Devenish, he gave further testament to Flick and Holly when he suggested her for a permanent comeback: "The returnee I'd love most would actually be Flick. Holly was so utterly terrific and Flick was always a joy to play with in plot. If we had her now, we'd use her a little differently, not quite so sweet, a little more world-wise and self-aware, and a tad closer to the Izzy model". So, if Hollywood doesn't work out for Holly, it sounds like there could still be a place for Flick back in Erinsborough.