.
Comment > Love Thy Neighbour: Harold Bishop (1996-2008) by Ryan
He joined Neighbours for an initial six weeks – 21 years on, Ian Smith is finally saying goodbye. Join us as we bid a fond farewell to Ian and his much-loved alter ego; the one, the only, Harold Bishop.
In 2008, Harold Bishop is the breakout character of Neighbours. Just as you don't have to watch Coronation Street to know who Ken Barlow is, the name Harold Bishop means something even to non-Neighbours fans. Yet back in 1991, the axe ruthlessly fell on this beloved character, and his exit seemed as permanent as an exit can be. Harold's 'death' was a controversial move and, as it turned out, a huge mistake. Perhaps missing the co-star she had worked so well with, Anne Charleston left the show just over a year after Ian Smith, with much of the show's history going with her.
Fast forward to 1996, and Neighbours was a very different show. Major cast changes had left Ramsay Street looking fragmented, and much of the family feel the show was known for had been lost. The BBC demanded action from Grundy – and more specifically, they demanded Madge and Harold. As soon as the news was leaked, fans reacted with a mixture of excitement and bemusement. Bringing Madge back from Brisbane would be easy; bringing Harold back from the dead would be far more difficult. However, it hadn't just been the fans and Ian Smith who were disappointed by Harold's axing; the writers had been less than pleased too. Long-term scriptwriter Barbara Angell told Perfect Blend that, '[Harold's] eventual return after his long disappearance I planned right from the moment he disappeared off those rocks!' Harold may have been swept off a cliff, but with no body ever found, he wasn't actually dead – at least, not in soap terms. One dose of amnesia later, and Harold was working in a Salvation Army shop calling himself Ted.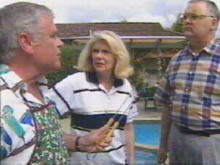 Although amnesia is never an easy storyline to pull off, most viewers were just happy to see Harold home. But to discredit his return storyline would be to discredit the character, the actor and some brilliant scriptwriting. Ian Smith turned in some superb performances as Harold slowly rediscovered his life, with some excellent touches along the way; his allergy to pet hair confirming his identity for Helen, and Lou's old nickname for him, 'Jelly Belly', finally triggering his memory, the heartbreaking sight of Harold grieving for a daughter he couldn't remember. As Ian Smith and Anne Charleston instantly recaptured the old magic, viewing figures shot up – the man Neighbours had once considered dispensable was now being feted as one half of the pairing who saved the show. Although the couple's initial return was only for three months, its success ensured that the Bishops would once again be a long-term part of the show's future.
Much has been made of how the character of Madge had changed on her return (not least by Anne Charleston herself). In the midst of that controversy, the changes in Harold's character went largely unnoticed. But while Harold's mellowing was less pronounced, it had definitely happened. Harold was still bumbling and somewhat stuffy in his ways, but the extreme side of his pomposity and his tendency to be judgemental had been toned down. In the end it didn't really matter; when it came down to it, Harold was still Harold – just a Harold for a new era of Neighbours. As time went on, we were introduced to new aspects of his character as we watched him become a parent to two teenage boys. The Harold who had struggled with his daughter becoming an unmarried mother was now faced with a whole new set of problems from a whole new generation, and at the same time a whole new generation of Neighbours fans learned to love him.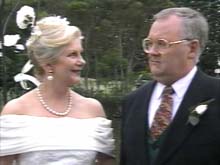 The chalk and cheese pairing of Madge and Harold had always worked brilliantly, but in their second stint on the show, the couple would get a new foil to play off jointly, in the shape of Lou Carpenter. Originally introduced for a handful of episodes in 1988 to throw a spanner in the works of Madge and Harold's wedding, Harold's old love rival Lou had reappeared after his 'death' to woo Madge; and despite Harold proving very much alive some years later, Lou was still keen to try and win her heart. Deep down Lou knew as well as the viewers did that Harold was the only man for Madge, and in the end he took it with good grace. However, this didn't stop a friendly rivalry developing between Lou and the Bishops, creating some classic comedy moments over the years. As Madge's personality mellowed somewhat, Lou became the new cheese to Harold's chalk, and another classic on-screen partnership was born – one that would only grow in significance as Harold faced tragedy a few years later…
After ill health forced Anne Haddy to quit the role of Helen Daniels, the Bishops became the royalty of Neighbours; the characters who symbolised the show and its history. However, in 2000 Anne Charleston decided to leave the show for a second time, creating a headache for producers. Nine years earlier, Harold's mysterious disappearance had been scripted to avoid splitting the rock-solid couple. With the Bishops still happily married, the same problem reared its head, although this time the roles were reversed. There really was only one way to keep Harold in the show without Madge, and this time there would be no going back. Madge and Harold became the first soap couple to deliver each other's eulogies, nine years apart, when in heartbreaking scenes Madge passed away from pancreatic cancer in Harold's arms. It was the end of an era for Neighbours – and would change things for Harold forever.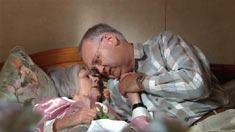 With Madge gone, the character of Harold entered a new realm. Having been a widower when he first arrived in 1987, it wasn't exactly new territory for Harold, although as viewers had never met his first wife, Mavis, it was a very different proposition this time around. What was new territory was Harold's changing position in the show. With the last of the Ramsays gone, Harold was the sole remaining character from the show's legendary 80s days, and as such he became the heart of Neighbours. Ever since Jim Robinson's death in 1993, there had been a strong female presence at the centre of the show, and even in his day Jim had shared the limelight with Helen. Now for the first time it was down to a man to carry the whole thing. As a result of this there were more small, but noticeable changes to Harold's character. Although always a kindly man, Harold became almost saint-like after Madge's death: a storybook granddad and Father Christmas all rolled into one. It could all have seemed too much, but thanks to the growth of Harold's friendship with Lou – not to mention a wonderful rapport between Ian Smith and Tom Oliver – prevented the character from becoming pious and too good to be true.
While other women briefly appeared in Harold's life, none could ever match up to Madge. For many viewers, it wasn't a new woman that Harold needed, but his family, and the fact that they had been virtually forgotten since his return was a bone of contention. All that changed in 2003 when Grundy appointed a new head of drama, Ric Pellizzeri instantly recognised that Neighbours was a show with a rich history that was being ignored, and the first character to benefit from this insight was Harold. Within weeks of his granddaughter Sky Mangel returning to Erinsborough, Harold's son David also reappeared – complete with a never-before-mentioned wife and child. To the delight of long-term fans, David was once again played by Kevin Harrington, who had provided such a memorable turn as a mini Harold at his father's wedding. However, once again the scriptwriters were faced with a thorny issue – where had David been all these years?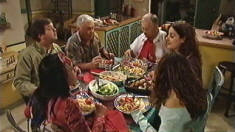 To get around years of absence, the writers devised an estrangement between Harold and David. It seemed that in the years since viewers had last seen him, nerdy David had become quite the successful businessman and a lover of the finer things in life; something that didn't sit well with Salvation Army man Harold's beliefs. Some fans struggled with the idea that Harold would be so judgemental towards a member of his own family, but others recognised an element of the old Harold; the Harold who had felt shame at Kerry's pregnancy outside of marriage, who had nearly lost Madge over her willingness to let Scott and Charlene live in sin. With the help of David's wife Liljana, the father and son rebuilt their relationship – but just two short years later, Harold would lose his son again, along with his granddaughter Serena and daughter-in-law Lil – permanently, in an event that would change Harold's life forever.
When Neighbours bosses decided to shake things up with a major disaster in 2005, it was the Bishop family who bore the brunt. When a joy flight to Tasmania crashed into the Bass Strait, David, Lil and Serena all perished, leaving Harold a broken man. As he struggled to accept the loss of virtually all his family, Harold fought against his grief until it came out in the most shocking way possible. Viewers were stunned when the always mild-mannered, caring and forgiving Harold snapped and attempted to kill Paul Robinson, whom he blamed for the deaths of his relatives. The storyline attracted both praise and criticism from the fan community, but the strength of Ian Smith's performance was recognised by all. Once again Smith expertly conveyed grief without unnecessary weeping and wailing; viewers could genuinely feel the pain of a man who had done nothing but good in his life, and who had been constantly repaid with heartache.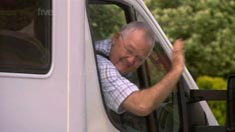 Ian Smith told Inside Soap magazine in 2006 that 'I begged them not to kill the Bishops', and as integral a part of the show Harold was, at times he felt lost without his family, especially after Sky's departure with Kerry Junior, the new great-grandchild who helped to restore his faith in life. When Ian Smith announced his intention to retire in 2007 fans were dismayed, but many also understood the decision. After nearly 21 years on and off, Smith had decided it was time for both he and Harold to enjoy a slower pace of life. The low-key nature of his departure upset some fans, but this was negated by Smith's decision to make semi-regular returns to the role of Harold, ensuring that the same mistakes of 1991 would not be repeated.
Perfect Blend 'Love Thy Neighbour' tributes are generally reserved for departures and special occasions, such as significant anniversaries of a character's tenure on the show. I think I can safely say that I was not the only member of the PB team hoping that Harold's tribute would be for the latter reason – none of us ever really imagined the day when he would be leaving the show. As much as I have enjoyed paying tribute to this great character, I also wish I didn't have to. Thankfully though, it's not goodbye forever, and it would be churlish to deny good old Harold his chance to enjoy his golden years. Farewell Jelly Belly; just don't leave it too long before you visit Ramsay Street, and us viewers, again.