.
Comment > Love Thy Neighbour: Izzy Hoyland by Ryan
Imagine a soapland without the bitch. An Eastenders that never saw Cindy Beale bed-hop her way around Albert Square. A Coronation Street without Tracy Barlow's catty comments. Emmerdale without the evil machinations of Kim Tate or Sadie King. Hard to imagine, isn't it? Well no, it isn't – all you have to do is look at Neighbours before 2003.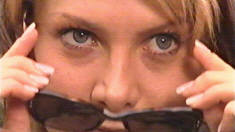 Of course Neighbours had seen the odd bitch before Izzy Hoyland rode into town. Fiona Hartman leaving Jim to die amongst the Jaffas and Jill Weir stalking Doug Willis spring to mind. Catty schoolgirls such as Sue Parker and Geri Hallett would emerge periodically to antagonise Charlene or Libby before merging back into the background. Other characters such as Annalise, Sarah and Tess would occasionally indulge in bitchy behaviour, without really ever taking on full-on soap bitch status. It wasn't until Izzy took off those famous oversized shades that Ramsay Street had ever had a full-time, permanently resident bitch – and at the risk of diving into cliché, the show really was never the same again.
From day one, Izzy had the perfect ingredients for a classic soap bitch. Her glamorous looks and designer clothes instantly set her apart from the homely women of Ramsay Street. Her ability to take people in – particularly men – was obvious, with the likes of Harold and Lou totally fooled by her flirtatious nature, and only Susan and Sky seeing through the façade. Izzy also had the essential 'softer side' needed to suggest she was redeemable; initially shown through her love for her brother, niece and nephew, and then in the later stages of her relationship with Karl Kennedy. It was this relationship that would both cement Izzy's bitch status, yet at the same time make her appear more human.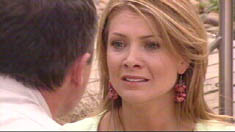 The long-running saga of Izzy and Karl could easily have made Ms Hoyland public enemy number one for Neighbours fans. While Karl might not have left Susan for Izzy, would he really have said the immortal words 'I just don't love you anymore' without her influence? The fact that fans didn't instantly hate Izzy for breaking up their favourite couple is a tribute to the acting talents of Natalie Bassingthwaighte. Natalie played Izzy with a perfect mix of cruelty, vulnerability and humour, managing to raise hackles and tug at heartstrings at the same time. Viewers may indeed have hated Izzy at times, but they were also fascinated by her. We watched in horror as she let Karl grieve for a baby that wasn't his, whilst still desperate to know what she'd do next. Izzy's miscarriage could be seen as a kind of 'divine justice' for the character, but it also showed viewers she had a heart, with her suspected infertility becoming an Achilles Heel.
In a show once known for solving plots within a week, the story of Izzy's baby lie was played out over an impressively long time scale. But anyone assuming the truth coming out would be the end of Izzy would find themselves very surprised. A far more suitable partner than Karl was waiting in the wings for Izzy, and after the two most hated people in Ramsay Street teamed up, viewers loved them both even more. There was something delicious in the irony that while Paul Robinson was in many ways Izzy's perfect man, what she really wanted, too late, was Karl. Nevertheless, Izzy was nothing if not practical, and if she couldn't have love, money and the good life would do very well as an alternative. With no other allies left on the street, Paul and Izzy needed each other, and Izzy's behaviour became more and more outrageous under his influence. Her famously warped sense of logic also reached new bizarre heights; who else but Izzy would sleep with her partner's daughter's boyfriend to save the family?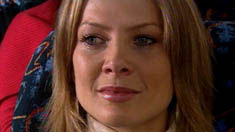 Having already battled with one ex-wife, Izzy found herself doing it again as her relationship with Paul progressed. Izzy's sparring with love rival Gail was a joy to watch, with the former Mrs Robinson proving a more than worthy adversary. For a second time, Izzy was the spanner in the works of a favourite relationship, with many viewers desperate to see Paul and Gail reunited; but again, it never seemed to affect the character's popularity. Indeed, in the aftermath of Paul and Izzy's break-up, Natalie Bassingthwaighte (and the Neighbours script team) managed to achieve what had once seemed impossible – they made viewers feel sorry for Izzy.
Once Izzy had become an almost sympathetic character, it was perhaps fitting, though disappointing, that her time on Ramsay Street came to a close. But what a way to go! Some ambiguous scripts convinced viewers that Izzy's exit would be a permanent one, making her pregnancy a surprise in more ways than one. After three rollercoaster years, Izzy's character had come full circle, her famous lie about carrying Karl's baby now ironically reversed. Of course, the other great thing about this exit was the chance it created for Izzy to return and cause more havoc – after all, secrets rarely stay secret in soapland…
So now only one question remains; with Izzy gone, who will take her place as Ramsay Street's resident bitch? Will Elle take her machinations against Max to the next level? Will convent girl Carmella go back to her bad habits? Or are some characters simply irreplaceable?