.
Comment > Love Thy Neighbour: Jim Robinson by Moe
"Nobody throws a party quite like Ramsay Street" – Jim Robinson, Episode 1000
While characters such as Philip Martin, Karl Kennedy and Max Hoyland have filled the role of the solid, father figure on Ramsay Street in Neighbours' latter years, back in the beginning there was Jim Robinson. The Mr. Nice of Neighbours, Jim was the male lead of Neighbours for the first seven years – always on hand to offer some sound, reasoned advice whenever one of his kids or neighbours needed some guidance.
In the early days of the series, while the stereotypical Aussie male was present in the form of Max Ramsay at No.24, Jim offered an alternative in the form of the quiet, calm and only very occasionally angry head of the Robinson household at No.26. When the series started, widower Jim lived on Ramsay Street with his four children – Paul, Julie, Scott and Lucy – and his mother-in-law, Helen Daniels. The relationship between Jim and Helen was one of the constants during the show's first seven years – they rarely fought, and instead, operated as a partnership in raising the four Robinson kids and other waifs and strays that came into the Robinson home through the years.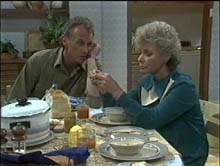 Although a loving and caring father to the Robinson offspring, Jim regularly crossed swords with them as they went through the usual trials and tribulations of growing up in Erinsborough. Scott, in particular, incurred his father's wrath when he went against Jim's wishes and decided to move in with his girlfriend, Charlene Mitchell, and even went one step further and got engaged without Jim's knowledge or blessing. Jim did eventually come round, particularly when Helen reminded Jim that he was the same age as Scott when he had got married. And Jim came good on the wedding day (complete with camera round his neck – Jim seemed to be Ramsay Street's resident photographer whenever a wedding took place) by welcoming Charlene to the Robinson family and admitting he had been wrong to doubt them during his speech.
Clashes also occurred with the youngest child, Lucy – mainly due to the fact that Jim spoilt her on account of the fact that she had never known her mother. When a chance of romamce occurred for Jim in the form of Zoe Davis, Lucy was disgusted and did everything she could to split the pair up. Lucy proved even more problematic for Jim in her late teens when she was expelled from her prestigious boarding school and turned to drink, culminating in her ploughing her dad's car into Lassiter's Lake.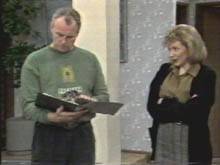 But it was eldest son Paul who went on to have the most strained relationship with his father. Jim was never quite happy with Paul's devotion to building up his Lassiter's business empire and they were constantly falling out over Paul putting his work ahead of his family. However, it was the discovery that Jim had fathered a child during the Vietnam War that caused the biggest rift between father and son. Glen Donnelly turned up on Ramsay Street and although he stunned Jim with the revelation that he was his son, was gradually accepted into the Robinson family by Jim, the kids and even Helen – who forgave Jim for cheating on her daughter while he was in Vietnam. Paul, however, never accepted Glen, and wouldn't speak to Jim for a long time after Glen became incorporated into the family. But when Glen was paralysed in an accident at Lassiter's and sued Paul for everything he had, it seemed that Jim wasn't prepared to see his eldest son ruined and he turned on Glen, threatening to disown him if he continued in his vendetta against Paul. Glen responded by leaving town and was never heard from again – and Jim and Paul managed to put the year-long rift in the relationship behind them.
Of course, Jim should be applauded for the way in which he handled the remarkable transformations in his children's appearances over the years. Although he was father to five children, he actually had nine children during his time on the show. There were three Lucy's, two Scott's and two Julie's, and Jim deserves credit for never blinking an eye whenever they'd return from boarding school or a school trip with a new face.
Jim's love life was always a hot topic of conversation on Ramsay Street. His relationship with Zoe raised eyebrows due to the fact that she was twenty years younger than him, and history repeated itself when he dated twenty-something Caroline Alessi a few years later. In the intervening years, he had married Dr. Beverly Marshall, a GP friend of his snooty cousin Hilary's, but that marriage encountered umpteen problems – not least Beverly's almost crazed desire to conceive. Jim also embarked on an affair with his next door neighbour Pam Willis in his final year on the show, before falling for the charms of scheming Fiona Hartman. Fiona caused irreparable damage to Jim's relations with his family, most notably Helen and Julie who saw through her and rightly suspected her of only wanting Jim's money. And their suspicions were confirmed when Jim suffered a massive heart attack and was left for dead by Fiona, who proceeded to help herself to all his finances before 'discovering' Jim's body on the Robinson kitchen floor with his sister-in-law Rosemary.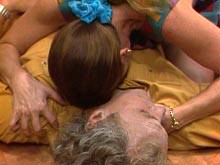 Jim's death was one of Neighbours' most memorable moments. It was bleak, gripping, tragic and also, the end of an era. Alan Dale had played Jim since episode one and had been at the helm of the show with Anne Haddy (Helen) all along. For him to crash out so brutally was a real shock to the viewers, as it deprived Jim of having the nice, neatly wrapped up exit most long-serving characters get on Neighbours. Even Jim's final scene with Helen – with whom he had shared such a close screen presence during the years – was one full of accusations and arguments. But Jim's legacy was nicely touched upon in the closing credits which featured a montage of Jim and his family through the years, accompanied by the piano version of the Neighbours theme tune. An era had well and truly ended.
Since Neighbours, Alan Dale has gone on to a successful career of acting in Hollywood. Initial guest roles on shows such as ER, American Dreams and The West Wing were followed by a recurring role as the Vice President of the United States in series two of 24 and finally, by a starring role in the hugely successful teen drama The O.C., in which he plays Caleb Nichol, a character much more Paul Robinson than Jim Robinson. A generation of TV viewers will always remember him, however, as good ol' Jimbo, ever solid and dependable, at the helm of Ramsay Street for the 1980s and early 1990s.