.
Comment > Love Thy Neighbour: Joe Scully by Steve
Arriving with his family at the end of 1999, Joe Scully seemed to epitomise the qualities of the typical Aussie bloke. Hard-working, no-nonsense Joe made sure that his family wanted for nothing, but his emotional side was distinctly lacking. For the first few years, he was the only male in the household, and his three daughters, as well as his wife, managed to run rings round him. Here, as he departs Ramsay Street to look after his injured brother and father, we take a look back at the life and times of Erinsborough's answer to Fred Flintstone…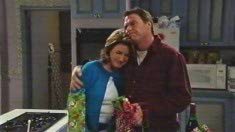 Joe's relationship with his wife, Lyn, was soon shown to be strong as the family immediately found themselves battling money worries after arriving in the street. While Joe attempted to keep food on the table, he was too proud to show the financial difficulties to the neighbours, and ended up spending far too much on food for the millennium street party. However, Lyn's job as manager of A Good Hair Day salon at Lassiter's took off some of the strain and the couple began to enjoy their new home. Joe showed his romantic side when he arranged a trip to Pelican Point, where the couple had honeymooned, as a surprise for his wife. Unfortunately, in typical Joe style, his sneaking around led Lyn to believe he was having an affair with neighbour Tess. Lyn was in for a shock, meanwhile, when Joe announced that he'd like them to try for another baby. Although the idea went down with a mixed reaction from the family, they decided to go ahead with their plans. It seemed that it would all be in vain, until Lyn announced her pregnancy to a shocked Joe at the second wedding of Karl and Susan Kennedy. Joe then spent months making plans to quit work and become a 'stay-at-home dad' and when the baby finally came, he found his problems multiplied as Lyn was diagnosed with post-natal depression. Fortunately, the couple managed to survive everything being thrown at them and emerged stronger than ever.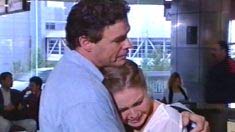 Despite having a strong relationship with eldest daughter Steph, Joe had frequent problems with his other two daughters, Felicity and Michelle. When the family first arrived, Joe failed to even realise that his middle daughter was developing an interest in boys, so when Joe found out that she was seeing Sean, who was a few years her senior, he was horrified. The pattern of Flick finding an unsuitable boyfriend and Joe disapproving continued for years. Things came to a head between the two of them on several occasions; Flick ran away and was almost on the coach at one point, and her relationship with Joel Samuels led to her moving across the street to number 30. Fortunately, by the time Flick moved to New York at the end of 2002, she was engaged to Stuart Parker, who Joe seemed to find more acceptable. Meanwhile, Joe appeared to have learnt some lessons from his experiences with Flick, so when youngest daughter Michelle got involved with the family's Irish lodger, Connor O'Neill, he tried to be understanding. However, as soon as Connor's visa was about to run out, the young couple vanished, planning to get married. Joe's anger couldn't be concealed, but in the end, he went to retrieve Michelle from the airport and convince Connor not to go home to Ireland, but to stay and try to sort out his problems. With both Michelle and Flick living in New York, the numbers of Scully offspring were soon topped up by the return of Jack from England, and the arrival of child number 5, Oscar. Suddenly, Joe was less worried about his kids' love lives and more about his son's desire to join him on the building site. And even though she'd moved across the street to live with boyfriend Max Hoyland, Steph still managed to worry her father when she was diagnosed with breast cancer. Although Joe attempted to be strong for his kids, this one incident finally caused Joe to break down and admit how scared he was at the thought of losing one of his children.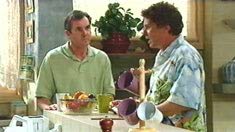 Joe's relationship with his neighbours was almost as fraught as those within his family. He quickly showed his horror and confusion upon meeting Karl Kennedy, his neighbour and local GP, who he soon dubbed 'The Professor'. Joe and Karl's relationship deteriorated further when they were struck down by the classic Neighbours storyline – a land dispute. As the years went on, things got more serious. When Libby and Steph were involved in a bike crash, leaving Libby seriously ill, things were strained between the Scullys and Kennedys. And when Joe found out that Steph had been diagnosed with breast cancer, he was furious with Karl for not telling him. However, the two men found themselves in a more lighthearted situations as they fought over the captaincy of the local cricket team, and when they went to cooking classes together, Joe felt that Karl was looking down his nose at him, culminating in him deciding against making Karl a godparent to baby Oscar. Another neighbour who caused problems for Joe was Evan Hancock. Opinionated Evan managed to get Michelle interested in environmental issues, but when Joe and Evan found themselves running for council together, Michelle sided against her father. His heartache only increased when he lost the election, though it did lead to him patching things up with his daughter.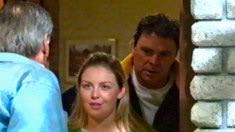 Although he was known to have several brothers, Joe only frequently mentioned one of them, Mick. In the beginning, the Scullys looked after Mick's pet Rottweiler, T Rex. It wasn't long until Mick himself was on the doorstep, looking for a place to stay after a falling out with his wife, Di. It soon emerged that Mick was unemployed and too ashamed of his situation to return home. Joe assured his brother that he had nothing to be ashamed of, and he and Lyn sent him home to Di. Joe rarely spoke of his father, Pat, so when he turned up in Erinsborough, there was a great deal of tension between the two men. It emerged that Pat had been a terrible father and husband, regularly disappearing and beating his wife and sons. Although the two men struggled to talk about their past, Pat left Ramsay Street after apologising and admitting that his behaviour towards his children was wrong. This small gesture allowed Joe to open up to Lyn about his childhood and finally lay some ghosts to rest.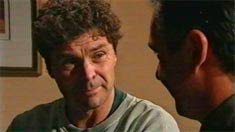 Joe's time in Ramsay Street ranged from times of great humour to those of drama. Only weeks after arriving in Ramsay Street, the Scully house was almost destroyed by a fire, while the following year, Joe found himself trapped in a bushfire with a customer in his cab about to go into labour. Over the phone to Karl, Joe managed to help the woman give birth, before they were rescued by the emergency services. When Joe began to notice his eyesight was failing, he tried to ignore the problem, a decision which resulted in him almost crashing the truck he was driving when he failed to notice the steep slope approaching. It wasn't all so traumatic, however. Joe regularly found himself getting the wrong end of the stick; when he caught Max looking in his bathroom window at Steph in the shower, he failed to realise that Max had just caught Boyd doing the same thing and was simply trying to establish what was going on. Meanwhile, when Lou started trading in coffee, Joe mistakenly believed the local publican to be a drug runner. Although perhaps not one of Ramsay Street's trailblazers in terms of storylines, Joe has always been there, supporting his family, feuding with his neighbours or just generally causing unintentional chaos, his will be large shoes to fill.