.
Comment > Love Thy Neighbour: Joe Mangel by Alice
It has often been said that tragedy and comedy are the perfect combination in storytelling, and I think it's safe to say that Joe Mangel was that combination personified. Nearly all Neighbours characters have had their light moments and tragic pitfalls of course – the use of both being part of what makes Neighbours so popular – but Joe is one of those few people who, along with the likes of Harold Bishop, deserved to be remembered for both. On the surface he could perhaps have been seen as a simple, even two dimensional character; a stereotypical Aussie bloke who always said exactly what he was thinking. However, the real Joe had more aspects to his character than most, and his story was far from simple.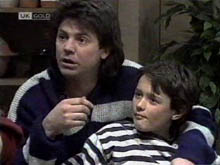 As a gardener and tradesman, Joe will always be remembered for the many tasks he undertook for other Ramsay Street residents: everything from watering the plants in Paul's office to maintaining buildings in the Lassiter's Complex. He also bought into Henry Ramsay's gardening business, and the screen time shared by the two of them often provided a great dose of comedy. It was Henry that provided Joe with the marijuana plant he would leave on Edith Chubb's doorstep as part of an ongoing feud between the two of them. In fact, it was quite often that Joe would find himself caught up in humorous escapades, and was accompanied in many of them by his lovable pet retriever Bouncer, indisputably the most famous dog in Neighbours – if not soap opera – history. On one occasion, Joe made an ill-conceived attempt to use Bouncer as the main act in a school talent show, but the dog had been denied his dinner in the rush to get to the venue, and refused to perform in protest. The addition of Melanie to the Mangel household also provided plenty of laughs (very apt, where Melanie is concerned), and she and Joe made an amusing team.
Joe's role as a father quickly became a very important part of his character, but he hadn't always been a family man. At the time of his first appearance in 1988, he was estranged from his mother, Nell Mangel, and had left his wife Noelene and son Toby a few years earlier because he couldn't provide for them. However, Mrs Mangel soon resolved things with her son and the two became close before her tearful departure from the street with new husband John Worthington. Joe was also given the chance to make up for lost time as a father when his ex-wife turned up and unexpectedly left Toby in his care as she went on her honeymoon. Joe's initial reluctance was short lived, and it wasn't long before he and Noelene went head to head in battle for custody of their son. Toby stayed with Joe in the end, following Noelene's unexpected death some months later, which made Joe's role as a parent all the more crucial, and a strong father-son bond was formed that would never be broken.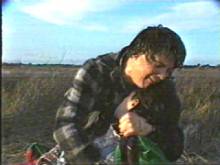 Later on, Joe also became very attached to Sky, the illegitimate daughter of his partner Kerry Bishop, who became his second wife. Harold, who had always been disapproving of Joe's involvement with his daughter Kerry, soon came to the realisation that Joe was a caring man when he rushed to the hospital after Sky was bitten by a poisonous spider. Not long after the marriage, husband and wife adopted each other's children and they became a real family in name as well as in nature. The tragic death of Kerry (and her unborn child) sent a devastated Joe spinning straight back into single fatherhood, now with two children in his care. However, it was probably at that time when he proved most significantly his devotion as a dad. In his desperation after losing custody of Sky to her real father, Eric Jensen, Joe risked everything by stealing her away to the country. He knew that even as a single, non-biological parent, he could offer Sky more love and care than her real father could. And he was proved right when Eric, his interest waning already once he and his wife were expecting a baby of their own, handed Sky back to him.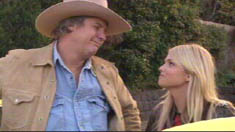 The bond between Joe and his adoptive daughter was revisited in 2005 when he returned to Ramsay Street for a few months' stay. Although they did have to work through a few issues, such as those that had risen as a result of Sky growing up without Kerry, most of the time they shared together was happy, and Joe had nothing but respect and a deep love for her. This was especially brought to the fore when tragedy once again struck the Bishops/Mangels, and Sky lost her uncle David, aunt Liljana, cousin Serena, and very nearly her own life in a devastating plane crash. After over 24 hours of hell, Joe was happy beyond belief to hear Sky's name announced among the list of survivors. Following this elation, the task at hand was to comfort his daughter over her tremendous loss, which he did in a number of incredibly moving scenes.
With three marriages behind him, Joe had a record to equal that of Paul Robinson, although his first marriage had already ended before he first appeared, and his last divorce happened offscreen. As Sky suggested during his recent stint, Joe certainly had had a tendency to fall in love quickly. He married Kerry only a few months after the two met, and he and Melanie, his third wife, wed a mere few weeks after the pair started dating. It didn't take him long at all to declare his love for Lyn Scully either, although by this time he was also declaring himself not the marrying sort, and rejected her proposal. However, Joe's love life as we had originally seen it on screen was far more complex than the "three failed marriages" line that was being bantered around would suggest.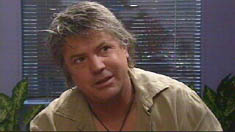 Although his first marriage to Noelene, based on what we were told, was not a happy one, his second marriage would most probably have gone the distance had it not been tragically cut short by Kerry's death. Joe and Kerry were the perfect example of opposites attracting, and they grew together as Joe became more open minded and Kerry, always a free spirited woman, adjusted to a comfortable family unit, although her unwillingness to put aside her existing values became her ultimate downfall. A free spirit of a different sort, Melanie Pearson, won Joe's heart a year later in the midst of a strong friendship that had grown between them while they were living together as housemates. The marriage fell apart relatively early on during Joe's 15 year absence from Erinsborough for reasons that were never explained. What was made quite clear, however, was the fact that by 2005, Joe had proven himself a failure at commitment. In a heart to heart with Sky not long before his recent departure, he explained that it was because he was always comparing each partner with Kerry. Whether or not he will be able to hold on to his love for Lyn remains to be seen, not least when there is a possibility that Joe simply never got over his second wife. However, his onscreen relationships over the years with Kerry, Melanie and now Lyn all proved how determined Joe was when it came to finding what he saw as the perfect partner.
Joe Mangel definitely stands out as one of the funniest characters in the soap's history, and will always be recognised as such. All the ingredients were there: the fun, family-related stuff with Toby and Sky and the feuding with Harold, the double-act with Henry, involvement with the hilarious Melanie, and of course the most memorable pairing of all – Joe and Bouncer. Throw in an actor with established comedic skills and you can't go wrong. However, the occasion of Kerry's death also happens to be one of Neighbours' best remembered tragedies, and Joe's role was a crucial part of the drama. Think of Kerry's passing and you immediately think of Joe's despair in the field, with Kerry dying in his arms. His scenes during the recent plane crash storyline were also heartfelt, and his stood out as one of the few consistently memorable performances during that tragedy and the fallout that followed.
Joe's return to Ramsay Street was one of the highlights of the 2005 season. Even in the relatively small timeframe, his presence has brought so much to the current show and we, the fans, are so very grateful to Mark Little for agreeing to reprise his well loved role. However, most will also continue to remember him for the incredible mix of humour, warmth and heartbreak he provided during his original three years in the late eighties and early nineties. Whatever the future may hold for his daughter Sky and father-in-law Harold, two of the current show's most prominent characters, the legacy of Joe Mangel (and his dog) will always remain an important part of Neighbours.