.
Comment > Love Thy Neighbour: Libby Kennedy by Rhys
In 1995, television magazines in the UK were running features on a new family set to join Neighbours, to replace the much-loved Willises at No.28. Unlike other arrivals in the street, the Kennedys' entrance into the show wasn't met with a huge amount of anticipation, which seems all the more odd now that they have very much become the central family of the programme. The new brood couldn't have been more different from the family they replaced: Dr Karl was a much-respected G.P., his wife Susan was a high school teacher and their children were the very definition of good manners and politeness. The 'middle' child was Elizabeth, known as Libby to her friends and family, and she instantly built up a friendship with Brett Stark who shared her love of learning.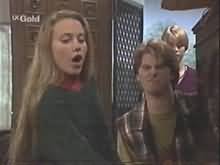 Libby's views on world affairs and her liberal nature worried her strict father, and although she was always the most academically minded of the three kids, she could also prove to be the most rebellious and stubborn – from the same mould as her dad. Libby changed in many ways over the years: her hair went from blonde to dark, from long to short and back to long again; she moved in and out of No.28 on numerous occasions, and her love life was the source of constant change. One of the reasons behind Libby's popularity, both with fans of Neighbours and with the fictional residents was that she stood up for what she believed in, even if it meant she incurred the wrath of others for her stand. Because of this nature, she not only enjoyed a good relationship with Brett, but also other like-minded neighbours, such as Helen Daniels and Harold Bishop.
Without a doubt, the closest relationship she shared was with her mother, Susan. Karl often commented on how similar mother and daughter were, and despite their closeness, they often had blazing rows, usually provoked by some morally-guided mission of Libby's. On more than one occasion Libby was her mother's confidante and rock – through the trials and tribulations of the Kennedys' marriage, the affairs and the subsequent divorce. It seemed impossible, somehow, for the Kennedys to maintain the status quo, and it would seem likely that Susan and Karl will have to very much go their separate ways now they don't have the link through Libby's presence.
For ten years, viewers have watched the character develop from a shy, yet self-confident fifteen year old, to an energetic, beautiful young single mother with experiences behind her that few people her age would have. From her relationship with Brett, to whom Libby lost her virginity, through to the taboo of dating her lecturer, Mike Healey, interspersed with bad-boy Darren, whom Karl detested and surfer-dude, Sonny, Libby has certainly had her fair share of guys.. However, after these failed romances came Drew Kirk. Although they fought like cat and dog at times, it was Drew who really caught her attention, and a fellow country boy meant Karl and Susan were happy too. However, little over a year after their fairy-tale wedding, tragedy struck and Libby was widowed, with baby Ben to support. In the cruelest form of irony, the one person Libby wanted to turn to, her mother, was suffering from a severe case of amnesia having slipped on some milk. Thankfully, Susan recovered and Libby managed to see through her loss relatively unscathed.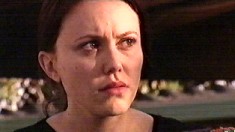 From the very early days, Libby's one true passion had been writing and journalism. From being discovered writing erotic fiction and bullied at school because of it, to getting a job with Philip Martin at the newsagency, her desire and ambition was clear from the start. She was thrilled to the offered a cadetship with the Erinsborough News and she worked for them, on and off, right up until the character left the programme. It is this sense of having watched Libby grow up that had ensured her popularity and comparatively unique status in soap. Alongside her journalism, Libby found time to form her own magazine and also followed her mother's career of teaching. Her experiences in the classroom weren't all good however, as she made the dangerous mistake of bedding a pupil! Banished from the school and wanting to make a fresh start, she went to work in Adelaide, leaving Susan and Karl alone at No.28.
Upon Libby's return a few months later, her parents had separated and were living apart. Karl's betrayal of Susan once again caused Libby to vent her anger and disowned her father. Her mum, however, made her see reason and wished that however difficult things were between her and Karl, that Libby should not deny Ben a grandfather. As she had done with Sarah Beaumont, when her relationship with Karl was made public, Libby too made her feelings about Isabelle Hoyland very clear, and this was further proof of the admiration and respect she had for Susan, and harks back to the earliest days of the family when Libby would often favour Susan over Karl because of his opinionated and often irrational views.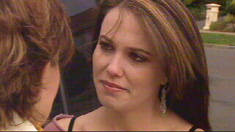 Neighbours always has been bigger than one character, and the show has survived many long-term characters' departures. However, arguably Libby's departure is a very different type of loss to any other. It's most unusual for any young actor of Kym Valentine's talent and appeal to remain in one role, especially on a serial drama, for such a length of time and it is a testament to the writing of the character that has ensured Kym Valentine's willingness to stay in the role. Perhaps the saddest part of the character's time on Neighbours was her sudden departure. The fact that Libby decided to leave to live with Darren and packed and departed within one episode was due to Kym's sudden decision to take a stage role in Dirty Dancing, however, it is arguable that the suddenness didn't hinder the pathos of the episode at all. Few viewers would have been able to watch without wiping away a tear as Libby drove off down Ramsay Street with Ben, waving goodbye to her friends and neighbours gathered outside No.28.
Kym recently said in a magazine interview that she would hope to play Libby again and that viewers are unlikely to have seen the last of her. Thankfully, her devotion to the show and its cast and crew gives hope that she may one day be strolling through sun-kissed Erinsborough once more. However, in the meantime, we have years and years of memories to look back upon and with Susan and Karl still in the show, it's unlikely that we've heard the last of her.