.
Comment > Love Thy Neighbour: Lolly Allen by Steve
After being an unexpected arrival in the relationship of Cheryl Stark and Lou Carpenter, baby Louise 'Lolly' Carpenter had an eventful childhood, involving the death of her mum, many relatives coming and going and the revelation that Lou wasn't her biological father. Having returned as a teenager, she's now off again, so what better time to look back at some of her Ramsay Street highlights…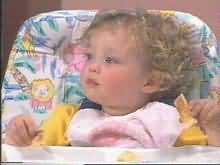 When Lou Carpenter got involved with brazen bar owner and lotto winner Cheryl Stark, the last thing he expected was the news that he was about to become a father again. The pregnancy wasn't exactly plain sailing for Cheryl and ended with the baby being delivered by emergency Caesarean, before Lou then went and registered her with the name Shannon, the same as another new Ramsay Street baby, born on the same day to Gaby Willis. In the end, Cheryl and Gaby agreed to use their middle names when addressing their babies, and Shannon became Louise, which was soon shortened by most people to Lolly. Lolly was doted on by her parents, as well as Cheryl's teenage children Brett and Danni, but Cheryl was a businesswoman at heart, and returned to work, leaving Lolly in the capable care of nanny Ren Gottlieb and various relatives, including Cheryl's slightly dotty mum, Marlene, who lived next-door and once managed to lose the child after leaving her lying on the rug, little realising that the baby had simply rolled over and was under the table. Indeed, Lolly was never short of carers in her first two years on Ramsay Street, but then things started to change…
When Louise was only a couple of years old, her family life was already quite chaotic. Various siblings had come and gone, and Lou and Cheryl's relationship had reached an all-time low after she spent several weeks being held hostage by a guerrilla group in South America, turned to another of the hostages for comfort and struggled to return to her normal life back in Australia. Realising that things could never go back to normal, Lou left Erinsborough to get his head together and Lolly waved her dad goodbye. But, within months, she lost her other parent – but she had nobody to blame but herself. When Lolly wandered into the road, having spotted a dog on the other side of the street, a distracted Cheryl didn't notice her until she was in the middle of the street, in the path of an oncoming car and, as she raced out to grab her little girl, Cheryl was run down, her injuries proving fatal. Though the loss was difficult, Lou returned and soon Lolly had some stability back, being looked after by him and Marlene, as well as Cheryl's eldest son, Darren, who had returned to the family fold, a reformed character after a spell in prison. Over the next few years, Marlene and Darren were replaced with various friends and lodgers, including mechanic Drew Kirk, who grew particularly close to Lolly and would often babysit while Lou worked.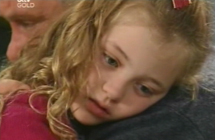 In 2001, Lou and Lolly's happy little world was shattered with the arrival of a letter from a man named John Allen, claiming that he'd had an affair with Cheryl several years earlier, and Lolly was his biological daughter. Lou struggled to deal with the revelation, but a DNA test proved that John was telling the truth and, as Lou struggled to share his daughter with John and wife Sandy, the Allens decided to fight for custody of the little girl. Though Lou had been raising her as a single parent for almost five years, it seemed to count for nothing as Lolly slowly slipped from his grasp, as John uncovered a painkiller addiction from Lou's past and used his strained relationships with his other, grown-up children against him. In the end, the Allens won custody and announced plans to move away from Melbourne to raise Lolly in the country, and she lost Lou, the one constant in her life since her birth.
In 2007, Louise, now known as Lolly Allen, was back in Ramsay Street, struggling to get along with her parents, particularly stepmother Sandy, and needing some time away from them. It soon emerged that the real problem lay with Sandy, who had come to resent John's child with another woman, and had been abusing her, both physically and mentally. Though Lolly had become a beautiful teenager, her inability to talk about her problem led to her seeking attention in other ways, making her seem immature and spoilt when all she needed was help. Fortunately, neighbour Ringo Brown saw that beneath her bravado there was something seriously wrong and, after she blamed teacher Pepper Steiger for her bruises, Ringo helped her to admit that it was actually Sandy who'd been hurting her. Lolly soon had a crush on nice guy Ringo, but he only had eyes for his girlfriend Rachel Kinski, and Lolly was forced to remain his friend, even helping him to get back together with Rachel when they split. Though she then moved on with Rachel's brother Zeke, it became obvious to her new friends that her heart wasn't really in Erinsborough and, after going home and seeing how well John was getting on without Sandy in his life, Lou suggested that she move back to the country.
And so, having survived various life-threatening incidents, an abusive stepmother and even managing to age by fifteen years in the space of thirteen, Lolly has left Ramsay Street to return to 'John Dad' and her half-siblings, Braiden and Keisha. But hopefully she'll stay in touch and be back in 2011 as a forty-year-old redhead.