.
Comment > Love Thy Neighbour: Lyn Scully by Steve
She's been on quite a journey during her time in Erinsborough, from leopard-print-clad, flapping wife and mother to confident power-dressing businesswoman. But now, after seven years as a Ramsay Street resident, Lyn Scully has bid a fond farewell. Here's a look back at the woman who almost succeeded in taming Paul Robinson…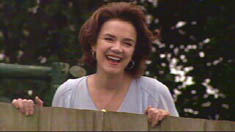 Lyn's arrival in 1999 was not without its controversy. The mother of the family brought in to replace the popular Martins, Lyn was alienating some viewers before she'd even set foot on Ramsay Street. She faired little better as she moved in, bringing up Susan's split ends and calling her 'Sue' before thinking Toadfish was called 'Bullfrog'. But what she lacked in tact, she made up for in spirit. Lyn Scully, with her range of leopard-print clothes and household accessories (even, according to Taj in a 2003 episode, a leopard-print toilet seat), nervous disposition and faith in humanity, was a breath of fresh air on Ramsay Street, filling the gap between the dependable, but slightly world weary senior females Madge and Susan. Her confidence in herself grew as she became manager of Lassiter's' new hair salon, A Good Hair Day, before soon taking a nosedive again when she became involved with cosmetics pyramid scheme Beauty Tree.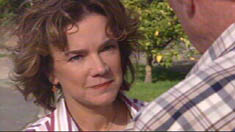 Despite her ill-fated attempts to better herself, Lyn managed to form some close friendships with her neighbours. Her first, and longest-lasting friendship, was with Susan Kennedy. Despite their shaky start, their warring husbands and Lyn being the complete contrast of Ruth, Susan's previous best mate, Susan and Lyn came to rely on each other during a seven-year period when everything else – their families, marriages and careers – was changing. The pair were joined by various others – Maggie Hancock, Liljana Bishop and even Janelle Timmins – for the purposes of hen nights and book clubs, but Lyn and Susan endured when all others abandoned them. It wasn't all sweetness and light, however, and their friendship saw its fair share of tests. When Lyn's evidence saw Susan's nephew Darcy placed in jail, the two women had a serious falling out and, when Susan admitted to committing euthanasia on her mother, it took devout Catholic Lyn months to forgive her. But forgive her she did, and Susan remained Lyn's closest friend, acting as her bridesmaid at her wedding to Paul and supporting her when the new groom ended the union on the wedding night.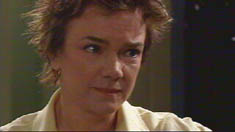 Mother of four (and later, five), Lyn always had at least a couple of her children nearby. When she first arrived, Lyn had her three daughters, Stephy, Flick and Shell in tow. Her girls were often quite a headache; Lyn was left torn when Flick fell in love with Steph's fiancé, Marc Lambert, with the truth coming out on Steph and Marc's wedding day and causing months of heartache for everyone. In 2002, Scully son Jack returned from playing soccer in England, just in time to replace Flick, who was departing for New York. Michelle was the next to leave, joining Flick in New York six months later but by then, Lyn had run out of replacement children, so she and Joe were forced to make a new one. Oscar was born in August 2003, only a few months after Michelle moved out, but 2004 was set to bring the biggest changes to Lyn's family set-up so far. When actor Shane Connor was axed from his role as Joe, the Scully marriage faced a huge hurdle that it never recovered from. With Joe looking after his dad's farm and eventually deciding to stay there and Lyn realising that she couldn't leave Erinsborough, by the end of 2004, the marriage was over. Meanwhile, Steph had married single dad Max Hoyland and moved across the street to number 32, while Jack became the third Scully child to move to the USA, relocating to Los Angeles to be with girlfriend Nina Tucker. In the space of five short years in Ramsay Street, Lyn's life had changed beyond recognition.
All this talk of Lyn's family and friends might make it seem like she had no storylines of her own. Far from it. Secrets, lies, depression, hypnosis and euthanasia… Lyn Scully's life was anything but dull. 2003 was her busiest year, kicking off with the announcement of her fifth pregnancy. Soon afterwards, Lyn's mother, Connie, died following a stroke and Lyn got caught up in the dodgy dealings of dastardly Dr Darcy. After disturbing Darcy burgling Karl and Susan, his aunt and uncle, Lyn was knocked unconscious, but, after hypnosis, she remembered her attacker. As if that wasn't enough, she then learnt that Connie's flamboyant sister, Valda Sheergold, was her real mother. Following Oscar's difficult birth, Lyn battled post-natal depression for several weeks, with her symptoms manifesting themselves into a shoplifting habit. Indeed, 2003, with one big storyline piled on top of another, proved to be the making of Lyn Scully.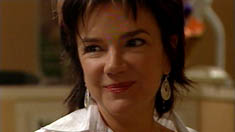 Lyn's love life was one of the few stable areas of her life, at least, until Joe moved to Bendigo in 2004 to care for his sick father on his farm. By 2005, Lyn was moving on and shocked everyone by starting a relationship with younger, married man Andy Tanner. Naturally, it ended badly when he forgot to mention that he had children. In 2005, a relationship with Steph's father-in-law, Bobby Hoyland, also proved disastrous when it turned out that he'd also been seeing Janelle and Susan. Later that year, another Joe came into Lyn's life when Sky's stepfather Joe Mangel returned to Erinsborough. He and Lyn quickly hit it off and within a few months, they were engaged, but his inability to commit soon saw him heading back to Western Australia, unsure whether he'd return. He didn't. Lyn's love life took her in a completely unexpected direction in 2006 when she became the personal assistant to local bad boy Paul Robinson and soon found herself falling for him. It was this relationship that caused Lyn to leave Erinsborough at the end of 2006 when, only hours after their wedding, Paul told Lyn that he could never promise to be faithful to her and they should break up before he broke her heart.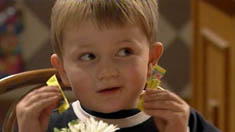 And of course, with Lyn went her three-year-old son, Oscar. Originally told that their baby would be a girl, Joe and Lyn were surprised when little Natalie turned out to be a boy and the name was changed to Oscar. After a couple of years to get used to them, Ingo Dammer-Smith proved himself to be a natural in front of the cameras, stealing every scene he appeared in and even being given the odd line from time to time. Indeed, Oscar will be missed by many fans almost as much as his mum.
Lyn Scully was a unique character, not just in the world of Neighbours, but in soap opera. Whether she was worried about double booking an appointment at the salon, supporting one of her children through their tangled love life or facing the prospect of being a divorced, single mum, Janet Andrewartha always managed to get the emotion spot-on and really allowed the viewers to care about her character's trials and tribulations. She'll be sorely missed.