.
Comment > Love Thy Neighbour: Max Hoyland by Steve
He arrived in Erinsborough, fresh from the rigs, to join his children, Summer and Boyd, and mother, Reverend Rosie. After four and a half years, a wedding, a baby and a manslaughter charge, it's time to bid Max Hoyland farewell. Here's a look back at some of his finest moments…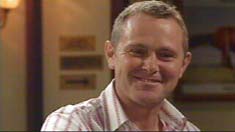 Max first came to Erinsborough in August 2002 when he heard that daughter Summer was ill. Summer was diagnosed with Long QT Syndrome, a heart condition which brought back painful memories for Max, as his wife, and mother to his children, Claire (or Anna depending on which episode you were watching) had died suddenly from a previously undiagnosed heart problem. Although his first few months were filled with dramas of a family kind – trying to make up for lost time with Summer and Boyd and deal with parental issues with Rosie – there were early hints of romance with neighbour Steph Scully. In typical soap opera style, the pair butted heads on more than one occasion, but it was obvious to their friends and families, not to mention the viewers, that love was on the horizon.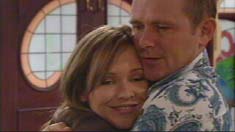 Although Max and Steph were always destined to be together, they had more than their fair share of hurdles to overcome en route to the altar. Not only did Steph have to beat single mum Joanna Blair for Max's affections but he then had to step aside as Steph started dating Italian barman Alex Argenzio. Even after they eventually fell into each other's arms, it would still be another year before they became man and wife, as fate threw in another huge obstacle, and Steph found herself battling breast cancer. Unable to cope with her news, Steph kept it to herself and split up with Max, but he soon found out the truth, and vowed to stand by her during a difficult few months. A few months later, the wedding plans were well and truly underway, but interference from Steph's mum, Lyn and grandmother, Valda, forced the happy couple to elope. Luckily, though, their family and friends found out just in time to join them for the ceremony – and the day was made into a double celebration when Valda agreed to marry her childhood sweetheart, and Lyn's father, Charlie.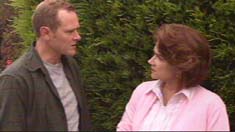 More drama was in store for Max and Steph when, the following Christmas, she was mistakenly accused of committing euthanasia on Charlie and, although found guilty in court, received a suspended sentence. Further strain was added when Max and Steph disagreed over whether to have a child of their own. Though Max eventually came round to the idea, Max's low sperm count, coupled with the after-effects of Steph's chemotherapy, meant that their chances of conceiving naturally were dramatically reduced. With Steph's criminal record overturned at appeal, the couple decided to look into adoption instead, and met pregnant teenager Kayla Thomas. Unfortunately, that ended in disaster when Boyd and Kayla got together and decided to raise baby Ashley, and Max and Steph were permanently removed from the adoption list, for having allowed Kayla to stay with them prior to the birth. Fortunately though, the whole saga had a happy ending when Steph found out that she was pregnant. After a happy few months, tragedy struck again, when Steph found out that her cancer had returned, and opted not to receive treatment for fear of harming her miracle baby. Max, desperate not to lose his wife, had her declared mentally incompetent in the hope that he could overrule her decision, but only succeeded in destroying his marriage. But the birth of little Charlie soon brought them back together and, again, it looked like the Hoylands were going to get a happy ending.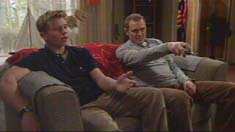 Unlike many soap characters, who arrive without a care in the world and are soon subjected to one drama after another, Max had already been through his fair share of misery before turning up in Erinsborough. Having spent some of his youth at boarding school and become estranged from his parents, then lost his first wife and walked out on Summer and Boyd, Max's arrival in Ramsay Street heralded something of a positive new beginning for him. Though Summer and Boyd were delighted to have their dad back, after years of living with Nana Rosie, it quickly became evident that nobody was quite ready to play happy families. Though it took a while, Max managed to rebuild his relationship with his kids and has worked things out with his mum, before she departed to do aid work in Papua New Guinea and later Fiji. The gap in the Hoyland family was soon filled when Max's previously unmentioned younger sister Izzy turned up. Izzy's ability to turn every situation into a major calamity sometimes made the Hoyland name a dirty word in Ramsay Street and, although he often didn't approve of her actions, he (almost) always defended his sister to the neighbours. And Izzy's flighty behaviour was soon explained by the arrival of their father, Bobby, a commitment-phobe who turned everyone's lives upside-down for a few weeks before walking away once again.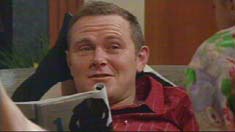 Never quite a trailblazer with his storylines – often taking a back seat to the dramas of Steph, Izzy and Boyd – Max still had a few moments of high drama of his own during his five years in Ramsay Street. In 2004, he was the victim of a twisted revenge campaign by Gus Cleary, a former friend who Max had got fired from his job on the rigs. Gus managed to force Max into paying over the odds to keep his home, then alienate him from his family, before slowly drugging him. He was caught out just in time, but not before getting Izzy pregnant, then spent some time hiding out in the Hoyland's roof. A dramatic showdown between Max and Gus on a building site followed, with both men falling from some scaffolding, and Gus then disappeared, only to return a few months later and be found mysteriously dead in the fire at Lou's pub. A couple of years later, Max was at the centre of the action again, as he befriended nurse Katya Kinski, who had only just got out of a terrifying relationship with the psychotic Robert Robinson. When Max and Katya wrongly believed that Robert had escaped from prison, Max thought he was saving her life when he ran him down, only to realise that it was Robert's identical twin, Cameron.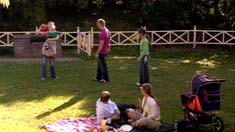 Max also had the rare privilege of being written out twice in the space of a few months. Following his accidental killing of Cameron, we were treated to some of Stephen Lovatt's finest performances as he came to terms with what he'd done. Cam's vengeful sister Elle then proceeded to play increasingly cruel tricks which soon had Max doubting his own sanity and admitting himself to the psychiatric hospital. Believing that he was nothing more than a burden on his wife and children, Max then simply walked out of the ward, boarded a bus and disappeared. During his two months away from Erinsborough – to allow Stephen to appear in a play - he left a message with the Salvation Army, telling Steph that he wasn't coming back and asking her to get on with her life. By the time Max was found, with a family in Waratah Park who'd taken him in, Steph had indeed moved on and was starting a new relationship with Toadie. Despite their best efforts, Max and Steph soon realised that their marriage couldn't be saved and he left once again, to take up his old life, working on the oil rigs.
As I previously mentioned, Max was never a trailblazer in terms of storylines, but he was a solid presence on Ramsay Street for five years. His complex relationships with his parents, children, sister and wife made him someone that many viewers could relate to, and his role behind the bars – both Scarlet and Lou's Place – meant that he was never far from the action and a sounding board for many of his neighbours. And they, like many of the show's viewers, will miss having him around.