.
Comment > Love Thy Neighbour: Mrs Mangel by David
Invented as an annoying Coffee Shop customer, Mrs Mangel was only meant to appear in one episode, but her potential for further story telling was spotted quickly. It wasn't long before she was made a Ramsay Street resident and thus a Neighbours legend was born. Twenty years on from her departure, we pay tribute to the ultimate sticky beak…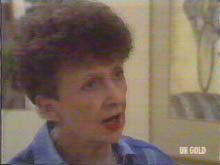 Following Neighbours successful channel swap from Seven to Ten in early 1986, the soap moved up a gear by bolstering it's original cast of just 12 regulars by adding teenagers Mike Young, Nikki Dennison, Charlene Mitchell, plus, a new Scott Robinson, trouble making Zoe Davis, lovable joker Clive Gibbons and feisty Madge Mitchell. All were designed to fill specific gaps in the ensemble, but one character type remained absent; that was until Mrs Mangel was concocted. One script writer claimed she was partly based on her mother-in-law however Script Producer Ray Kolle has also staked a claim on the character's creation. Of course a huge part of Mrs Mangel can be credited to actor Vivean Gray herself who had previously played the very similar Ida Jessop in the 1970s soap The Sullivans - which also employed Ray Kolle as a writer. When interviewed about the gossip roles of Jessop and Mangel, Gray was keen to point out that the models for them "were not confined to female hypocrites and interferes, they are just as much based on their male counterparts!".
Mrs Mangel was the ultimate nosey, meddling and puritanical neighbour that nobody would ever wish to have. It was a part that Vivean relished as she explained to TV Week magazine: "I thought 'Ooh, it's a very good character'," "I really like getting my teeth stuck into these bitchy-lady roles rather than playing goody-goody, middle-of-the-road types. Someone has got to play them and I do enjoy them". Her enjoyment of the character manifested itself in a terrific performance which had viewers booing at the screen - we loved to hate her.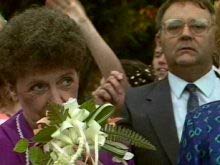 A few weeks after her first scene complaining about a local raffle, Nell Mangel moved into 32 Ramsay Street, and really began to make an impression on the neighbours. She managed to annoy most of them by making snide remarks, giving her opinion where it wasn't wanted and spreading malicious gossip. However she managed to create an arch nemesis in Madge Mitchell with her comments about the Ramsay family and the state of her marriage to Fred Mitchell who had left her for a younger woman. Ironically, Mrs Mangel's own husband, Len, found his own fancy woman soon after the couple had moved to Ramsay Street, and Nell, like Madge also had a wayward son who had had trouble with the law. Mitchell and Mangel were surprisingly similar - both proud and unafraid to speak their minds, and so they constantly butted heads. We the viewers rarely sided with Mrs Mangel though as she was always that bit more pompous and judgemental, but we loved to watch her argue and compete with Madge. Whether it be a cake bake off or cycling in The Ramsay Street Olympics, the two were forever battling. Things only got worse when Madge's ex-boyfriend Harold Bishop moved to the area and was taken in as Mrs Mangel's lodger. Harold's high moral values and friendly persona instantly endeared him to Nell, but he only ever had eyes for Madge.
The prissy pairing of Harold and Mrs Mangel living in the same house created some great scenes, including, a soaking wet Harold wandering into Nell's occupied bathroom, an evening of documentary video viewing turning out to be a porn rental, and perhaps most charming of all, the teetotallers sampling a bottle of what they thought was non-alcoholic cider, getting completely drunk and dancing around the living room until Nell fell over.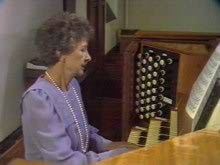 Although Mrs Mangel predominantly played the pantomime villain, we occasionally got glimpses of her softer side. Although she was heavy handed in her protection of her granddaughter Jane, especially where boyfriend Mike was concerned, the relationship was at times quite charming. Jane had been all but abandoned by her parents, and Nell stepped in to take care of her as best she could. They were devoted to each other and Jane was especially caring for her Nan when she was ill; with her heart problems or when she suffered a bout of amnesia. Although during that illness, Nell managed to push even Jane away for a short time and was left feeling very lonely - again we were made to sympathise for the wicked witch of the west. She can't have been all bad; Bouncer befriended her and even chose to live with her instead of his owner Mike Young!
The last layers of her hard shell were finally smashed when she found true love with widowed English gentleman John Worthington. Despite nearly fouling things up by using her Dear Georgette... column for her own gain, John and Nell finally became engaged and plans were put in place for them to move back to England after their marriage. This was heartbreaking news for Neighbours fans who had just had to watch Kylie's Charlene Robinson leaving a few months before.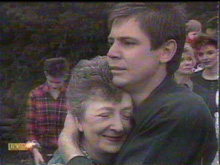 We were given one final treat before she left; the introduction of Nell's brash black sheep son Joe Mangel. The mother and son who had been estranged for years made another fantastic comedic odd couple for Mrs Mangel's last few months on Neighbours. Joe giving his mother away at her wedding was moving and his inappropriate speech at the reception afterwards was hilarious. Mrs Mangel's final traditional street farewell is probably still my favourite. Not only did we get the skilled Bouncer waving Nell off, we also saw the unthinkable - Madge and Mrs Mangel hugging! It proved to be a very moving moment and is often sited by long term fans as the end of Neighbours golden era.
Behind the scenes, we have since learnt that the predominant reason for Vivean's decision to leave was due to abuse from ignorant people who couldn't tell fact from fiction. It remains one of Neighbours saddest off-screen stories that such a talent was forced into early retirement due to the success of her character. We can now only fantasise about what Mrs Mangel would have made of Karl Kennedy's affairs, Paul Robinson's recent shady exploits or Sky Mangel's teenage pregnancy. After her departure, characters such as Edie Chubb, Hilary Robinson and Dorothy Burke were developed in an attempt to fill the hole Mrs Mangel left, but it was never quite the same. As script writer Valda Marshall admitted in her Perfect Blend interview "Nobody could fill the void left by Mrs. Mangel. She was a one off."