.
Comment > Love Thy Neighbour: Ned Parker by Matt
Back in 2005, viewers of Neighbours watched as Ramsay Street resident Stu Parker and fiancee Sindi Watts tied the knot. Fresh from Australian Idol, Dan O'Connor, as Ned Parker, Stu's brother, became Ramsay Street's new resident hunk – good news for the show's female viewers! But Erinsborough's queen bee Janelle Timmins had no idea that Mr. Parker was about to give her a very warm welcome. Having wandered into the wrong house, Ned had decided to take a shower, only to give her a real eyeful as he entered the lounge and dropped his towel – naughty! With screams of help from a very distressed Janelle, it wasn't long before he gathered an audience, none other than Susan and Harold, who, having recognised him at the wedding, were only too kind to tell him where he needed to go (after he put some clothes on!)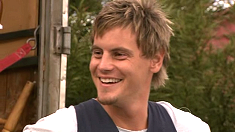 Ned had been sent from Oakey with one duty – to 'spy' on brother Stu, as he was suffering from depression, following Sindi's admission to a psychiatric unit during the couple's honeymoon. With Stu not wanting to live under constant surveillance, he told Ned to mind his own business. Not a nice attitude, seeing that Ned had come such a long way! Already making the female viewers' hearts flutter, Ned was quick to make an impression again. After choosing to stick around in Erinsborough, Ned set out to find a job, with coffee shop owner Harold directing to Ramsay Street's eternal mean-machine, Paul Robinson at number 22. Paul's job proposition was for Ned to stroll around number 22 shirtless, as every male does once they make their name on an Australian soap – it's part of the job description! Paul hoped that Ned's behaviour would catch the attention of housemate Izzy Hoyland. However, with the plan having failed, Ned began to develop a crush on Izzy. That's not how Paul planned it! It certainly didn't help with the arrival of Paul's daughter Elle, who immediately set her sights on Ned, although the feeling wasn't mutual.
Back in the UK, former broadcaster of Neighbours, the BBC, started a nationwide campaign to get the illiterate people of Britain to improve their 'Reading And Writing', or 'RAW' as it is known. Dan O'Connor was encouraged to be a part of the campaign, and filmed promotional videos to be included in the show's credits, to encourage Neighbours viewers to get 'RAW'. To tie in with this, Ned started to show signs of illiteracy, after Elle discovered he was having trouble learning lines for salon manager Gino Esposito's production of a musical, about Ned himself. Elle, being the admirer that she was grew closer to Ned as she helped him with his lines, and the two ended up in a passionate embrace.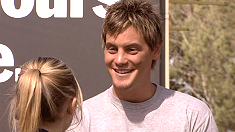 After declaring their love for each other, Ned ended up moving into number 22, with the intention of being 'man of the house', despite Paul being there – but there was a reason. It was all because of an admirer, or should we say stalker of Paul, who attacked the Robinsons' abode at Christmas. With Paul recovering from an attempted strangulation, it was Ned who became Elle and Izzy's knight in shining armour. However, after Paul suspected that Ned was the stalker, he was thrown out, much to Elle's disgust. She decided to return to Tasmania with her man, but was stopped in her tracks by Izzy, for the sake of healing her father's anguish, at the recent events. But this was part of another plan – Izzy wanted to split up the couple, so Elle could stay and look after her father. Miss Hoyland isn't so nice after all!
Leaving Izzy to stir up trouble, we now turn to Ned's short and sweet singing career as a 'kiddies' cheesy pop ambassador'. In 2006, a new pop duo, Oodles O' Noodles was formed – with Ned and Karl as the voices of the noodles. Susan had already taken a dislike to the genre of music - it seemed that Erinsborough had been invaded by cheesy pop! Thankfully for Susan, Ned's new career as a preacher of musical noodles was short and was soon on the rocks. A mother of one of the fans, Justine Spensley, quickly developed affection for Ned, and suggested he join one of the kiddies' pop groups she managed, but only so she could replace the songs with her own material. Italian beauty Carmella Cammeniti came to save the day, and soon caught the eye of Ned. As he swiftly forgot the noodles, he became a personal trainer – yes, another excuse for the scriptwriters to have Ned walk around shirtless – not that the viewers complained, or his clients for that matter. The first client, Ms. Beaumont actually turned out to be Janelle Timmins' mother-in-law Loris, who didn't get a lovely reception from Janelle. Loris planned to buy a 49% share in Lassiter's hotel, and from that Ned had the opportunity to work as the hotel gym's personal trainer - but only so Loris could get her hands on him! Yet, after a kiss, Ned smelled a rat, but Loris convinced him there was nothing more to the business transaction than money. Sure!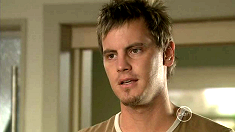 Not taking long to recover from Loris, Ned quickly fell for Susan's stepdaughter Katya Kinski, who had recently moved to Erinsborough. The two grew closer and began to share their innermost secret; they were both fans of the Backstreet Boys. So, it seems that cheesy pop hadn't left Ned's mind just yet! It was also time for the famous 'House of Trouser' to be invaded by some new hunks and hotties, following Toadie's departure to Sydney on a law case and Connor's mysterious disappearance. So, along comes Pepper Steiger, Will Griggs, Frazer Yeats, oh and Rosetta Cammeniti - Carmella's older sister, while Ned and Katya ended when, after a brief spell as a criminal, she left for Adelaide.
Moving forward, Kirsten Gannon, Ned's high school love arrived in Erinsborough in 2007, along with eight-year-old son Mickey – only to drop the bombshell that Ned was his father, the result of some shenanigans at the Year 10 formal. Bringing cute and cuddly dog Jake, Mickey was unaware what Kirsten was hiding. As Kirsten's grandparents had recently passed away, she needed a place to stay, and turned up in Erinsborough to cause a stir. But she didn't stay for long - Kirsten left Mickey in the hands of Ned – now it was time for single parenting. Paul Robinson, being the 'saint' that he is, invited Ned and Mickey to move in – with Mickey quick to make his mark on the street – falling into an electrified pool at number 30 and it was whilst Mickey was recovering in hospital, that Ned revealed the truth. Father and son bonded surprisingly well!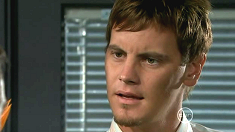 With Ned, Janae – his new girlfriend, and Mickey living happily ever after, Kirsten soon returned in the hope of replacing Janae. And when that didn't work, Kirsten resorted to snatching Mickey from them both and living as a single mum! The battle between Janae and Kirsten got heated, and Janae decided to leave town for Cairns. Could things finally begin to settle down?
In 2007, Neighbours underwent a great change in style, with new titles, set design, plots and more. A new age was born for Ramsay Street, with an affair that would shake Ramsay Street to its very core, and an horrific bush fire that would claim the life of Carmella's new love, Marco Silvani. Firstly – the affair!
Rebecca, Paul's fiancée, was studying for her law school entrance exam, but more on that in a moment, and Paul began to feel a bit neglected (ah!), as Rebecca focused more on her career than her partner. Elsewhere, Kirsten was a bit confused, even though she wanted to be with Ned – there was a slight lack of excitement, so she looked for that 'distraction', and found Paul. A romantic trip to Paris, which Rebecca was supposed to go on, and expensive presents including a locket, all added to the mix. Elle, who can always tell if something's not right, found out, but was sworn to secrecy, in the hope that Paul could get rid of Kirsten and pretend as if nothing happened. Yet, it wasn't until Lyn Scully's eagerly awaited return to the street, to do a bit of blackmailing, that suspicions started to arise. Susan learnt about Lyn's 'spying' and blackmail on Paul; it was Lyn who took photos of him and Kirsten kissing! Susan broke the news to Rebecca, as a good friend would do, and life was shattered for Rebecca. Though Ned was appalled by Kirsten's actions, he was impressed with the way she picked up the pieces and moved on with her life, and the former couple grew closer.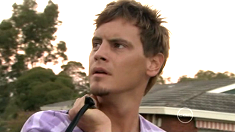 Now – the bush fire! Crazy fireman Jay, Steph's boyfriend, started a bush fire in Erinsborough, where Kirsten suffered severe burns. Paul managed to save Karl and Susan, but left Kirsten in the inferno; he thought she had died. Yet she was still alive – just. At the hospital, Kirsten suffered a cardiac arrest and was told that she had lost most of her skin and the best method of treatments would be to go to a skin specialist in Perth. And so, after swallowing his pride and accepting money from Paul to pay for the trip and the treatment, Ned and Mickey went with Kirsten to start a new life as a family.
So, with Dan O'Connor saying goodbye to Erinsborough, what's up next? Well, he now lives in the UK and is trying to launch a music career, and after his great success on Australian Idol, it isn't a new career path completely for Dan. He has also just appeared as a contestant on itv2's CelebAir, so he could consider being an air steward?! We all wish Dan every success for the future, whatever he decides to do.