.
Comment > Love Thy Neighbour: Nina Tucker by Steve
Although she spent little more than a year in Ramsay Street, Nina Tucker, as well as her portrayer Delta Goodrem, had quite an effect on people. Her quiet, unassuming personality won Nina many admirers and led both Nina and Delta to stardom. As she leaves Erinsborough once and for all, destined for the bright lights of Hollywood, we take a look back at the girl who sang her way to the top, and still found time to break the odd heart…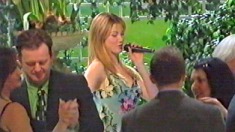 Nina arrived at Erinsborough High and immediately set herself apart from most of the other students. Her quiet, studious nature was frequently mistaken for rudeness by classmates including Michelle Scully and Tahnee Coppin. Nina would spend all of her spare time studying, working – at practically all of the popular Erinsborough locations – or indulging her true passion of singing. Although music was extremely important to Nina, she managed to keep her talent hidden from those around her. When Connor O'Neill stumbled across her singing in the church hall one day, he realised that her voice could not continue to go unnoticed. After winning UniFM's 'Undiscovered' competition and overcoming her fears of performing in public, there was no stopping Nina.
As her confidence in herself grew, Nina even began to find time for a love life. Having previously survived an encounter with older man Ray Milsome and a crush on Connor, her best friend's boyfriend, Nina clapped eyes on Taj Coppin. It wasn't long before Nina and Taj were an item, but things weren't rosy for long. The return of Taj's ex-girlfriend, Belinda, was the first blip for them, but Nina's feelings for Jack Scully proved to be the biggest problem. An affair began between the two as they rehearsed for their lead roles in Harold's amateur play, Mission: Erinsborough. Of course, it wasn't long before the affair was revealed and they were both left single. It seemed that Jack and Nina were meant to be when they reunited, but Jack's roving eye brought more heartache. Nina's reluctance to sleep with Jack led to him sleeping with a girl called Edwina. Nina's affections then returned to Connor for a while, before her mother's love life and a series of revelations forced her to leave Erinsborough to live with her father in Bombay.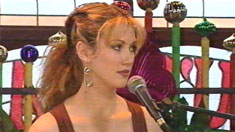 Nina seemed to face a constant stream of problems from her family and friends. Not long after joining Erinsborough High, Nina found herself being blackmailed by school bitch Tahnee Coppin. Tahnee quickly spotted that Nina had a crush on Michelle's boyfriend Connor and managed to convince her to pull out of a proposed student exchange with America. Then Tahnee claimed Nina's Born To Try song as her own during the 'Undiscovered' contest. Nina managed to prove herself, however, when she got up on stage and performed it. Nina and Tahnee managed to strike an uneasy truce when the two ended up working together at Lassiter's. When Nina took the rap for a mistake Tahnee had made, and got herself sacked, their old feud was finally laid to rest.
Little had been seen of Nina's family for her first year in the show, but that quickly changed with the sudden arrival of Trixie Tucker. Trixie was the complete opposite of her daughter; loud, outgoing and in search of the limelight. As her career fell to pieces, Trixie hopped on the back of her daughter's burgeoning singing career and convinced her to join up for a duet at Lou's Place. It didn't last long, but a relationship between Lou and Trixie came out of it. Nina, still unsettled after her parents' break up, tried her best to go along with things, and agreed to move into number 22 with her mother. However, when Trixie proposed marriage to Lou, and it emerged that she had never been legally married to Nick, Nina's dad, Nina couldn't take any more. She decided to follow her father to India, where he had gone to pursue a career in Bollywood.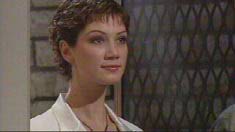 Nina's sudden disappearance was down to a real-life tragedy for Delta. As her own singing and acting careers were just beginning to take off, she was diagnosed with Hodgkin's Lymphoma, a form of cancer. Nina was written out while Delta received treatment, but 10 months later, she decided that she couldn't leave her alter-ego hanging like that. Amidst a flurry of activity as she returned to public life, Delta spent a couple of days on the Neighbours sets filming a brief return for Miss Tucker. Nina had one reason for her sudden return to Erinsborough; Jack Scully. She told him that she had never stopped loving him, and although she had found success in Bollywood, he was the one thing missing from her life. About to depart for a shot at stardom in Hollywood, Nina asked Jack to join her. He agreed, but realised at the last minute that he couldn't run away from all of his problems at home. Nina understood this only too well, but told him that she would be waiting when he was ready.
Although brief, Delta's reappearance showed the fans that she cared about Nina. But with two number one albums and a string of hit singles under her belt, whether she'll be back again is difficult to say. Even if she doesn't come back, we'll always have fond memories of the girl who was born to try.