.
Comment > Love Thy Neighbour: Oliver Barnes by Matt
David Hoflin made his debut as Oliver Barnes in January 2007, being the older brother of new "House of Trouser" roomie Will Griggs. Oliver had inherited his adoptive parents' hotel empire when they passed away, but decided to sign away the inheritance, not really wanting that kind of lifestyle. Will, actual name Sebastian, was made heir of the hotel empire and decided to come to Erinsborough, under the name of Will, using his charm to lure Italian beauty Carmella Cammeniti along the way. Carmella, not being the gullible sort, discovered Will's secret money tree, and ended things with him, because of a lack of loyalty and trust.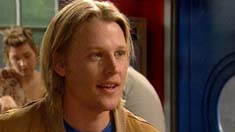 Coming to the rescue, Oliver arrived in Ramsay Street to apologise to Carmella for his brother's behaviour, and you guessed it, the two grew very close, very quickly! Deciding to remain in Erinsborough for a while, Oliver became friends with the other "House of Trouser" roomies: Pepper, Rosie, and Frazer. Meanwhile, across the street Mr. Paul Robinson was playing games again, this time, looking for a way to match make his daughter Elle, and Oliver; he only had one intention – to rake in some dollars and have Oliver own a 2% share of Lassiter's. Ned Parker also got in on the act, and after a huge loss at a poker game with Paul, he was coaxed into splitting up Oliver and Carmella, and Elle and her boyfriend, Dylan. On a Valentines' weekend retreat in the bush, Ned got Dylan and Carmella drunk and put them in the same bed, much to the horror of Elle. All was going well for Ned so far! Yet, Paul failed again, and inn the end, Oliver and Carmella managed to settle things and love was once again in the air.
Not content with owning a share in Lassiter's, Oliver helped Carmella to start a fruit and veg delivery business called 'Celestial Fruits', which used to be run by Carmella's father Rocco, until he was imprisoned. Armed with broccoli and bananas, she became Erinsborough's 5-a-day supplier, but quickly ran into trouble with her uncle Ray, who blackmailed the suppliers into reducing stock, and Carmella was left with only one piece of broccoli and one banana! Meanwhile, Paul Robinson was quick to hatch another plan to get the couple to split, so he could get his hands on some of Oliver's inheritance. After witnessing Oliver's growing dislike for Carmella's vindictive ways, Paul added firebombs to his next shopping list, all for an explosive storyline that Neighbours viewers were never too keen on. Carmella and Oliver were almost killed after a bomb was planted in the fruit and veg delivery van. The plan worked, to Paul's delight; Oliver saw Ray suffering from chest pains at the hospital, and with Carmella there at the time, he put two and two together, and decided he didn't want to be with someone who was capable of murder. What a huge misunderstanding!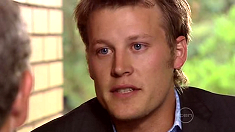 Ned later confessed his 'match making' to Elle, who launched yet another plan, this time to undermine her own father, to get her and Oliver to become the owner of Lassiters'. Not the nice, sweet daughter Paul thought he had! Elle and Oliver kept Paul happy, by telling him they were getting Janelle Timmins to sell her 49% share of Lassiter's to Oliver. After all, Elle and Oliver's engagement, which was fake, would only require an ultra-expensive wedding! Yet at the engagement party, Janelle revealed that she pretended to refuse to sell her share, so Oliver could buy out Janelle. All rather confusing! Oliver and Elle were now joint owners, and Carmella came back into the mix, having become addicted to anti-depressants because of the whole situation. Oliver intervened, then Carmella disappeared to the countryside for a while, and returned to tell him that everything was fine (or was it?). A new love triangle was created: Oliver and Carmella were together, despite all the recent events, but working with Elle on a daily basis heightened Oliver's attraction to her, and they ended up kissing on more than one occasion. Paul Robinson was suddenly diagnosed with a brain tumour, and Oliver stood by Elle during treatment, whilst Carmella's jealousy boiled over, and she disappeared again, with Ringo Brown, who, secretly, only went with her so he could try and cure her addiction. In the end, Carmella and Oliver separated, and he turned to Elle.
Meanwhile, Alan Napier, the Barnes' former family assistant, revealed to Oliver on his deathbed, that he was his grandfather. After a positive DNA test, organised by Elle, it was time to track down the other Napiers, and along came Rebecca, Oliver's mother, and Declan, Rebecca's son. After a great deal of persuasion and convincing, Declan finally accepted the news about the tests and he and his mum moved to Ramsay Street.
After opening a can of worms about the Barnes/Napier paternity confusion, and Rebecca's past, they later discovered Richard Aaronow, Oliver's and Declan's real father, was on the brink of renal failure. Declan saw this as an opportunity to donate a kidney, so Richard could survive to confess to the past rape of Rebecca, which produced Declan. Yet, with Rebecca not wanting to relive the heartache, she refused to give consent and Richard eventually passed away, leaving Declan reeling from not being able to tell Richard how much he hated him.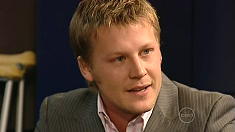 Oliver had also found out he would become father to Carmella's child, Chloe, which he saw as a slight inconvenience, what with all the recent family confusion! However, he decided to take on the paternal role, and bought Carmella a flat in the local area. Alan Napier passed away shortly after, and Erinsborough's acidic lawyer Tim Collins delivered news that recently fled Will Griggs was fighting to be proprietor of the Barnes' hotel empire, since learning about the recent DNA tests. Will froze all of Oliver's assets, but bailed him out with AU$100,000.
Suffering from amnesia after his brain surgery, Paul Robinson began to get flashbacks of his devilish past, in particular the murder of Gus Cleary, which he claimed he was responsible for. Gus' sister Laura and boyfriend Nick decided to hold Declan hostage as a punishment for Paul's murderous actions. Oliver called on his brother Will for help, and received an additional AU$400,000 to pay for Declan's release. However, when Oliver and Rebecca handed them the money in a car park on the coast, Mother Nature took over and AU$400,000 soon flew off into thin air. Resident policeman Adam Rhodes and Sophie Cooper were, however, witnessing the whole thing, and arrested Laura and Nick there and then. What about Declan? He eventually escaped, but disappeared into the Aussie bush, but was found safe and sound by Rebecca in the middle of the night.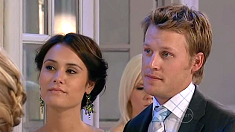 Firebombs were on the shopping list again, this time for Declan, as he sought to get revenge for the kidnapping, by blowing up Nick and Laura's caravan. Although, Oliver stopped him in the nick of time, and with some 'counselling' from Oliver in the form of a punch bag, and some brotherly bonding time, Declan returned to his normal self over the following weeks. Oliver wasn't his normal self though, as new resident Riley Parker developed a strong friendship with Elle, and an envious Oliver went elsewhere.
Oliver turned his focus to Carmella and Chloe, but again became envious of a new relationship, this time Carmella and Marco Silvani, her new Celestial Fruits business partner. Oliver and Marco's feud became increasingly heavy as time went by, and a fed up Carmella was hospitalised from all the stress. As she recovered, a distraction in the form of Marco's sister Mia came along, and Marco immediately took a dislike to Oliver and Mia's fling, the fling being primarily to annoy Marco, although Oliver didn't mind a bit of female attention! However, he got the wrong sort of attention at Chloe's Christening, where he found out Marco was infertile, after overhearing a conversation between Rosie and Carmella. Marco and Oliver then had an almighty scrap, because Oliver saw Marco as a 'leach' – grabbing onto his relationship with Carmella, because of the baby; he himself could never have his own. Oliver's short fling was soon a thing of the past, as Mia walked out on Oliver for good, following her reaction to the brawl. Following Marco's death from the terrible bush fire, Oliver and Carmella's relationship slowly started to rekindle, much to Rebecca's dismay because of her awareness of Carmella's vulnerability. During a finger painting session, the two got quite dirty in a colourful way, and shared a kiss!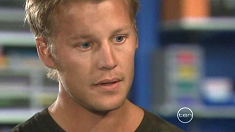 A few days later, Oliver received a job offer from New York, where he could take his hotel managerial skills to an international level. Wanting Carmella and Chloe to come with him, Carmella couldn't face severing all ties with Ramsay Street and its residents, and taking away Chloe from a stable home, so she chose to stay put. All very sudden for Rebecca, she was reluctant to wish her son goodbye, but only wanted what was best for him, and that left Elle. Oliver could have told Elle sooner; it would have saved that very red cheek after she slapped him in Charlie's, through feelings of betrayal and gutlessness.
So, with Oliver getting used to the fast-paced lifestyle of New York City, what's next for alter ego David Hoflin. Well, after a very successful year on the street, David is currently focusing on his relationship with Natalie Blair who plays Carmella. Looks like Oliver and David have the same taste in women, but let's hope David's a bit more faithful! Career-wise, he isn't planning anything major yet, but is looking forward to travelling for a while.