.
Comment > Love Thy Neighbour: The Parkers by Carol
After 2 years on the show Neighbours has just bid farewell to the Parker family, who arrived during the time of the show's 'Back to Basics' revamp. From the off the Parkers were causing drama - their grand entrance into the show saw their removal van crash into the other Ramsay Street residents returning from Frazer and Rosie's wedding. In with a bang and out with a bang.
The Parker family consisting of Steve, wife Miranda and daughter Bridget joined the show in 2007, and although they only lasted for 2 years, they have proved popular with many of the show's fans. What I liked about the Parkers was that they continued on with the Parker name which had been connected to the street ever since Stuart Parker arrived from Oakey back in 2001 to stay with his old friend Drew Kirk. A few years later, the next Parker to arrive was Ned, the youngest and most naïve Parker, followed finally by older brother Steve and his family.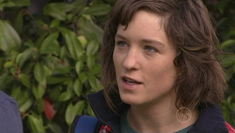 Laidback vet Steve slotted in well in Erinsborough, and it wasn't long before he became coach of the Dingoes football team leading them to win the final. Steve acted like a father figure to many on the team, especially Ringo and Declan. However, being coach also gave him time to bond the older guys like Lucas and Dan. From the off, it looked like Steve and Karl were going to have a better relationship than Karl had had with many of the other Ramsay Street men, for example Joe Scully. When the Parkers arrived Karl was working as a medical rep and had recently discovered that his firm were somewhat dodgy. When he wanted to expose them as being so, Steve instantly helped with this. I liked this, as he said at the time that he thought Karl was a decent bloke and it was good to watch the two of them in action. However, they never really became the best of friends as we would all have liked.
Bridget's character was also a breath of fresh air to the show. It was nice to have a feisty, tomboy teen, as there hadn't been a similar character since Steph Scully. A keen sports fan, Bridget was your not so typical schoolgirl, but nevertheless she became part one of the best groups of Ramsay Street teens in years. Having been best friends with Rachel until she left for London, Bridget then became close friends with Donna and with newcomer Sunny.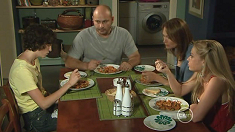 Fans were left stunned when, not long after her arrival, Bridget was run over and left lying by the side of the road by one of our favourite Neighbours, Susan Kennedy. This was a huge storyline that saw Susan diagnosed with MS and Bridget, after having been in a coma, endure a tough rehabilitation. Despite Bridget not being able to play sports like she used to and hang out with her friends, she held no hard feelings towards Susan and that is what made it so easy to like about her. Even though Steve and Miranda were outraged and cut all friendship ties with Susan and Karl, Bridget was keen for everyone to be friends again so everyone could move on from what was just a terrible accident. Her friendship with Rachel Kinski wasn't affected, despite her being Susan's stepdaughter. Her desperate need for Miranda to be Susan's friend again was eventually successful and pretty soon the accident was all forgotten about.
Miranda's close friendship with both Susan and Rebecca is another example of how the Parkers slotted right into the show. The fun get togethers between the three of them and the advice given to each other on times of heartache made us all wish we had friends like them. Miranda filled the shoes left by Lyn Scully perfectly. She was part of a wonderful threesome which will be sorely missed. When Miranda, Susan and Rebecca were together there was no such thing as 'three's a crowd'. I can't emphasise enough how much I am going to miss that. They had a natural chemistry that made it look like they were always having so much fun.
However, Bridget on the other hand found herself in trouble again when; she pushed over and killed Chris Knight in an act of self defence: an accident in which Steve took the blame for. You could not ask for a better father in my eyes! As a court case inevitably followed, fans were stunned when Steve was sent to prison for a murder he did not commit in a bid to protect his daughter. Elsewhere, it was clear early on that Declan Napier had Bridget in his sights. After an ill-fated first date and the typical ups and downs of Ramsay Street love affairs, Bridget and Declan have become one of the most popular couples in Neighbours' recent history. It seemed her death was the only way the two of them could be parted, but it's great to watch her legacy grow in the form of baby India. Her character was involved in a teenage pregnancy and wedding and fans could not have loved her more. I was devastated to learn she would die in a road crash leaving teenage dad Declan to raise their daughter alone.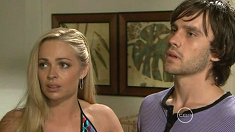 Although, to begin with, there were only three of them, it was promptly announced that Bridget had an older brother, Riley who was away surfing, having dropped out of university, where he'd been following in his adoptive father's footsteps by studying to be a vet. Neighbours fans were correct in assuming it was only a matter of time before he was an established character. In fact it was with Riley that the Parkers had their biggest, most memorable and headline-grabbing storyline: incest. Riley did not last long though as writers felt there was no more they could do for his character. I think the Parkers worked better as a threesome and I was not particularly upset to learn he would be leaving the show after less than a year.
The incest storyline was a sensitive issue to portray due to the family nature of the show and its early timeslot. This storyline saw Miranda's sister Nicola seduce Riley. However, Nicola was secretly in love with Steve which exploded in spectacular fashion, and later saw Nicola trying to poison Steve. Nicola's revelation brought about the crumbling of the once formidable Parker marriage. Miranda later chose her husband over her sister who was dragged away in the street by police in what has to be one of the most memorable performances Ramsay Street has seen since Izzy Hoyland. This storyline was so much fun as you didn't know what was going to happen next. When Nicola was led away kicking and screaming, I don't think a single Neighbours fan was not thinking "Good riddance"!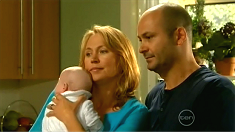 It was also with the Parkers that Neighbours did their tired old "your dad's not your dad" storyline which involved Steve finding out his dad was in fact his so called dad's best friend who had a fling with his mother, resulting in Steve. Although the scenes were well acted, it cannot be denied that it never really worked. Viewers were fed up with the same storyline cropping up all the time. It was a storyline that lasted no longer than two weeks and I must confess, it is certainly not one of the most memorable storylines that I will miss them for. As is a rite of passage for every Ramsay Street family, we witnessed the breakdown of Steve and Miranda's marriage and the uniting of them just in time of them leaving the show. When Steve and Miranda were separated and she had the short fling with her old university professor Dean Naughton, poor Steve was devastated to find out and it looked like Dean was to be the final nail on the Parker's marriage. Therefore, it was a relief to see the two of them kiss and make up before they became grandparents with the arrival of Bridget's baby.
In their short time on the show the family were at the centre of many storylines and thus they have left a huge gap. The car crash that saw Bridget die was reminiscent of the way they entered the street with the crash of their removal van, bring the family's Ramsay Street life full circle.
The Parker family were written out when Eloise Morgan and Steve Bastoni decided not to renew their contracts. It was then decided Nikki Coghill's contract would not be renewed. I think this is a great shame as I thoroughly enjoyed the Parker family. For me, it is the end of an era. I believe there was still a lot more we could have seen from the Parkers had they remained, for example, we could have witnessed teenage wife and mum Bridget balance schoolwork and motherhood, Steve and Miranda coping with being such young grandparents and well, anything the writers had to throw at them. To me, it seems the show will be a little less without the great acting talents of Steve and Nikki, not to mention the brilliant Eloise. They will be sorely missed.