.
Comment > Love Thy Neighbour: Pepper Steiger by Ryan
She was the kind of PE teacher teenage boys dream about – and the kind of Neighbours character few could fail to love. As she heads off to care for her sick dad in Cairns, we say a fond farewell to Heidi 'Pepper' Steiger.
Back in 2006, the announcement that No.30 Ramsay Street was set to get four new residents was greeted with a mix of excitement and trepidation by Neighbours fans. Publicity shots confirmed the newcomers would be easy on the eye, but did that mean acting talent, not to mention characterisation, would be secondary considerations? Then there was that name; 'Pepper'. Back in the nineties Neighbours had brought us the likes of Stonefish, Squirrel and Teabag, but most of us had hoped the silly names fad had long since passed. Would it be a case of silly name, silly character?
Thankfully, the newcomers' first episode put all our concerns to rest. The story behind Heidi's nickname – that she had a habit of sneezing violently when nervous – seemed a rather odd and unnecessary diversion, but in the end it wasn't important. From her first scene Pepper's eager, lively personality captivated fans. In a sense she was a silly character, but delightful silly as opposed to annoying silly. Pepper's tendency to babble and go off on bizarre tangents could easily have irritated, but it was clear within a few episodes that Nicky Whelan had the comic talent to make it work. And while Pepper's first name had raised a few eyebrows, her surname was a source of great excitement for loyal viewers. Okay, so maybe it wasn't entirely realistic that big butch Sgt. Steiger and his less than glamorous ex-wife Chris had produced a bombshell like Pepper. It didn't matter; the relationship between Steiger and 'daddy's little girl' was great fun, with the added bonus of some extra character development for a semi-regular who had become something of a cult figure amongst Neighbours fans.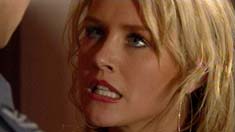 When she arrived on Ramsay Street, Pepper had a fiancé, Frazer Yeats, in tow, but this was no ordinary engagement. Pepper and Frazer were only pretending to be a couple in order to bag a room at No.30, and for a few weeks it seemed like the plan had worked. However, like most such plans in soapland, there were some major flaws – the first being that Pepper soon genuinely fell for Frazer, and the second being that Frazer was more interested in another of the housemates, Rosetta Cammeniti. On first impressions, Pepper might have looked like the kind of girl who would use her obvious assets to make sure she won the battle. However, viewers would soon see there was more to Pepper than that, and out of respect for her growing friendship with Rosetta she not only stepped aside, but made it clear to her oblivious pal how Frazer felt, even playing matchmaker as their romance progressed.
While the ditzy schoolteacher and forthright, career-focused Rosie weren't the most obvious of mates, their friendship worked brilliantly, perhaps because of the differences between them. The bond between the two twenty-something women brought something back to Neighbours that had been missing since the days of Libby and Steph, and was one of many reasons fans had to love Pepper. Although another man, Paul Robinson, almost did what Frazer couldn't and came between the pair, their friendship became all the stronger for it. In a controversial storyline, things almost moved beyond friendship when Pepper and Rosie shared a kiss as they bonded over their disastrous histories with men. For a couple of weeks the rock-solid friendship was put to the test as they struggled with confusion and embarrassment, but eventually both women realised they were only meant to be 'girlfriends' in a strictly platonic sense.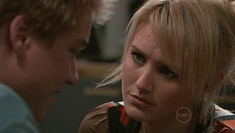 Pepper's compassion for others was one of her many endearing traits, but also one that got her into trouble at times. When the young teacher suspected Lolly Allen was being abused, she found herself the one accused of the said abuse. Despite almost losing her job over the allegations, Pepper continued to try and help Lolly, eventually getting her to admit stepmum Sandy was the true culprit. But Pepper almost lost more than her job when trying to be kind to her ex-boyfriend's mother, Mary Casey. Despite suspecting Mary's son Kevin was stalking her, Pepper was happy to visit the lonely lady, blissfully unaware that Mary herself was responsible for the strange letters and gifts she'd been receiving. Convinced Pepper was destined to carry her grandchild after miscarrying Kevin's baby in her teens, Mad Mary kept the two of them locked up in a deranged attempt to recreate the past. Although it was Pepper's first big 'serious' storyline, the over-the-top drama created an almost comic feel, helped along by the casting of Rowena Wallace, an icon of camp 80s soap opera, as Mary. Pepper's ill-considered escape plan – setting fire to the house so Mary would have to let them out – added to the laughability factor; yet somehow, the storyline worked. What would have been a farce with Rosie or Carmella became enjoyable hokum because Pepper was at the centre of it.
After her unrequited crush on Frazer, unwise dalliance with Paul and somewhat unlikely kiss with Rosie, Pepper finally found the right partner in down to earth Englishman Adam Rhodes. At first, Adam seemed equally unsuitable for Pepper, who thought more in terms of posh restaurants and penthouse apartments than steaks cooked on the Barbie in the backyard. But from day one Pepper had been all about contrast, and it seemed fitting that someone so different would prove so right for her. Many viewers collectively groaned when the words 'marriage of convenience' were uttered, and it was a relief to all when Rosie and Chris talked the couple out of the scheme.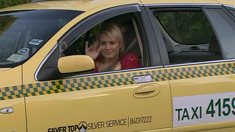 Once Adam had secured his Australian residency by rejoining the police force, things were refreshingly plain sailing for a while; for once a soap couple got to enjoy each other's company without a crisis every five minutes. But crises would soon prove to be like buses for Pepper and Adam, and after months without one, two came at once. Pepper's diagnosis with cervical dysplasia – a condition that could have led to cervical cancer if untreated – drove something of a wedge between them when Pepper kept the truth about her illness from Adam, and also necessitated a month's abstinence from sex. For viewers used to seeing a glammed-up Pepper in comedy storylines, watching her deal with a serious medical issue and losing interest in her appearance was quite an adjustment. There couldn't really have been a worse time for Sophie Cooper, who'd bullied Pepper at school, to reappear in her life; as Adam's police partner no less. After a non-too-subtle attempt to set Sophie up with Riley Parker and some unbecoming jealous behaviour, Pepper got the reassurance she needed from Adam that she was the only woman for him, and discovered Sophie's cruelty at school was borne out of the same sort of jealousy she was feeling now. With a minor operation to deal with the cervical dysplasia behind her, all was well again for Pepper, in every sense.
After less than eighteen months in Neighbours, America came calling for Nicky Whelan, meaning that on-screen Cairns came calling for Pepper. Her sudden exit to take a job closer to her sick father disappointed fans, but there was some consolation in the fact that Pepper got the happy ending she deserved, with Adam promising to join her in Cairns soon afterwards. As she departs, Pepper joins the likes of Melanie Pearson, Amy Greenwood and Sindi Watts in a classic series of 'dizzy with hidden depths' Erinsborough women; let's hope it's not too long before we're treated to another character in the same mould.