.
Comment > Love Thy Neighbour: Rachel Kinski by Matt
After three and a half years as a Neighbour, Rachel Kinski has finally bid farewell to Erinsborough, taking up a university offer in London, and tearfully leaving behind her family, friends and boyfriend Ty. Here we look back at some of her highs and lows...
Four years ago, brother and sister Rachel and Zeke Kinski were sent to Erinsborough High by their father Alex, who had been home schooled following the death of their mum Francesca some time ago. Rachel struggled to adjust, but finding a friend in bogan Bree Timmins, Rachel began to adjust to what was the ordinary for most Ė a staple diet of junk food and sleepovers. Following a plane crash that nearly killed Alex, and a disastrous dalliance with Jake Rinter from Year 11, Rachel found more bad luck with the arrival of Summer Hoyland. Having arrived home for Christmas from boarding school, Bree secretly attempted to get both Rachel and Summer to fight for friendship with Bree.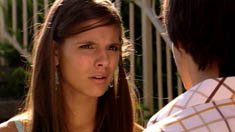 Later, Rachel got in contact with distant sister Katya, who, after some persistent persuasion, arrived on Ramsay Street for Alex and Susanís wedding. That evening, Alex passed away, having been diagnosed with terminal leukaemia some weeks back. Their father's death hit both Rachel and Zeke hard, and with new stepmum Susan, they headed off to Belarus, on the trip Susan and Alex had intended to be their honeymoon.
As time went on, following a custody battle between Susan and Katya over the children, Rachel and Zeke went to stay with their sister, who strongly disapproved as Rachel grew close to older boy Stingray Timmins, who had supported her in her grief. As Katya then struggled to look after her siblings, it was agreed that all three of them would move back in with Susan. Whilst family life seemed to be getting back to normal, Rachel maintained her secret relationship with Stingray, even resorting to late night meetings. However, Stingrayís mum Janelle, and Bree, soon began to smell a rat, but, to the coupleís delight, Janelle agreed to let it continue. Zeke found out last, and as usual flew off the handle, influenced greatly from finding out Susan had begun to fall back in love with ex-husband Karl. An encounter at the same health spa exposed both secret relationships, family feuds were reignited, as Rachel decided to move out, into the Timmins house.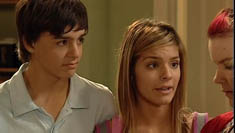 As time went by, Rachel became aware again of Stingrayís damaging dependence on alcohol, when things got tough. Meanwhile, Sky Mangel was in a dilemma about the father of her child, after separating from Dylan and sleeping with his brother Stingray, and when Rachel realised the truth, she ended the relationship, and took things much more simple for a while. That simplicity soon got boring for Rachel though, and with the arrival of new PE teacher Pepper Steiger, Rachel and Bree got up to mischief, sticking one of Pepperís bras and a poem she wrote on the school corridor. When Rachel later tried to rekindle her relationship with Stingray, it only lasted a matter of days before they both realised that they had changed and needed to move on from each other.
New resident Ringo Brown, who moved in with older brother Frazer Yeats took a shine to Rachel, who, much to his disappointment, wasnít ready to put herself on the dating market just yet! Trying anything he could to sway her, it just wasnít happening. However, he finally succeeded after confessing his fear of water to her, and the pair grew ever closer. But the unexpected death of Stingray from an aneurysm, caused Rachel to want some time apart to sort out how she felt.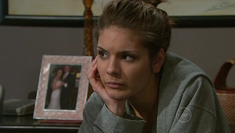 After some time to gather her thoughts, the relationship was back on, but Ringo began to develop an attraction towards fruit and veg entrepreneur Carmella Cammeniti, as her delivery boy. Rachel began to grow increasingly suspicious, and after being publicly rejected by Carmella, after confessing his feelings for her, Ringo moved away for a while, leaving Rachel at a loose end. Still rampant with insecurity, after Ringoís return, Rachel became unsure of Ringoís increasing amount of time spent with Pepper. He was however, being helped for his eating disorder, but Rachel jumped to the wrong conclusion, and accused him of having an affair. With the relationship in tatters, Rachel accepted an offer to go on a literature course in Canberra.
When she returned, Rachel decided to sample something more mature, and began flirting with a man called Angus Henderson, who she bumped into repeatedly around Erinsborough. As she added a few years to her real age, they agreed to go on a date and she told him about her life as an English student at uni. Yet the next day, she was stunned when he turned out to be her new supply teacher. Over the coming weeks, Angus and Rachel seized every opportunity they could to see each other in private, but knowing it was wrong Angus often held back. The secret affair was to be revealed later by Declan Napier, and, when Daniel Fitzgerald tricked her into revealing the truth, it ended up in leaving Angus with a prison sentence hanging over him, plus major shame and upset for Rachel to deal with. The consequences soon came, as Rachel fell victim to bullying from Justin Hunter and his friends, and succeeded in alienating her friends, as she became obsessed with all things Angus!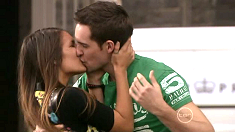 Later in court, Angus was sentenced to six months in jail for violating trust, and in an emotional goodbye, Rachel and Angus grabbed hands, and Angus passed her a ring and photo of them, as a memory for her to keep. Through his time in prison, Angus had been receiving letters from Rachel, but, desperate to try and break the bond with Rachel, and help her to move on, he returned them all unopened, much to Rachelís despair.
Whilst in prison, Angus was visited by Susan, who, after some careful thought, agreed for Rachel to see Angus upon his release. Although hardly anyone was pleased to see such a morally wrong relationship happening on the street, Rachel agreed to moving in with Angus, deserting her friends and family almost completely. When Angus found a job in Adelaide, he asked Rachel to come with him. At first, she was very hesitant, but eventually agreed. Yet, as she saw how much of a mistake she was making, she asked Angus to drive her back home, back into the arms of her family, as her boyfriend left town.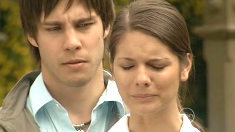 When Rachel then had to deal with the advances of a stalker, she accused musician Ty Harper and even attacked him with a cricket bat, forced to apologise when it turned out that Justin was the one trying to spook her. However, things always turn out for the better on Ramsay Street, and, over the coming months, viewers saw a deepening attraction between Rachel and Ty. As he helped Rachel to become more confident with her singing, Ty started taking his music seriously, and he constantly tried to convince Rachel that a life in the music industry was a dream worth sharing. Following the rafting accident at the end of 2008, Rachel sunk her teeth into her music full-time, as a way of dealing with her grief over the disappearance of Zeke. She also stepped her relationship up a gear with Ty, rushing to see him whenever she could, but Ty could see it wasnít at all genuine, it was just another way for Rachel to deal with her feelings over her brother.
Some weeks after the rafting accident, Rachel had been trying to get used to Zekeís severe amnesia, after he was found alive. As his memory had slowly been returning, Zeke questioned Rachel over a letter addressed to her, believing it was from Angus. Surprised that he can even remember the affair, Rachel finally told him that it was confirmation of a scholarship to study in London. Persuaded by Zeke, so Rachel didnít throw away the opportunity of a lifetime, Ty broke up with Rachel, worried that she would stay just to please him. But at the airport on her departure, Ty arrived and, showing that his bond with his sister was still as strong as ever, Zeke distracted the security guards, allowing Rachel and Ty to share a poignant farewell, before she left for Blighty.
So, now that another one has flown the Neighbours nest, whatís next for alter ego Caitlin Stasey? As Rachel gets used to the English way of life, Caitlinís decision to leave Neighbours is primarily to finish Year 12 and her exams. The door is certainly left open for her to return in the future, but for now, her main priority is a pen and paper!