.
Comment > Love Thy Neighbour: Sindi Watts by Steve
With more personality changes than the average adolescent, Sindi Watts spent three years in and around Erinsborough, bringing drama and comedy in equal measures. As she departs for good, hereís a look back at the life and times of SindiÖ
Sindiís love life was never simple. During her first encounter with the locals in 2002, she managed to find herself caught up in a love triangle with her own sister, Penny, and Pennyís boyfriend, Dr. Darcy Tyler. The following year, Sindi was back, but this time she was working with Darcy to split up Toadie Rebecchi and Dee Bliss. Although Sindi was only meant to distract Toadie so that Darcy could steal back his ex-girlfriend, Dee, she ended up falling for him. However, Toadie wasnít quite ready to move on from Dee and quickly ended the relationship. Later that year, with Dee missing, presumed dead, Sindi was back for another try. But she realised that Toadie still wasnít ready to let someone new into his life, so she moved on with older, married man, Rocco Cammeniti. The attraction between Sindi and Toadie remained, however, and before long they were seeing each other. That relationship didnít set well with jealous Rocco who kidnapped Toadie and left him in a coma. In typical Sindi fashion, it was just the beginning of many ups and downs, by the end of which, Sindi was secretly dating Toadieís best mate, Stuart Parker. This proved to be the happiest of Sindiís relationships and, before long, they were engaged. Although the wedding that followed was one of the happiest moments of Sindiís life, that happiness didnít last long.
Like her love life, Sindiís employment in Erinsborough was something of a mixed bag. Arriving as a booking agent for a travel company, she later found herself employed by Tim Collins & Associates as a legal secretary. Although she proved to be a valuable asset to the company, personal circumstances led to her leaving and her bizarre career path continued with a spell as an exotic dancer. She later returned to Ramsay Street as the host of Channel 44 makeover show Making Mansions. After losing that job, too, it was only natural that Sindi should end up as the astrologer for the Erinsborough News. Her next career move was slightly more fluid, as she became a fashion writer for All Her magazine, but it didnít last long and, despite her clumsiness, she managed to get a trial as a waitress at The Scarlet Bar, where she remained until her departure from Erinsborough.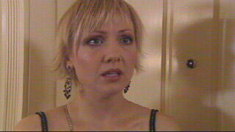 Although she had plenty of jobs and lovers, friends were always in short supply for Sindi. Soon after becoming a permanent fixture in Erinsborough, she found herself homeless and ended up lodging with Susan Kennedy at number 28. There, she found herself getting close to all of her housemates, particularly Susan and her daughter, Libby, who both loved Sindi dearly but often struggled to understand her, and later Stingray Timmins, Toadieís cousin, whose madcap antics were just about on Sindiís level. Although her relationship with editor Carmella Cammeniti began as pure hatred, it soon developed into mild respect and they later became friends, particularly when all of the other magazine staff went on strike. At the time, they were also forced to bring in Izzy Hoyland to help them and the three girls developed a close, if brief, friendship. Through Susan, Sindi also befriended neighbour Liljana Bishop, although that was another brief foray into normality for Sindi, as the two women fell out when they agreed to buy a dress together and share it.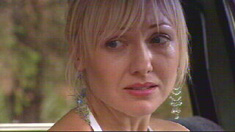 Despite regular guest appearances before becoming a regular character in 2004, very little was known about Sindiís past. Her first appearances in 2002 and 2003 had shown Sindi as a slightly vulnerable, but quite calculating, young woman. As she continued to return to the street, she slowly lost the nasty edge and became the dippy version of herself as she settled in as a regular cast member. However, after a year as a comedy character, her personality was tested again when boyfriend Stuart was blinded whilst rescuing Sindi from the burning pub. This incident saw a whole new side of Sindi come out, as she became the one that Stu relied on and she attempted to hold their relationship together. Once Stuartís sight was restored, strange things started to happen around Sindi, as her friends and neighbours suffered minor accidents whenever she was around. An incident from her past was revealed when Stu met Kelly Weaver, Sindiís quadriplegic best friend. Sindi had always blamed herself for the accident that left Kelly in a wheelchair and, scared that Stu would leave her over this revelation, she proposed. As the wedding approached, only her ex-boyfriend Toadie could see that something about Sindiís behaviour was slightly amiss, but nobody would listen to his claims as they only knew Sindi as their harmless, if slightly odd, neighbour. However, with a picture proving that Sindi had been following Stu during his bucksí night, Toadie confronted her and ended up being pushed down a flight of stairs for his troubles. The incident finally led to the discovery of Sindiís mental problems and that sheíd had similar paranoid delusions as a teenager. Although Stu promised to stand by her, it was his presence, and her desperation to protect their relationship, that had made her ill and she decided to transfer to another psychiatric hospital in New South Wales.
Although she went through many personality changes during her time in Erinsborough, most fans will fondly remember the carefree Sindi who stretched Susanís patience to breaking point and made herself a birth chart to decide which pair of shoes she should wear. But both Marisa Warrington and the writers deserve credit for making her final storyline so moving and believable.