.
Comment > Love Thy Neighbour: Stuart Parker by Lucy
Stuart Parker has led an eventful life on the street. Never settling, he's hand numerous women, and almost as many jobs...
A serial 'fiancée', Chooka arrived on the street after finding his first wife-to-be, Tracey Slattery, in bed with his best friend. This wasn't the first time we'd come across him, however, as he had met up with his older brother's friend Drew, and Libby when they'd gone to Oakey for the rodeo.
Throughout his time in Erinsborough, Stu could normally be found with a pretty girl on his arm, some of his many girlfriends included Dee Bliss, Flick Scully (another fiancée) and Sindi Watts (whom he actually married). However, after Sindi was diagnosed with a mental illness immediately after their wedding, they didn't spend much time together as a married couple, as she left Erinsborough to live at a clinic in New South Wales. To try and get over her troubles, she wanted to split all ties with Stuart, and they got a divorce.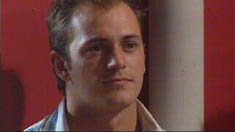 Stuart's time in Erinsborough wasn't without its controversy. After meeting a girl named Kaveesha Jones, he reluctantly accompanied her to a new age fair, where he met a man named Jonathan Verne. Jonathan introduced Stuart to Life Mechanics, a group for people who were struggling to find meaning and direction in their lives. Before long, Stuart was a leader of the group and has abandoned his old friends, who felt that it was all a con. After a few weeks, Jonathan put his home and the business into Stuart's name, before leaving town, apparently to spread the word elsewhere. It wasn't until the press turned up on his doorstep that Stu realised he'd been conned and Jonathan had taken money from lots of people and left Stu to carry the can. However, he did manage to get his own back a couple of years later when Jonathan re-emerged in Erinsborough, claiming to be healing cancer sufferers and Stu, having trained as a cop since their last meeting, arrested him.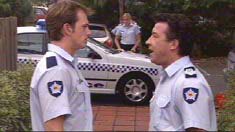 Now a policeman, there was a time where it appeared Stu would never settle on a career. He's been a mechanic, working at Lou's garage when he first came to Erinsborough, and again when Drew died, then had a mis-advised stint in the army, before being a hospital orderly and then later training for the police. His time as a cop hasn't been without drama, however, as when he went back into Lou's Pub as it was burning to rescue Sindi, and after becoming trapped, he lost his sight. Although he went back to work it was only as a phone operator. However, Paul Robinson, through the Helen Daniels Trust, gave Stuart the money for an operation that restored his sight, and allowed him to continue with his career. In 2005, Stu was joined in Erinsborough by his younger brother, the naive Ned. Just as Stu's time in Erinsborough had changed him, it looked set to do the same for another Parker brother, as Ned quickly came to realise that he was a long way from Oakey.
It seemed that Stuart was finally settled, starting a new life after Sindi, with his career in the police blossoming, he suddenly left Erinsborough for good, in some ways swapping places with his brother Ned, to go back to Oakey to work on his parents' farm.