.
Comment > The Man Next Door: Part Two by Ryan
Soap is a world mostly dominated by women, particularly in Britain. But is Neighbours the same? Find out in part two of our look at the men of Ramsay Street, as we move into the Nineties…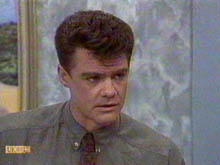 At the end of the eighties strong male characters dominated Neighbours, with the likes of Jim, Paul, Harold and Joe becoming iconic figures. But everything was about to change as a new decade approached. In 1989 Neighbours lost Scott Robinson, Henry Ramsay and Mike Young, decimating the show's twenty-something male population. When glamorous Gail and Lassiter's Girl Jane left in the same year, the Alessi twins were their obvious replacements in terms of age and roles on the show. By contrast, there were no new male characters in the same age bracket introduced, with producers instead concentrating on the next generation. Matt Robinson joined reformed teen tearaway Nick Page in the cast, young Todd Landers was given more screen time, with new characters Ryan McLachlan and Josh Anderson following. Although the show had had a strong teen contingent for years, for the first time it seemed to be at the expense of adult characters.
For the men that remained, major changes were in store. After his hugely successful partnership with Gail, Paul found himself single again as the nineties began. However, while the break-up of Paul's first marriage in many ways made the character, he initially seemed somewhat lost without Gail by his side. Having let No.22 out to the Alessis, Paul moved back in some weeks later, reduced to being a lodger in his own home. Just as Paul had settled back into the hard-nosed businessman role, his father also became a single man again, with Jim and Beverly splitting in 1990. While the partnership never caught the imagination of viewers in the way Paul and Gail's did, its end left Jim somewhat adrift. With Paul his only remaining child in the street (and approaching 30), Jim was no longer 'Mr Dad', with only his estranged wife's nephew left to look after. The return of Lucy Robinson and a 'will they, won't they?' flirtation with Dorothy Burke helped kick some life back into the character, but this bleak period for Jim was typical of what was happening for Ramsay Street men at the time. Soon after Jim and Beverly's split, Des, who had been drifting somewhat since the end of his engagement to Jane, left the series – truly the end of an era.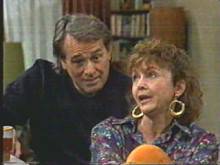 1990 also brought the arrival of the show's first new family, the Willises, including the first 40-plus male to join the cast since Harold over three years previously. Doug Willis had elements of many other Neighbours characters – like Jim, he was a dedicated father; like Max Ramsay, he was a 'typical' hardworking Aussie bloke in a traditionally male job; like Joe Mangel, he was fun-loving with a roguish side. Despite this, Doug managed to offer something different – there was always playfulness in his relationship with wife Pam, and was a friend as well as a father to his kids. Perhaps aware of a lack of twenty-something men, producers gave Pam and Doug an adult son, Adam. Surprisingly, rather than being a traditional 'hunk', junior doctor Adam was a bright, thoughtful character, with more in common with Des Clarke than Henry Ramsay. Although it was a brave move on Grundy's part, Adam never really made a major impact on Neighbours, and it's no coincidence that his brother Brad, who in effect replaced him, was a beefcake surfer more in the mould of Henry or Scott (although without Scott's journalist brain!) Partly due to two successful partnerships with the characters of Lucy and Beth, Brad would become the show's biggest heartthrob for years to come.
In 1991, two more of the show's most popular men would leave within weeks of each other. Harold and Joe couldn't have been more different, but since Joe's marriage to Harold's daughter Kerry, and her subsequent tragic death, their fortunes had become entwined, and their departures effectively brought to an end the extended Bishop family. While Mark Little chose to leave the show, and Joe got a happy ending when he married Melanie Pearson, Ian Smith was controversially axed, and Harold was swept off a cliff. When quizzed about the shock decision by Perfect Blend, Peter Pinne (executive producer at the time) claimed 'We had run out of stories for Madge and Harold' and 'we thought we could get more mileage out of Madge solo'. For the first time, a male character – a hugely popular one at that – was considered dispensable. Viewers, however, disagreed, and later in the decade, it would prove fortuitous that Harold's body was never found…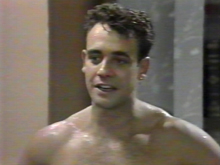 Elsewhere, the twenty-something men quota was steadily increasing with the arrival of Glen Donnelly and Guy Carpenter. Of the two, Jim's long lost son Glen made the bigger impact, largely down to the disruption his arrival caused in the Robinson family (not to mention an incest storyline that was edited for UK screens). Despite romances with Gemma Ramsay and Gaby Willis, Glen wasn't quite the hit producers had hoped, and is now best remembered for his exit storyline and its long-lasting effect on his half-brother, Paul. Guy, meanwhile, was largely used as window dressing, his prowess as a swimmer offering the perfect excuse to feature him half-naked in most episodes. Just as it looked as if Guy was getting an interesting storyline with the arrival of his estranged father Lou, he was off on the bus to Broome. However, his father would prove a far more enduring presence on Ramsay Street. An old flame of Madge, Lou had briefly appeared four years earlier to try and stop her marrying Harold – and with Harold now 'dead', his return seemed timely. Larrikin Lou, as he was memorably dubbed, couldn't have been more different from his love rival, but the ducker and diver found his way into the hearts of viewers as well as Madge. While that relationship fizzled out, Lou remained in the show when Madge left, and fifteen years on is now a Neighbours institution.
1992 was a year of key departures from Neighbours, with the death of Todd, a young boy who we were just watching grow into a man, followed just weeks later by the exit of Paul Robinson. It's impossible to overstate just how much the second of these departures would change the show, with the affect felt for years to come. Paul was not just one of only three original characters left; he was also the most complex male figure in the street, and the source of much of the show's conflict. It would be years before a character with the same edge would be back in Ramsay Street, and in the late nineties in particular, it would be a duller place for it.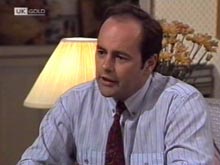 Perhaps aware of how hard Paul's exit would hit, producers decided that not one, but two of his in-laws were needed to replace him in the businessman role. Just as Paul's sister Julie returned to No.26, with bank manager husband Philip Martin in tow, Christina Robinson's extended family, headed up by Benito Alessi, took over No.22. With Philip and Benito up against each other for the Lassiter's job, and a relationship between their teenage kids a source of disapproval, the stage was set for rivalry between these two men. However, there was a fundamental problem with these two characters: they were too similar. Both were very likeable, but neither had any great standout qualities, and their rivalry ended up being rather tame. As a quasi-Robinson with some history in the show, Philip was always going to be the more popular, and although George Spartels chose to quit the role of Benito after just a year, it's hard to imagine he'd have survived long term. It's telling that when the Alessis left, the family who replaced them, the Starks, did not feature an adult male figure.

Just as fans, and the show's producers, were coming to terms with the loss of Paul, they were faced with losing the most central male figure in Neighbours: Jim. After eight years of being everyone's favourite dad and all-round good mate, his death was as sudden as it was brutal. When Jim died, much of the show's history died with him, with Helen now the only remaining original character. Emphasising his legendary status, Jim was not directly replaced, with his son-in-law Phil gradually developing into the central family man role. In the days after Jim's death, a scene was featured with Lou, Doug and Benito – the street's three remaining 'elder statesmen' – discussing the news and their futures (specifically their wills). Within a few weeks, Benito was gone, and like Jim, was not replaced by a similarly aged male – not a good sign for the future of men in Neighbours.

If older men were struggling, their younger counterparts weren't doing a lot better. While Brad was a hit, Marco Alessi, Cameron Hudson, Stephen Gottlieb and Wayne Duncan all came and went within a year, leaving little mark on Ramsay Street. It was left again to the teens to liven things up, with Rick Alessi proving very popular. Thanks to Dan Falzon's pin-up looks and some effective comic writing, Rick grew into a focal male figure, particularly after Brad's departure. Things also started to look up with the arrival of Mark Gottlieb, whose quirkiness set him apart from the bland young men who had preceded him. Mark's on-off relationship with the hugely popular Annalise also helped, and it was another of Miss Hartman's love interests, Sam Kratz, who would continue to fly the flag for twenty-something men as the decade reached its halfway point.

In 1994 Neighbours would lose another central male character when Doug and his wife Pam packed up and headed for Darwin. Reportedly axed, Doug seems to have been a victim of his age, or rather that of his children. New teens were needed to replace Doug's grown-up kids, and a new family was the easiest way to introduce them. However, as we will see in part three of this review, Doug's replacement at No.28 would initially look like a huge mistake… Elsewhere, the role of women in the lives of Ramsay Street men would again have a major impact.

Click here to read part three...