.
Comment > The Mysteries Of Mark Brennan by Si Hunt
Kate Ramsay and her men, eh? If it's not Kyle, it's Mason. And if it's not Mason or Kyle, it's smouldering Mark Brennan. The wavy-haired Ramsay girl of confused ancestry (see a previous article) doesn't seem to be able to make up her mind who she's with. Of course, things are not fun for Kate at the moment. Her best friend, pouty Georgia the Country Music Star, was never going to forgive her for sleeping with Georgia's fiancé Kyle, especially as Kate wasn't in love with Kyle. Then she decided she was, and decided to announce it, which surprisingly made matters a whole lot worse. To compound everything, Georgia's mad-as-a-box-of-frogs cousin Gemfish discovered Kate was in love with Kyle (thanks to a bit of computer hackery and an unsent e-mail, no doubt composed on a troubled evening after a few glasses of wine. We've all been there) and decided to broadcast it at Georgia and Kyle's engagement party. And that's what you missed on Glee. Sorry, Neighbours.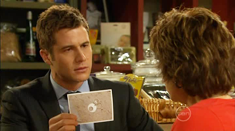 There is a sense of Groundhog Day about Kate's love life, and it didn't all start with the tangled Georgia/Kyle merry-go-round. With the re-appearance in Erinsborough recently of Mark Brennan, it feels almost like things have come full circle, and those of us who grew thoroughly fed up of this off-on romance back in the day are now sighing wearily that the bloody thing is getting going all over again. Someone in the Neighbours office seems to like Brennan, a character curiously everyone in Ramsay Street calls by his surname. They have brought him back enough times, yet his oddly staccato acting performances make Ned (remember him?) seem like Laurence Olivier.
Brennan first graced us with his presence in his former guise as DI Brennan, trying to work out who pushed Paul Robinson off the mezzanine (this is going to be a simple one, thought he, the man can't have THAT many enemies). He quickly engaged in pursuit of flighty Kate, who was at that time being the Georgia character. You know the one. Bubbly, contrary, you-don't-understand-how-I-feel (incidentally, Kate got a lot more likeable once Georgia arrived and took over being the Georgia character). For many of us, as the lies and deceit around Paul's nosedive off the Lassiter's mezzanine ramped up, the game of affection ping-pong between Kate and Brennan grew ever more tiresome. I can't remember the details, but he lied about something trivial (probably feigning a sports injury to get out of watching one of Kate's dancing shows) and she couldn't forgive him, then she lied about Rebecca shoving her husband off the balcony and that was ok, such was Kate-Logic at the time. A nation of viewers screamed EITHER GET TOGETHER OR NEVER SPEAK AGAIN BUT MAKE UP YOUR MIND. Then he vanished into witness protection. Life, eh?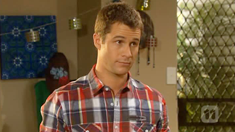 It was a night we will never forget. In true Neighbours fashion, Brennan had told Kate to meet him in a darkened street by a certain time, or she'd never see him again. Disaster then struck, as a batch of Kate's fairy cakes took too long to go fluffy in the oven and selfish sibling Sophie kicked up a stink about leaving her entire life and family to change her identity and go into witness protection hiding. It was always about the me-me-me with that girl. To cut a long story short, Kate ran to catch Brennan but because someone put her into a slow-motion tracking shot she missed their rendezvous. A few weeks later – BAM – he was dead.
But, as previously suggested, someone in the production office obviously likes Brennan, because even death couldn't keep that well-waxed chest down. Obviously what us viewers like in a character is not any semblance of realism or flaws, but a vacuous, physically perfect but wooden young man. They keep on throwing them at us! Brennan may look like if he smiles his face would crack from ear to ear, but he can strip off his top at every given opportunity, and that's what counts, right? Actually, when he did pop up again, around a year ago now, someone accidentally gave him a bit of character development and it was quite satisfying. He turned into a bit of a stalking weirdo, and alarmed Kate gave him the brush-off; which was cheer-provoking for those of us fed up with this unrealistically perfect cipher. Bye bye, Brennan! Don't ever come back.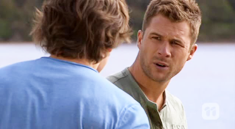 And did he need to? Well, clearly he did, as during an abseiling accident involving permanently shirtless Mason and failed Olympic swimmer Josh (guess what, neither of them are ugly), who should be paddling ferociously nearby in his kayak but Brennan! "I've been running an abseiling school," he claimed. It was about as likely as bumping into your friend's once-dead husband in a salvation army charity shop.
Following Mason back to Erinsborough hospital, who should Brennan bump right into but Kate! We needed that reunion like an S-Club 7 get-together. Now deciding to "stick around", he clearly needed a job. There is good news for those that fail their Erinsborough High exams (perhaps because the school only employs one teacher) – getting a job in Erinsborough is really easy, and there's rarely any commute. I had a few ideas for what Brennan could do at this point, if you'll indulge my list:
(i) He could have developed a surprising baking habit and gone to work for Lauren in Harold's Store, making sweet confectionary. Cake wizard Vanessa was shown to have created a huge demand for cakes (she was rarely seen not frantically rolling out dough) and yet we've yet to learn who is currently fulfilling it
(ii) He could suddenly be a qualified teacher and Erinsborough High could add an Abseiling Course to its high school syllabus. Well, it worked for Lucas and car mechanics
(iii) He could work at the gym, giving him plenty of opportunities to expose his rippling muscles
(iv) He could resume his old detective job and help Matt police the Erinsborough crime wave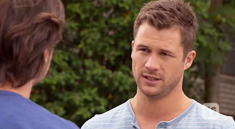 Yet the real outcome was none of these. At the garage, we knew something was up when Chris' mysterious boss Danni popped up, a thoroughly horrible and judgemental character who'd barely been seen since her very first appearance, and seemed to exist solely at the other end of phone lines. Danni is so untrustworthy that she had CCTV installed at the garage so she could spy on Chris and check if he has too many tea breaks. Chris then let slip that Brennan had once been allowed to repair his bike for Lucas. Danni's accusing glare fell on Chris (Why his fault? He wasn't even in charge!) but after helping with a sudden and convenient backlog of repairs, Danni had decided to offer Brennan a job! Fancy. But – wait! – he's not even a qualified mechanic. "I am," he revealed. "I recently took the qualification." Wait, what.
From policeman to abseiling instructor to fully qualified mechanic, it seems there is no end to Brennan's talents. If only he actually had a character to go with them. By far the worst thing they could do with him, of course, is to get him back with Kate, and thus resume the tedious relationship antics that we've all endured before. Heck, if he took a shine to Georgia it would have been a twist. Or how about if he'd started dating a glammed up Sophie Ramsay? Or... anyone, really. It seems to me that there could be infinitely more storyline potential in any of these ideas.
But Brennan exists, it seems, despite death, jilting and the failure of his abseiling business, purely to engage in an endless dalliance with Kate. We can only hope that this Romeo and Juliet of Ramsay Street find some sort of equilibrium soon, for all our sakes.