.
Comment > A Nuclear Reaction by Callum
Neighbours has always reflected real life. However, in 2003 with the World changing, the residents of Ramsay Street were still strongly reflecting the nuclear families of yesteryear, with the Bishops, the Scullys and the Kennedys all being happily married, albeit with many of their children now living away from home. In representation of a more diverse family dynamic, the Hoylands, along with Stephanie Scully representing the step-family which had become the norm for many children of the world today, however as Max's first wife, Anna-Claire had died, this was still a rather traditional arrangement. Then along came Isabelle Hoyland.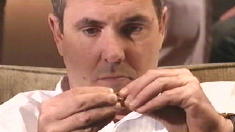 In just three months, Izzy managed to rock the Kennedy marriage to its core, with memories of Karl's affair with Sarah some six years earlier still in Susan's mind, leading to their divorce the following year, Neighbours' first family was left in pieces. Whilst ordinarily this wouldn't have been a problem, the sudden departure of Shane Connor as Joe Scully soon left the Scully marriage in the same state, meaning that within the space of a year, the Bishops had become Neighbours' sole traditional family, with David and Liljana one of only two married couples in Ramsay Street.
The following year, the shock axing of David, Liljana & Serena left Ramsay Street with the Hoylands - Max, Boyd, Summer and their step-mother, Steph - as Neighbours' sole marriage and most traditional family. Other families included the recently-returned Paul Robinson and daughter Elle and the newly-arrived Timmins family, with single mother Janelle at the helm. Had Neighbours gone a step too far in their bid for diversity?
By 2007, Neighbours' sole (legal) marriage had ended as Max and Steph went their separate ways. However, just as things began to look bleak, along came Karl Kennedy with a ring for his former wife, Susan. Once again the Kennedy family reigned supreme, along with the addition of Rachel & Zeke Kinski, but the show still wasn't reflecting the traditional nuclear family of a husband, a wife and their children.
Whilst the marriage front improved with the union of Frazer Yeats and Rosetta Cammeniti plus the arrival of Steve and Miranda Parker, as we learnt that the Parker children, Riley & Bridget, were adopted, many viewers started wondering if we'd ever see another nuclear family in Ramsay Street again. Then, on November 12th 2007, some three years after her departure, Libby Kennedy drove back into Ramsay Street, finally giving the show some representation of a nuclear family, with a child living with both biological parents. However, with the living arrangements at the Kennedy-Kinski household still far from traditional, the show was a long way off a true reflection of real life.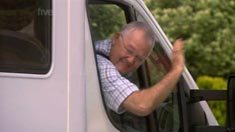 In late 2007, with the departure of Harold Bishop announced, speculation was rife as to what would become of 24 Ramsay Street. Little seen for over six months, this once great family home to the street's namesakes, the Ramsays and their extended family, the Bishops, was in the eyes of most Neighbours viewers the perfect place for a new family, or even one with links to Ramsay Street. Suggestions included Moira or even Danny Ramsay and in a bid to give long term resident, Lou Carpenter, a sense of purpose once again, his children Lauren or Guy along with their families.
Sadly this wasn't to be and in moved Marco Silvani with his girlfriend, Carmella Cammeniti and her daughter, Chloe, leaving many viewers disappointed at another lost opportunity to allow Neighbours to represent a truly diverse array of families, with single parents, multi-generational families, adopted families and step-families already present in the street.
With Jesse Rosenfeld now having departed Australian screens and with Natalie Blair set to leave early next year, it seems the producers have been given yet another opportunity to represent a nuclear family and turn Number 24 into a proper family home once again. But will they take it?
With the last complete family with no links to the street, the Hancocks, having failed spectacularly, perhaps the powers that be are afraid to take another big risk. But there have been many successful families with little or no links to the street - the Kennedys and the Scullys being the prime examples. Who could imagine Ramsay Street without Karl & Susan? Not to mention that there are a wide variety of past characters who could be brought back, some not even seen on screen, but mentioned, such as Moira Ramsay, or what about Lou who has been grouped in with the Parkers for very little reason, what about his own children or grandchildren? Whilst no one can deny that Sarah Vandenbergh & Andrew Williams weren't exactly God's gift to acting, long-term viewers would be just as happy to see the characters return with new actors in the roles in order to give Lou some purpose and new viewers wouldn't be alienated as there is little need for their backstories to be constantly referenced, just the odd nod to the past for the long term viewers is enough, as with the likes of the Kennedys, Toadie & Steph.
So, as in 2003, when the producers felt need to diversify and redress the balance in favour of the non-nuclear family, perhaps five years on in 2008 it is time for the balance to be restored and for a nuclear family to cause a reaction in Ramsay Street once again.