.
Comment > The Parent Trap by Si Hunt
A lot of the recent storylines in Neighbours have concerned parenting. With the arrival of two completely new families - the Willises and the Turners - each bringing a small pack of hormonal teenagers to Ramsay Street, there has begun a programme of cross-dating that could well mean several new Neighbours families without anyone even moving house! Clearly some parental authority is required, although it seems that the two sets of parents involved have quite different plans for going about it.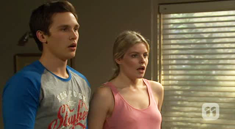 If this topic of, for want of a better phrase, "sex policing", seems quite, shall we say, frank for a gentle website like The Perfect Blend, consider that Neighbours itself has recently featured significantly more taboo and edgy storylines than it has traditionally been known for. Even if Josh and Amber's moral dilemma about whether to "take their relationship to the next level" (the word "sex" is still being comfortingly avoided) echoes one of the earliest Scott and Charlene storylines from back in the day - he putting pressure on her in the same way that Josh is to Amber - things are a generally a little more forthcoming these days. For a start, this whole storyline is happening at the same time as an even more risqué one with newly promiscuous and gay Chris. A procession of topless young men have been seen parading through the former Robinson house (it would never have happened on Granny Helen's watch) and on one occasion after declaring he was "just having fun and making myself feel better" Chris marched after one of them into the bedroom, ripping off his top as he went! For Neighbours' usually gentle standards, this was the equivalent of a full frontal sex scene, and we were shocked.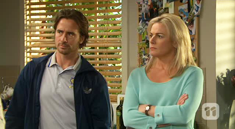 But back to Josh and Amber. We can't be the only viewers to have gripped a cushion and cringed when alarmed Lauren summoned Terese and Brad to Harold's (where else but the place all the kids hang out?) by text message for a "parent meeting" and determined that the inevitable sexual union had to be halted. Quite naturally, Terese and Brad were a little taken aback and it's not hard to see why. Interestingly, neither of the teenagers involved are even ambiguously inexperienced. Amber's willingly to hop into the bed of bad boy Robbo Slade was a storyline of just a few weeks ago, and Josh has (immodestly) noted that "I've had girlfriends before", leaving us in no doubt that he's no cautious virgin. The different attitudes of the parents are entirely in character - from the start, the two couples have been cleverly painted as polar opposites. Brad and Terese have always been more openly flirtatious than the dithering Lauren and very private Matt, with Lauren jealous of Brad and Terese's "date nights". The implication is (again) that Terese and Brad have a more exciting sex life (well, what do you expect from a racy teenage mum? Sorry, little Home & Away joke there) while maybe things between Lauren and Matt have been more muted since they had kids. It took Matt to re-assure Lauren that what they have is just as special as their more outgoing neighbours, just different, but this difference between the couples has re-surfed in Lauren's more conservative attitude to Josh and Amber's relationship. Terese just doesn't see why they need to interfere and Brad... well, no-one's pretending that he wears the trousers in that household, so he meekly agrees with his wife.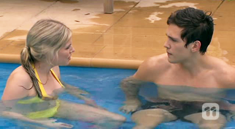 It's hard not to side with Terese. As I mentioned, both teenagers are experienced, and as far as Amber's concerned, it's difficult not to think that Lauren is suffering from a case of trying to shut the stable door after the horse has bolted - compared to the piece of work that was Robbo, Josh is a positive saint. Then again, there's a suggestion that, flawed though it is, this is why Lauren is so concerned. She doesn't want to see poor Amber, who's clearly fallen for the hunky swimmer in a big way, get hurt yet again. Meanwhile, behind the scenes, Josh and Amber haven't really sorted out "how soon is now" themselves. In what initially seemed like an interfering step too far, in a recent episode shown in the UK, Lauren rushed home, metaphorical sex siren strapped to her head, after getting wind that Josh and Amber were alone in the jacuzzi. But confronting them forced out the rather uncomfortable truth that Josh is, in fact, more ready to get down and busy than Amber is. How they deal with this will play out in subsequent episodes, but perhaps it finally proves that Lauren was right to stick her clumsy oar in. It's a victory for active parenting.
As if all this wasn't enough to deal with, there are murmurings of something cooking between the couples' OTHER offspring, newly-single Mason and troubled Imogen (she of the "I'll book you in with a counsellor, now let us never mention it again" eating disorder). There may be other, different parenting conundrums to face with this one that will leave Lauren, Matt, Terese and Brad wishing that all they had to deal with is stopping the kids slipping between the sheets. But one thing is for sure - the two couples will tackle the blossoming romance entirely differently. And quite right too - the Josh/Amber storyline has at least provoked plenty of debate from us as viewers as we decide who's right and wrong. And provoking discussion about family issues has always been what Neighbours does best.