.
Comment > Racism in Ramsay Street? by Steve
Neighbours doesn't exactly have a history of ethnic diversity. With very few exceptions, the show tends to rely on stereotypes or it just blatantly ignores the fact that people who aren't whiter than white (in more sense than one) exist. But how intentional is this? In short; is Neighbours racist?
Erinsborough is a fictional suburb of one of Australia's most cosmopolitan cities. Melbourne has the largest Greek population outside Greece itself, with other large communities ranging from Italian, Turkish and Spanish to Chinese and Maltese. Of course, nobody is expecting such diversity out in the suburbs, but it would be realistic to reflect a small part of this.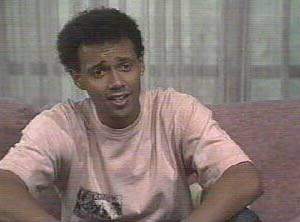 From the beginning, it was obvious that while strippers were (hesitantly) welcomed in Ramsay Street, anyone without white skin wouldn't even make it into the district. The first appearance of a black character came in 1986 when various residents befriended aspiring swimmer Pete Baxter. While his race never became an issue and was infact never even mentioned, he didn't exactly set the world alight in terms of storylines or screen presence. A similar set-up occurred a few years later when Madge and Harold returned from England with one big souvenir; Eddie Buckingham. Sadly, he brought little to the show but a Dick Van Dyke-style cockney accent and was soon packed off back to England. Neighbours' early attempts at presenting a wide intersection of society amounted to very little indeed. In 1990, the Alessi twins arrived. While still white, they at least acknowledged the fact that there is a huge Italian population living in Australia. As time went on, the family became like any other Neighbours clan, with family members turning up from nowhere and taking the place of departing Alessis. Indeed, many of the critics seemed to conveniently forget that Neighbours had featured this family; relatively free of stereotypes, unless you count Cathy Alessi and her obsession with spaghetti sauce.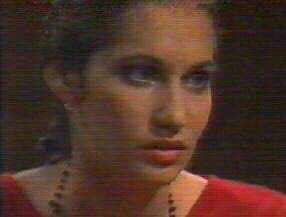 The arrival of Sally Pritchard, played by Aboriginal actress Brenda Webb was another step forward for the show. In her extended guest role as a teacher of Japanese who had a fling with student Rick Alessi, her Aboriginal heritage was never once mentioned. This meant that Neighbours seemed to have finally caught on to the fact that people who weren't white didn't necessarily have to become the subject of a hard-hitting socially-relevant storyline. Then, in the mid-90s, the show suddenly found itself being accused of racism and so, to prove otherwise, they decided to tackle the issue in a way that only Neighbours could. The Lim family, five of the worst actors the show has ever seen (and that's saying something) moved into number 22 on a temporary basis. It seemed that from the outset they were there with a message; racism is wrong and foolish and all racists are basically just misguided individuals with too much time on their hands. In an attempt to almost poke fun at its accusers, the Lims became involved in a farcical plot whereby neighbour Julie Martin accused them of eating the family dog, Holly.
The third incarnation of Lucy Robinson once had a conversation with a man at an interview for the surgery receptionist's job. He told her that he was an immigrant and that he was finding it virtually impossible to get any kind of work in Australia. A small commentary from Neighbours on an all too familiar subject. It probably went unnoticed by most people and was a good example of how the show can sometimes underplay the issues in a way other soap operas fail to do. A similar issue was explored in 2002, following the news stories about the 'boat people' and Christmas Island. Leo Hancock and Michelle Scully found a refugee hiding in Lou's empty house and he explained about the persecution he had experienced in his home country. While not as subtle as Lucy's chance meeting, it offered a chance to show the different perspectives of the residents on the issue, with Michelle, Joe and Harold all having different ideas on how the illegal immigrant should be dealt with.
When Hindu character Vikram Chatterji started working for Philip at the newsagency, it seemed that Neighbours had managed to create a character whose race and religion had nothing to do with who he was. However, as time went on, Vikram had very little impact on the show and his sister Lata arrived. She was only a teenager and had a fling with Brett Stark, much to the horror of her brother. This storyline seemed to be highlighting the strictness of a Hindu upbringing, with Lata seeming very relaxed about her schooling and religion, while Vikram made it clear that she had no room for boys in her life and sent her away to live with an aunt. It seemed to base many of its ideas on stereotypes, which was a shame as Vikram had been reasonably free of them up until that point.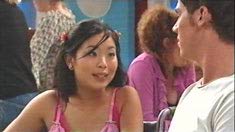 The arrival of a brand new family, the Scullys, with no connections to any existing characters, in 1999, begged the question - why did they have to be a white, Anglo family? The newcomers could easily have been Greek, Italian, Vietnamese... Nobody can deny that the Scullys were completely different from anything we'd seen before on Ramsay Street, but there are still other places they could take it. In 2002, New Zealander, of Malaysian descent, Michelle Ang joined the cast with little fanfare but playing a great character. As time went on, the character of Lori Lee seemed to be given all the best storylines - a cheating boyfriend, paralysis and an unwanted baby, all in the space of six, short months. It simply showed that Neighbours has always been capable of expanding its casting horizons. Apparently, the show is now working on redressing the balance, with news that we will have a new Eastern European character, Liljana Bishop, in the cast by the end of the year. Hopefully, Neighbours has learnt its lesson from the past, and the newcomer will be more Lori Lee than Eddie Buckingham. Time will tell.