.
Weekly Reviews > Episodes 4293-4297 by Steve
UK Broadcast: Monday 22nd September - Friday 26th September 2003
Written by: John Hanlon, Linda Stainton, John Davies, Ray Harding, Andrew Muir Directed by: Jeffrey Walker, Tony Osicka
One of the most emotional weeks in Neighbours' history, beginning and ending with shocking events and revelations that would affect many lives for weeks to come.
The week began with the shocking continuation of last week's car accident. As Toadie struggled to the surface, he scrambled around desperately, trying to find his new bride. Stonie and Stuart arrived moments later and helped, dragging Toadie to shore, then diving down to the car themselves. After a police search returned nothing, Toadie struggled to accept that Dee was gone, and began to blame himself for what had happened. This culminated in him heading down to the beach where the incident had happened and wandering out into the ocean in a trance-like state. Susan and Stonie followed him, with Susan wading out to help Toadie and prevent him from doing something silly.
The search and rescue scenes on Monday were certainly Neighbours at its best. Ryan Moloney also got a chance to really shine after many years of being very much a supporting player. His shock and denial at the whole situation were portrayed beautifully and the actors playing the Rebecchis and Kennedys also gave some fantastic performances, really pulling the viewer into the drama.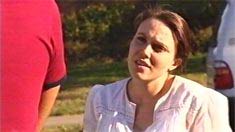 Dee's disappearance had a profound effect on many other characters aswell, not least Libby. As memories of Drew's death came flooding back, Libby found herself at her lowest point and sought comfort in Taj, who chose the perfect moment to pop up. She found it difficult to go home, so he offered her a bed at his place. He insisted that he wouldn't be in it at the time, but Libby was moved and kissed him. The next morning, she rushed to get away from his house as quickly as possible, leaving Taj slightly confused. Over the following days, she continued to avoid him, until he turned up at number 28 and asked to talk to her. Their conversation was overheard, unfortunately, by Boyd and Daniel, meaning that it was quickly spread around the school. As Libby couldn't deal with all the rumours, she decided to take the day off work, leaving Susan to defend her daughter at every opportunity. Little did she realise that when she got home, Libby would break down and admit that she had slept with Taj.
This is proving to be quite a powerful storyline, with the performances of Kym Valentine and Jackie Woodburne up to their usual high standards, while Jaime-Robbie Reyne is also very impressive. It has been building up slowly, often in the background to other stories, but Dee's disappearance was the catalyst it needed to explode into action. The look on Susan's face during Friday's cliffhanger announcement by Libby left the viewers knowing that her reaction would be worth waiting the weekend for.
Elsewhere, Steph was feeling guilty as she started her new life and moved into the Hoyland house. Despite a last-minute hesitation, worried that it may look insensitive after Dee's death, Steph moved her stuff into number 32. In the midst of the move, some flowers arrived, with a note from Dee, congratulating them on moving in together. Despite this unexpected event, Steph found herself slipping easily into day-to-day life in the Hoyland home. By the end of the week, however, the rumours about Libby caused a split in the house. While Max wouldn't believe that Boyd would go around spreading unfounded rumours like that, Steph refused to believe that her best friend would sleep with one of her students.
The relationship between Steph and Max has been interesting to watch. With many couples, they seem to work better when they are denying their feelings for each other, rather than actually being together. So far, this hasn't been the case with these two and the interest is still maintained now that they are living together. Hopefully, the writers won't rush them into marriage, as it could lead them to a dead end, and there are many more stories still to be told here.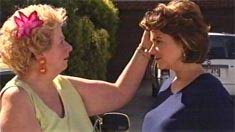 Also this week, Valda received an exciting job opportunity, working at a resort in Western Australia and, since it was only a four month contract with excellent pay, she decided to go. This meant a couple of sad farewells, with Lyn, who chose the occasion to finally call Valda, 'mum' and with Lou, who still refused to admit how much he thought of his pub cook. After her prominent role in recent storylines, it's sad too see Joan Sydney leave, albeit temporarily. Meanwhile, Jack was becoming more and more frustrated as Nina ignored his advances on her. While he was beginning to feel hurt by it all, it seemed that there was something that Nina wasn't telling him. After a few years of avoiding the issue, it's good that Neighbours is once again acknowledging the fact that teenagers do have sex, first with the Lori and Connor storyline and now this. Let's just hope that they can continue to treat the viewers like adults as it continues.

Notes: Episode 4293, screened on Monday 22nd September, was unusual in that it had no writer or director credits at the beginning.

To read a full summary of Monday's episode (Dee's Death) click here