.
Comment > Women In Neighbours: Part One by Gareth
Women in soap operas are often given a hard time; they either painted as the eternal victim, struggling to find happiness and to overcome the hardships they face, or as the bitch, who is full of complex emotional problems and struggles to find acceptance. These women have many different hardships heaped upon them before, more often than not, meeting an unhappy end. However, Neighbours differs in its approach to representing women, and seems to give the audience strong, capable female role models whom every woman can aspire to be like. Here we take a look at how women have been represented in Neighbours throughout the decades, and whether they have been given a good or a bad deal. Part one looks at the 1980s.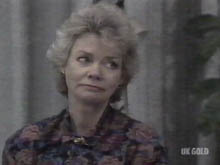 When Neighbours first began in 1985, we had only a handful of women to watch, the majority of whom came from the Robinson family. Matriarch of the family, Helen Daniels, was everyone's favourite grandmother figure, and really set the standard for women of all ages in Ramsay Street. She was the woman everyone would turn to when they needed some advice, or help, and even managed to go through her own emotional traumas with good grace. Before the show had even begun, Helen had had her own heartache, as she had lost both her husband Bill and her daughter Anne, and had spent the last few years helping son-in-law Jim bring up his four children; Paul, Julie, Scott and Lucy. This in itself shows the character's strength; she gave up her own life to help bring up four children, when she was nearing retirement.
Helen also had another dimension to her; she wasn't an interfering grandmother figure, she had a very strong bond with both Jim and her grandchildren, and had her own life as well. She had a passion for art, and devoted herself to community groups and church fundraisers, as well as being on hand whenever neighbours and friends needed her. Age really was just a number to Helen, as she set up her own chauffeur business, and forged new romances for herself, even managing to take revenge on conman Douglas Blake when she discovered he was just after her money. As well as looking after her own grandchildren, Helen also managed to play grandmother to other people's children; Nikki Dennison, Jane Harris, Todd and Katie Landers and Nick Page all benefited from her wisdom and her maternal instincts, and this endeared her to the audience, making her a much-loved character and everyone's favourite grandmother.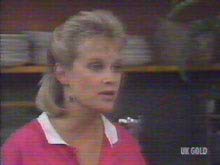 Another original character who quickly captured the hearts of the audience was Daphne Lawrence; a fun-loving, spunky stripper who took no nonsense from anyone yet, like Helen, managed to provide a motherly ear to the teenagers of Ramsay Street. Daphne was one of those rarities in Neighbours, a character who could bridge the gap between the adults and their children, and she proved as popular with the likes of Jim and Helen, as she did with Scott and Charlene. Running the Coffee Shop, Daphne was at the centre of the action and the gossip, and her own life provided much gossip for the neighbours; she had an on-off relationship with Des Clarke which eventually resulted in marriage and a son, Jamie.
Even though she started off as a stripper, Daphne disproved all the stereotypes; she wasn't a long haired blonde with massive breasts, she had spiky short hair and wasn't stunningly attractive. She was also intelligent, and could hold her own in an argument, as evidenced when nosy neighbour Mrs. Mangel went to war with her and Des over an accident caused when she was redecorating the nursery for the Clarke's. Despite the war with Mrs. Mangel, Daphne had few enemies; she was much loved by everyone and was a strong representation of a woman in the late 1980's.
To support the strong representation, and the breaking of the stereotypes, Daphne, a typically happy-go-lucky character, didn't have a happy ending; she died caused by injuries sustained in a car crash. The nation wept. One of the most popular characters ever was gone for good.
Out of all the original female characters, Helen and Daphne were those who went the distance and made a big impact on the show beyond its first year. Two more major female characters were introduced the following year who offered different representations of women in suburban Australian life.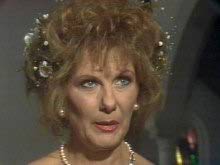 Madge Mitchell had grown up in Ramsay Street, which was named after her grandfather, which gave her and her brother Max the feeling that the street was 'theirs' (something that had brought Max into conflict with the aforementioned Daphne early on the series as he didn't want a stripper living in 'his street'). Bossy, stubborn and gossipy, Madge was an interfering woman who came to Ramsay Street after the break-up of her marriage to Fred to take care of Max and his two sons after the departure of his wife Maria, care that all three felt they didn't need. However, the arrival of Madge was a breath of fresh air to both the Ramsay family and Ramsay Street, and the arrival of Mrs. Mangel gave her another dimension; a rival.
Mrs. Mangel was the most interfering busybody ever to grace Ramsay Street; if there was gossip or some sort of scandal, it was she who was telling everyone about it, yet she still managed to be a loveable and likeable character. Madge and Mrs. Mangel fought over anything and everything, whether it be cooking cakes for the church fete, or their common interest Harold Bishop. Harold was Madge's childhood sweetheart, and when he moved to Erinsborough to be close to her, he moved in with Mrs. Mangel as her lodger, providing more animosity between the pair, as they were constantly battling for his affections. Though this battle ended when Madge married Harold and became Mrs. Bishop, the rivalry between the pair continued to fester until Mrs. Mangel made her departure from Ramsay Street by marrying dentist John Worthington and moving to England.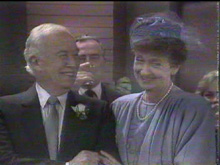 Madge and Mrs. Mangel were two more of Neighbours' legends, characters who would be remembered for years to come. They were well-rounded individuals who had good points as well as bad points, and while not being the most perfect representations of women, they offered a valid insight into the lives in an Australian suburban street.
Surprisingly, though Madge and Mrs. Mangel were bitter rivals, Madge's daughter Charlene and Mrs. Mangel's granddaughter Jane Harris were best friends. Charlene was her mother's daughter; stubborn, yet fun-loving, she arrived in the street with more than her fair share of history; she had had an abortion, something which wasn't common in young women in soap operas of the time. Jane was her polar opposite; she led a sheltered, yet privileged, upbringing, and her glasses and clothes masked a beautiful and intelligent young woman. Loudmouthed and tomboyish, Charlene could give her mother a run for her money in the argument stakes, and her relationship with boy-next-door Scott Robinson kept viewers glued for months on end until it all culminated in a fairytale wedding in July 1987. Therein, Charlene confronted all the stereotypes of young women; she became a motor mechanic, got married at a young age, and yet still had neighbourly elements, as evidenced when she helped catch the drivers of the car that had killed Daphne.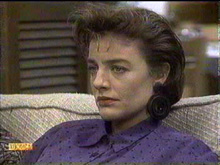 Ramsay Street was not without its professional women during the 1980s; Gail Lewis and Beverly Marshall were power women who knew what they wanted from life, and, more than often than not, they got it. Both married Robinson men (Gail to Paul and Beverly to Jim), and both forged close relationships with Helen Daniels. However, one thing they both wanted but couldn't have, were children. Despite this, they were strong, capable women who, unlike counterparts such as Madge and Mrs. Mangel, didn't involve themselves in gossip or scandal, yet still managed to integrate themselves into neighbourly business. In fact, Beverly and Gail probably offered the strongest representations of women in Neighbours in the 1980s; Gail could often put Paul in his place, finally doing so when she departed, heavily pregnant with triplets, after her husband's failure to attend her father's funeral. Beverly, meanwhile, was given the unenviable task of becoming the mother of the Robinson family and taking on running No. 26, as well Jim's children. For any woman to take on another man's family is a hard task, but to do it while leading a successful career as a doctor is even harder.
Women in Ramsay Street in the 1980s were strong, well-rounded and three-dimensional, with characterisations that kept the viewers hooked. They were women who had good points as well as bad points, and women we could take to our hearts, love and hate. As Neighbours moved into the 1990's, would that stay the same? Or would we be subjected to weak, lily-livered women who didn't know how to fight back? Click here to read part two of Women In Neighbours.